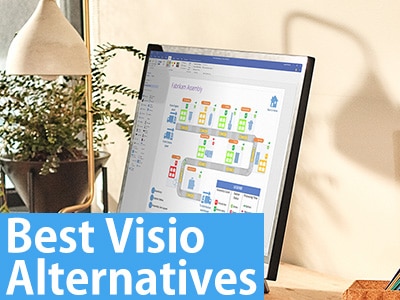 In a world where everyone is consuming content with their eyes first, having a visual representation of every single process is crucial. This is exactly where Microsoft Visio fit right in.
This diagramming software and flowchart maker has been a rave among the people using it but with time, there have been better versions of the same features at a reduced cost that have attracted the attention of the users.
Owing to such scenarios, more and more business professionals have been on the lookout for something more advanced and a better roundup of what Microsoft Visio has to offer.
In lieu of such events, we thought of listing out some of the best Microsoft Visio alternatives that you could definitely give a whirl in the year of 2023.
All that said, it is also quite important to keep an eye out for all the amazing features and improved inclusions that could further benefit your overall process without any questions.
Best Charts, Graphs, and Diagram Tools
A Little Insight About Microsoft Visio
Before jumping straight into explaining about the alternatives for Microsoft Visio, it is important that one has a basic insight of what this tool or software is all about.
The Microsoft Visio is a Microsoft product that is used for diagrammatic representations and for making graphical flowcharts to explain a process in a more elaborated and clearer way.
It has been a common favorite among the corporate and business officials who have been looking into making org charts, engineering designs and several other modern shapes and designs that could further streamline the process of interaction.
It has a very collaborative approach that helps in combining the inputs from all the stakeholders to further help improve the overall outcome from the process without any further confusion. It lets multiple team members work and edit along the progress of the project.
The tool also helps in connecting the flow charts with real time data, further helping streamline the updates and the changes made on the chart and work in accordance to that.
It is accessible from across the world, further making it a better option to work with because of how easy it is to operate it.
Best Microsoft Visio Alternatives 2023 (Top 10 Picks)
With the basic explanation aside, it is important to understand that with such amazing insights, there are some limitations that the software brings along with it. All that aside, it is also quite important to keep an eye out on the alternatives which have graced ever since and is making a lot of impacts on projects and how people interact with teams along the progress of the projects.
All that aside, let us jump into some of the best alternatives for Microsoft Visio, shall we?
1. Lucidchart – Best Visio Alternative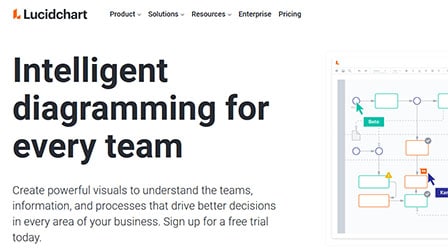 Lucidchart is yet another popular option for diagramming and making flowcharts for your company needs.
If the statistics from the same are to be considered, they do state that thousands of people have already switched from Microsoft Visio to Lucidchart without having to pay an upsurge in the fees. The platform has a very easy and interactive platform to use which is a lot easier than the Visio.
Creating diagrams and flow charts with Lucidchart is not just easier but happens with the least amount of clicks and confusion.
The platform offers a wide variety of features that you normally wouldn't get with Visio including the much needed real time sharing and chatting option among the team members. It allows the users to have seamless experience without any abrupt changes with the updates.
It is also a web based software, so you can collaborate and interact from anywhere across the world without needing to have the team sat in the same room.
Pros
Simplified Use
Creation of easy-to-read diagrams
Allows addition of powerful visuals to Word, PowerPoint and Excel
Perks of backup and syncing to Google Account
Freemium Version
Cons
2. Visme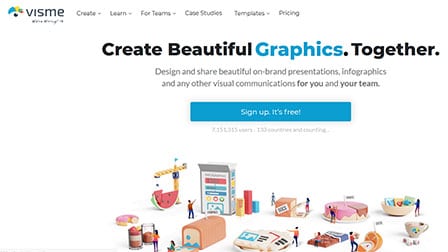 With more than 7 million users across the world, Visme has made its place as the most sought after online application across multinationals like Zurich, IBM and Unilever.
The undeniable artistry offered by the application helps to articulate and design visually impacting presentations and infographics with value-added content management.
It can be acknowledged as one of the best and highly recommended alternatives to Microsoft Visio in the present year 2023 exclusively because of its cost-free service to create an endless number of graphics.
The cloud-based configuration of Visme supports team collaboration by centralizing all its diagrammed and media assets into a single easily accessed location. It additionally allows its esteemed non-designing users to generate more than a dozen high-profile professional and branded content in just a few simple clicks of the mouse.
Furthermore, the existing data can be enhanced with numerous graphical aspects like thousands of easy to edit templates, millions of stock images, as well as charts, maps, audios, videos and data widgets. They can be customized with various smart features like colors, fonts through an asset library.
Once the desired graphics are completely sourced, they can be downloaded as well as shared in private or across public channels.
Pros
Engaging infographics and charts
Generation of multi-domain brand documents
Offers addition of videos & animation to brand strategies
Wide user base
Cons
Limited elements and features
3. Edraw Max – Best Visio Alternative Software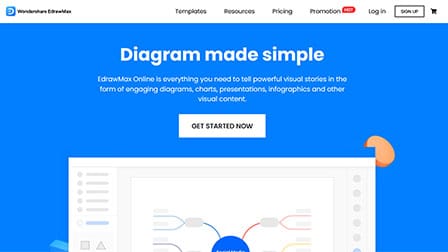 Last but not the least on the list of the best Microsoft Visio alternative for 2023 is the Edraw Max which comes with some of the best features and is considered an all in one software for the best experience without any complaints at all.
Best Charts, Graphs, and Diagram Tools
It is perfect for creating flowcharts, mind map, org charts and every kind of concept that you visualize in your mind.
The platform offers a rich variety of templates and examples for you to check out and then plan your own diagram based on that.
The one unique thing about this platform is the kind of robust file compatibility it offers. It comes along with the best layouts as well, which further makes it a good option to look into.
The platform allows the users to create over 280 types of diagrams with ease. It is perfect for all your needs, be it the technical diagrams or even the general forms of diagrams that you are indulging in. You can also make infographics on this platform, further making it a good option to look into.
It has a smart and dynamic platform which further allows you to work effortlessly and without any kind of confusion whatsoever. You do get a lot of flexible choices at a fast speed, making it a good option for you to check out for yourself.
Pros
Compatible with Visio Files
Over 50000 templates & symbols
Real Time Collaboration
User-friendly Interface
Dedicated 24 Hours Support
Cons
Expensive Software
Limited number of diagrams in trial version
4. Creately
For those looking for an advanced and organized platform to get through the process of diagramming a lot easier, Creately ensures to get that done for you.
It is defined as the simplest way to visualize concepts which is exactly what it does.
The best thing about this platform is the ease of use. Not only do you get over thousands of professional templates, you can also look around and use the plethora of intuitive drawing tools that are provided at your service.
The tools are all integrated with precision control that assures maximum results with minimum efforts. You can also collaborate on the diagrams among the team members to keep track of the progress without any disruption.
The layouts of all the diagrams are quite unique and one of a kind, making it an even better option to check out for yourself. It comes with smart features and professionally designed shapes to further help you achieve the diagrams for the concepts that you have had on your mind.
The best thing that makes this a potent competitor for the Microsoft Visio is how well everything is arranged. It has been categorized based on the niche of work, thus further streamlining the needs and requirements for the better.
Pros
Seamless team collaboration
Built-in agile project management
Creation of custom databases
Real time cursor tracking
Extensive standard diagrams and specially designed connectors and shapes
Cons
Lacks some important features
5. Miro
Microsoft Visio has gained a lot of traction online but if you can't see to access the tool, Miro is a great alternative for you to check out.
For those that aren't aware, Miro is an online whiteboard platform that enables the users to create a wide range of diagrams that include flowcharts, wireframes and mind maps too.
One of the main reasons why it is considered a better alternative for Microsoft Visio is due to the fact that it consists of more collaboration features and is a lot more interactive too.
In terms of the features it offers, Miro isn't as competitive as Microsoft Visio. However, given that you have a free version that's more than enough to take care of the basic user and diagramming needs, we'd recommend this as an option to consider.
One issue with Miro that some users have complained about is the learning curve. Learning Miro is time consuming and mastering some of the diagramming features can be a pain when you come to use it but once you do master it, getting started in this platform is a walk in the park.
Pros:
Amazing collaboration features
Easy accessibility
Free to use
Interactive user experience
Cons:
Steep learning curve
Not as powerful as Visio
6. Cacoo
When it comes to a comprehensive diagramming tool for professionals, Microsoft Visio is a name that doesn't require an introduction.
Its versatile, multipurpose and hands down one of the best options out there. However, if you are on a budget and want similar (if not better features), Cacoo is an option that doesn't disappoint.
From real-time multi-user editing to in-app video and text chat, Cacoo manages to outshine Visio in multiple ways. What's great about Cacoo is how easy it is to use. If you are new to the concept of illustrations and diagramming, this software will more or less take cake of everything you can think of.
Users have complete autonomy to share and edit the diagrams in real-time for easy access and export. Additionally, if you were using Visio before and want to switch to Cacoo, the easy import feature comes a lot in handy.
Ideal for teams and client-based work, Cacoo offers real-time collaboration tools that allow you to get multiple members on the same project to fix and edit things without any delays.
You can onboard teams in a matter of minutes. Cacoo is also less than half the price of what you'd pay with Visio, so that's another upside.
7. Visual Paradigm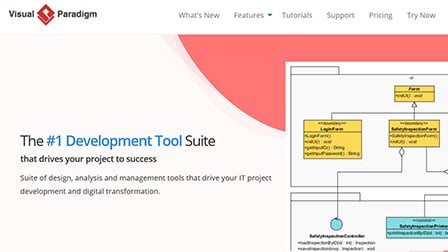 Amidst all the diagramming software online, Visual Paradigm is one of the few underrated ones that deserve more recognition. If you are looking for a free Visio alternative, this is it.
Unlike Microsoft Visio, which charges $150, Visual Paradigm is free. No wonder it is such a coveted software among professionals.
Moving to the features and functionalities, Visual Paradigm offers access to unlimited realms of drawings, ones that doesn't get side-tracked by unnecessary ads, time restriction or any kinds of buffering in between.
Ideal for beginners, the simple UI and layout of this software makes it a lot easier for you to use compared to Visio. All it takes is a few clicks and you have the final diagram in front of you. Also, their online software doesn't require any formal training or preconceived knowledge, which is always a benefit as well.
With Visual Paradigm, you don't have to worry about installation or set-up at all. Users can access their account from anywhere and at any point of time via their browser.
Also, it is compatible with almost every browser that you can think of. Like Cacoo, even Visual Paradigm has an easy important feature if you want to switch from Visio.
8. SmartDraw – Visio Alternative For Mac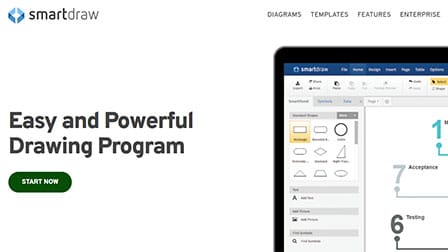 Next on the list of the best Visio alternatives has to be SmartDraw which is yet another popular platform that provides with vast access.
While Visio makes flowchart making a lot more complex than it has to be, SmartDraw is there to just help ease that process.
The best thing about this software is the fact that it automates all the process, so you can save a lot of time. They have commands integrated which you can simply click on and the diagram will be made for you without any extra hassle involved.
In addition to that, SmartDraw provides with more affordable options that you can choose and pick from. It also does require a lot less maintenance and streamlines the process as per the requirements.
It also allows imports and exports to and from Visio if you already have everything installed as per the needs. SmartDraw also provides with even better and even more stencils for you to work with without having to worry about anything at all.
Pros
Extremely affordable
Wide user base
Free email and phone support
Add visuals to reports and presentations
Cons
Faulty AutoSave function
Restricted customization with shapes and objects
9. Gliffy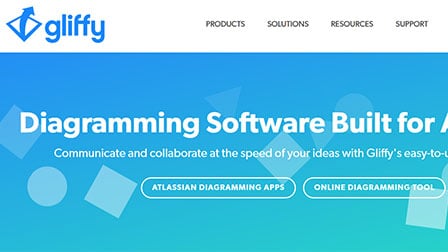 For those in need of a much more streamlined and easy to use platform for your diagramming needs, Gliffy is actually quite an amazing alternative to Microsoft Visio.
It is considered one of the best affordable and accessible diagramming tools available in the market right now.
The best thing why this is a good alternative is because it allows easy migration of all the work you might have done on Visio to their platform.
This cuts down a lot on the hassle and ensures that you don't have to go out of your way to get things done.
It is also a web based software which means that you and your team members can easily access it from anywhere across the world with the log in credentials and not have to fret about the possible roadblocks.
The price point for the services is quite good too, further making it a better option in comparison to Visio. You can even get a free trial for the premium services to check for yourself whether or not the same is meant for you and your team and invest accordingly.
Pros
Works well with teams deploying multiple operating systems
No installations or downloads required
Helps embed live diagrams in Slack and Trello
Intuitive drag and drop interface
Cons
Limited color customization of diagrams
10. Pencil Project – Open Source Visio Alternative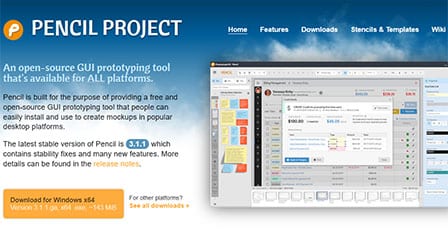 Pencil Project might sound very basic and very amateur for diagramming software but trust us when we say this that this is quite an amazing alternative for Microsoft Visio, especially for the beginners who are just starting out with the diagramming tools around.
It has been developed to provide with a free as well as an open source GUI prototyping tool that people can install on their devices and use to make the process of diagramming a lot easier and streamlined.
The platform does come with all the necessary shapes and tools for diagramming that helps in streamlining the process of making them a lot easier and effortless. You can also access it via the web or desktop user interface, further making the process a lot easier than what you can imagine.
All of these features are sorted out for free, so you don't necessarily have to worry about paying unnecessary amount of money. It also allows exporting to other outlets, further making your work a lot easier than before. It also does allow inter page linking, which again is an amazing option to check out.
Pros
Open-source GUI prototyping
Ease of installation
Simplified creation of mockups in various desktop applications
Free Version Available
Cons
Frequent errors when saving files
Related Articles:
The End Note
Microsoft Visio is no doubt an amazing platform to get all your diagramming needs sorted out. But, if you need some upgrades or don't want to spend a lot on these software applications, we have sorted you out with some of the best alternatives that are worth looking into.
Just make sure that you don't forget to check out all the available features in all of these software because they have very different approaches.
Every single one of them has something unique to their features that you won't find or get with the Microsoft Visio. It is also very important that you compare all the features and even the pricing and see which one fits your requirements the best and move forward accordingly.
It is completely futile to end up switching, only to realize that the platform wasn't meant for you. Get one that allows easy export and import options, especially from Visio, so you can transfer your existing data seamlessly to the other. It helps cut down a lot on your work that you have to put in.