Presentations hold a lot of importance in different spectres of life. Be it for your assignment or for your project meeting at your company, creating top-notch presentations using a reliable presentation maker can make or break a lot.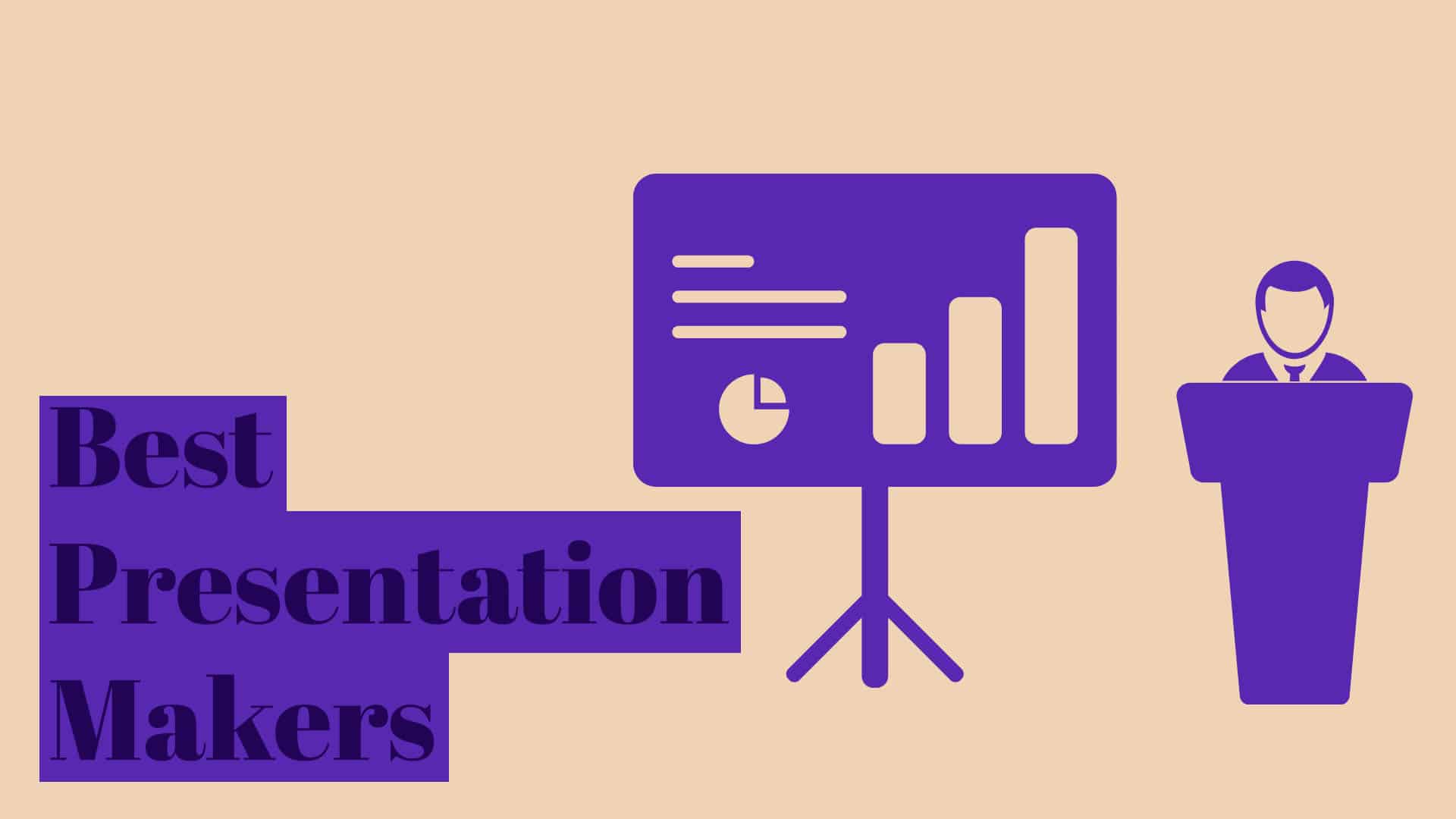 Ensuring that your presentations are informative and convey the intended message depends a lot on how you are creating them.
With so many different types of online tools and software available, picking one can be a challenge, especially if you are a beginner with little knowledge about them.
Choosing a good presentation software means relying on tools that will elevate your normal presentation and make it look and feel more enticing. From Visme to Canva and even Google Slides, there are a plethora of free online presentation makers that can simplify the process for you.
When curating our list, we wanted to bring together the best ones that the users can't seem to recommend enough. Our priority was to create a diverse list of options that cater to everyone's needs. From software that prioritize templates to ones that have comprehensive customization options, we have kept out list diverse.
Best Charts, Graphs, and Diagram Tools
That said, scroll through the list of the best presentation maker of 2023 to find out what our top 10 picks are.
Best Presentation Makers (Top 10 Picks)
A presentation maker is a comprehensive tool that enables you to create unique presentations and not the run-of-the-mill presentations that everyone else is making.
Not only for the creating process, these online software are designed to promote customization and collaboration options, further elevating the user experience for the better.
Following are some of the best online presentation maker we'd recommend you look into:
1. Visme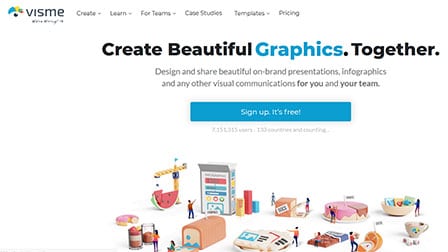 With so many different PPT makers available online, Visme deserves a special spot on the top.
We aren't being biased because that's what millions of users swear by as well. This is an online presentation software consisting of 900+ templates and slide options.
Not just that, the resource library of this tool consists of millions of icons, graphics, text designs, etc., which are there to elevate the look and feel of your presentation, making it look professional and engaging.
Ideal for students and business professionals, Visme's presentation maker comes pre-integrated with dozens of chart variants, which can be embedded into the presentation to streamline data visualization and make the presentation more interactive for the viewers.
Every slide in the presentation is customizable, meaning that you can change and edit things to better suite your brand's voice and identity. Another unique feature of this tool that deserves a special mention is the Visme Presenter Studio.
With this feature, the presenter can record themselves while sharing their presentation with the audience. Pair that with their easy drag and drop editor and you know for a fact that the designing process of the presentation isn't going to be a hassle.
Pros:
Easy to user interface
Resourceful library consists of images, graphics, text, etc.
Integrated with Visme Presenter Studio
Easy customization
Drag and drop editor
Cons:
Glitches mid presentation
Doesn't support offline editing
2. Google Slides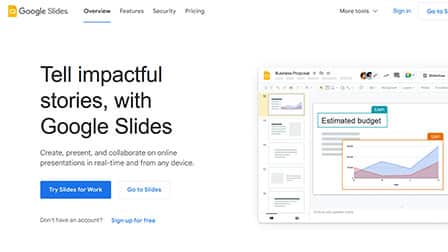 Looking for a free slideshow maker online? Well, your search ends with Google Slides.
Besides the fact that its reliable and designed by Google, the tool doesn't skimp on the features in the slightest.
Users can create, collaborate and share their presentations with relevant audience with a click of a button using Slides. What's great is the easy UI, which almost mimics the layout and design of the standard Microsoft PowerPoint we have grown up using.
But, with the familiarity you get access to advanced and more refined features that aren't available in the former. The easy sharing and real-time collaboration feature takes this up by a notch, enabling users to edit and change things with input from relevant authorities.
Like Visme, even Google Slides has an advanced and well-curated Presenter view, wherein the presenter can showcase their work in front of the audience and control the progress as per their comfort.
Since Slides is a Google tool, it isn't surprising that it can seamlessly connect with other Google apps with a tap of a button. You can embed charts, reply to Gmail directly, etc. Also, if you have a PowerPoint presentation that you have to edit online, this tool takes care of that too.
Pros:
Free to use
Supports real-time collaboration
Easy presenter view
Premium customization options
Easily connect with other Google apps
Cons:
Templates are scarce
Offline mode isn't the best
3. Piktochart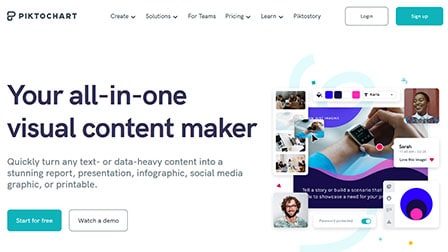 Looking for easy and hassle-free ways to create an online and engaging presentation? Piktochart has got your back.
This comprehensive tool is your one stop destination for creating professional looking presentation with a tap of a few buttons.
Decked with free presentation templates and resources, using this particular slide show maker online is a walk in the park. You can sign up for free and utilize the resources to elevate your game and make your presentations more enticing and engaging.
Once you are done with the presentation, the file can either directly be presented online or you can go ahead and download the file in PPT format for showcasing later.
Best Charts, Graphs, and Diagram Tools
Each slide in the presentation is 100% customizable. From the theme's color scheme to the font of the text, users have complete control over the look and design of the presentation they are making. If you want to align the presentation as per your branding, you can do so.
Furthermore, the tool comes with charts and maps tool, which can help translate the data into a visual format, making the final presentation more interactive and engaging. This versatile presentation maker is designed for everyone, be it a student, marketer or business owners.
Pros:
Premium range of templates
Free to use
100% customizable
Integrated with data visualization tools
Versatile UI
Cons:
Overlapping text boxes is complicated
Charts are limited
4. Mentimeter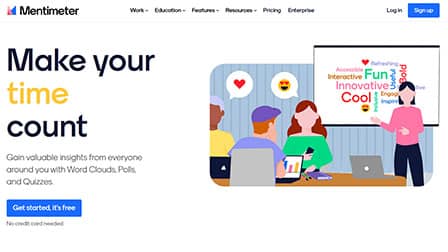 When talking about comprehensive online presentation tools, Mentimeter is quite an underrated option.
The platform enables you to create interactive slides and make them look more professional and enticing too.
Paired with a variety of slide types and an easy-to-use editor, this online PPT maker is a gamechanger for users on a global scale. It is free to use and it is cloud-based, which means that you can save your work and access it from anywhere and from any device using your account.
What stands out about Mentimeter is the user-friendly interface. The platform is minimal, which allows users to navigate through it without getting stuck in the middle. It has a collection of impressive designs and templates, which make this a worthy choice too.
If you are worried about the customization options, don't because every slide in the presentation can be customized to your needs. From the color scheme to the layout, evert part of the presentation can be edited according to the individuality of the presenter.
Pros:
Comprehensive library of resources
Easy to use
Customization features are great
Ideal for beginner
Cloud-based
Cons:
Paid plans are a little expensive
Not ideal for offline usage
5. Pitch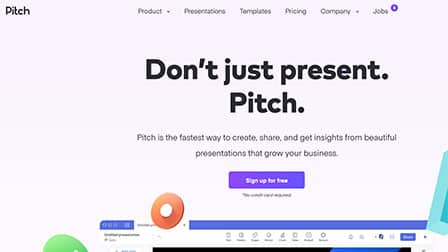 Next up on the list is Pitch, which is another free online presentation maker. You can create stunning graphics and presentations and keep your productivity in check with this tool, making it a worthy option to look into.
What's great about this platform besides the 100+ templates is the efficiency. If you have your data sorted, creating a presentation using this platform doesn't take more than a few minutes. Each template is hand-curated to ensure it looks premium and professional in the final presentation.
If you are working in a team and need everyone's input while curating the presentation, Pitch's collaboration tools take care of those needs too. Real-time commenting and editing feature make things a lot easier on the user and prevents back and forth.
This is an intuitive slide show maker, which helps you present your data and story in a more visual format with easy access and free tools and features. No longer will you have to worry about finding ways to bring your ideas to life. The easy embed and integration feature makes this a worthy tool as well.
Pros:
Free to use
100+ professional looking templates
Efficient workflow
Easy collaboration features
Supports embedding and integration
Cons:
Web version is a bit unstable
Free version lacks some advanced features
6. Microsoft PowerPoint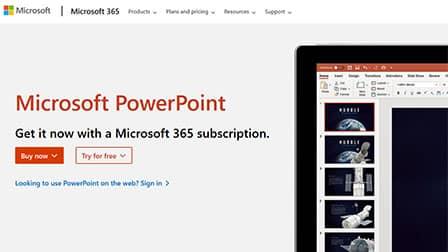 As much as we start loving new tools and software, we can't leave behind the OG, which is Microsoft PowerPoint. If you have a Microsoft 365 subscription, accessing this software is easy and free as well.
This PPT maker comes with a variety of pre-made slide types and templates, which you can choose from to create the presentation of your dreams. Is it limited in a way? There are certain advanced features that aren't available in this yet.
However, as a beginner that doesn't want to engage in complex online presentation makers, we'd recommend you give this a go. The well-designed layouts look very enticing, which is also a benefit.
One unique feature of Microsoft PowerPoint is that it supports 3D image and graphics integration, something that you might not get to experience with the other tools. Also, users can interact with the presentation using their voice, touch and ink too, which is a bonus.
Pros:
Easy to use
Reliable software
Supports 3D image integration
Supports online and offline features
Can be accessed via mobile devices
Cons:
Lacks advanced features
Requires a Microsoft 365 Office account
7. Genially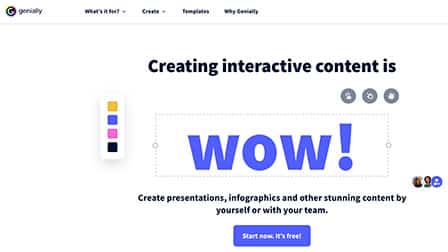 Care to make interactive presentations? If yes, Genially is undoubtedly one of the best platforms that you can consider using.
From show-stopping presentations to easily clickable slide decks, this online presentation maker is here to make your life easier.
The best part about using Genially is that it allows you to create presentations that the audience can click through. You can also add music, videos, and links in the presentation, making it more fun and interactive to play around with.
However, besides all this, the highlight of this presentation maker is the interactive animation that you get to integrate. The visual effects are nothing short of exhilarating and supports click-trigger, which makes the presentation easy to present and watch in front of the audience.
It is an online tool, which means that if you have an account, you can access your work from anywhere without any kinds of interruptions in between. It can also integrate with third-party apps like Google Maps and Slides.
Pros:
Simple and easy user interface
Can include clickable links in the slides
Optimal visual effects
Can integrate with third-party apps
Supports click-trigger
Cons:
Doesn't support offline feature
Lacks certain advanced features
8. Adobe Express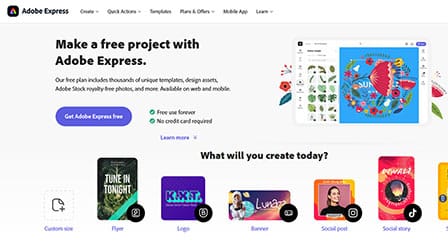 When it comes to creating anything using graphics, nothing beats Adobe. Their suite of tools are the top options on the internet.
So, if you are looking for a reliable and free online presentation maker, Adobe Express is hands down the best one.
Users have unlimited access to all the features in this tool for free, for a lifetime. All you have to do is sign up using an email and you are all set to go. The professionally designed templates are a boon, especially if you are someone that wishes to customize things.
What's great about Adobe Express is that it allows you to add your own graphics in the presentation, be it an image or a video. Users can also organize all the data into icons, making things look a lot more enticing.
Furthermore, the software supports drag and drop editor, wherein you can insert your relevant information in the presentation to streamline the overall user experience. Pair that with the easy share option and there's nothing you'd have to complain or worry about in the future.
Pros:
Easy to use
Free for a lifetime
Drag and drop editor
Optimal customization
Reliable platform
Cons:
Templates are quite limited
Unexpected menus show up without command
9. Venngage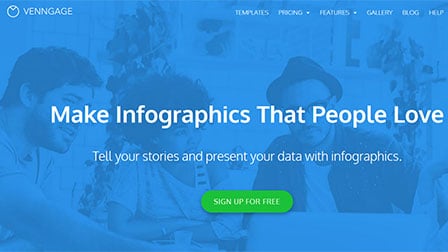 While we are on the topic of highly intuitive and free online presentation makers, Venngage is an option that deserves a special mention.
The platform is free to use and allows users to create their presentation from scratch within a few minutes.
The interactive format or user interface of this platform ensures that you can create professional presentations for webinars, meetings and conferences too. The personalized templates look engaging and fun to play around with, which is an added bonus.
Designed for beginners and advanced users, Venngage's simple and intuitive UI means that you won't feel stuck while trying to create a presentation from scratch. Also, the online platform ensures that you can present the final presentation from anywhere and from any device.
The share or export options in this tool are quite promising too, allowing you to streamline the overall user experience for the better. You can share it through a private link or even in a PDF format. It all comes down to what works the best for you.
Even the customization and collaboration features are quite amazing, enabling you to work with your team mates with optimal clarity.
Pros:
Ideal for beginners and advanced users
Simple and intuitive UI
Easy sharing options
Great customization features
Free to use
Cons:
Paid version is quite expensive
Lacks offline editing
10. Zoho Show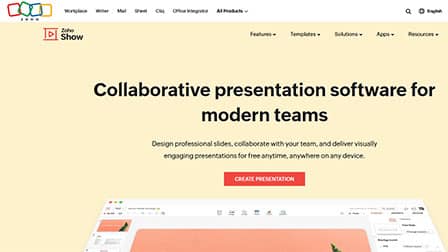 The last on the list is Zoho Show, an online PPT maker that's perfect for users that want to prioritize collaborative work.
Featuring a minimalist UI, this is one of those platforms that doesn't disappoint.
Sometimes, the last thing you want is to add excess and too much in the final presentation. The clean UI looks and feels great, specially making it easier during presenting.
It doesn't matter what, Zoho Show has a variety of pre-made templates that cater to all your professional and personal needs in no time at all. Also, a central repository on this PPT maker ensures easy collaboration and real-time customization from other members in the team.
With amazing data visualization tools, it is a lot easier to make your presentation a lot more fun and interactive to look at. It is compatible with PowerPoint too, meaning that you can edit your existing PowerPoint presentations in this platform.
Lastly, the exporting and sharing features are quite promising too. Users can download and share their final presentation in PPT, PPSX, HTML formats.
Pros:
Intuitive and simple user experience
Pre-made professional templates
Real-time collaboration
Compatible with PowerPoint
Easy exporting options
Cons:
Lacks certain advanced features, especially AI features
Paid version is quite expensive
Verdict
The process of creating presentations for personal and professional use has undergone a lot of updates and improvements. From online to AI presentation makers, we have come a long way. However, with the growing options comes a lot of confusion too.
If you are sitting there wondering which online presentation makers to rely on, we hope this article gives you a brief idea of our top 10 picks.
When choosing your option, we'd recommend tallying the features and picking the option that best aligns with your needs. Sometimes, it is better to try multiple tools at least before you settle on one that works the best for you.