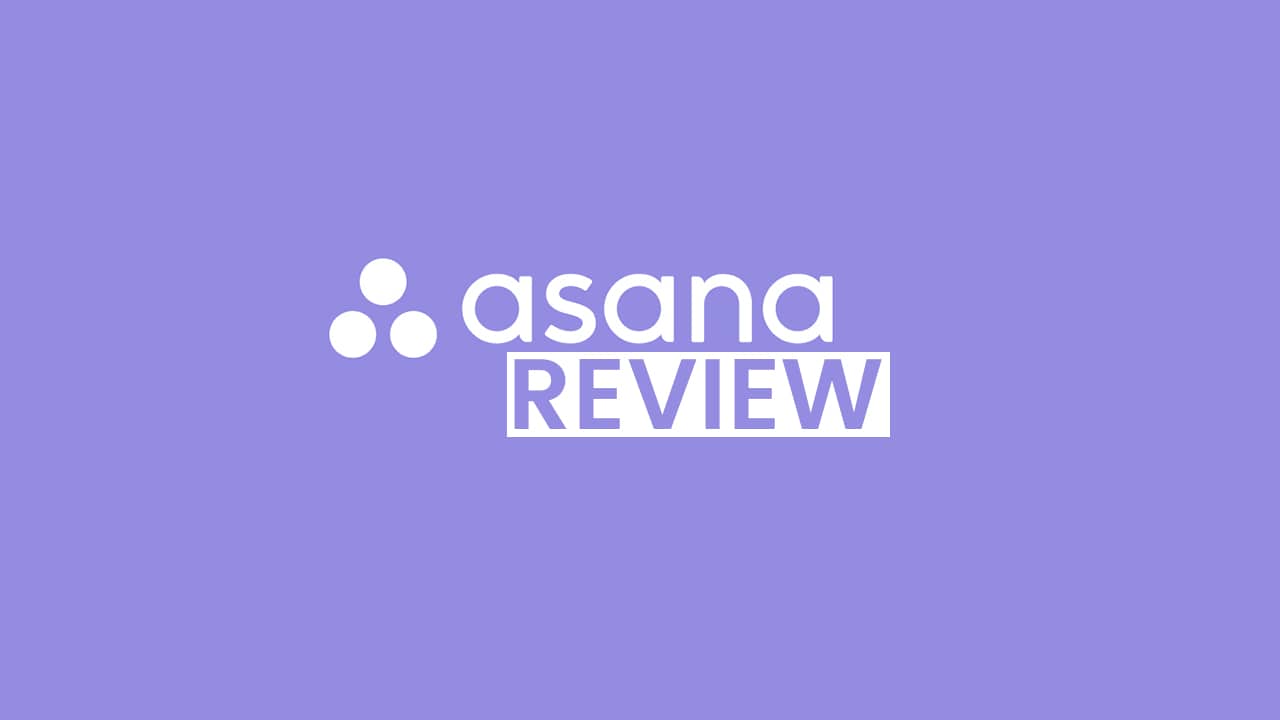 SUMMARY
Whether you need a simple to-do list to complete a task or an entire Gantt chart to organize complex projects, Asana is that encompassing work management software that offers the capabilities at a low cost and caps it off with an integrable collaborative tool for your small to large teams.
Pros
Integrates seamlessly with other enterprise apps
Easy Customizations
Flexible View
User Friendly
Templates
Cons
No fund management
No spreadsheet
The free version has a limited feature
Asana, an easy preference
With over 50, 000 customers paying customers, including NASA, Deloitte, RED BULL, etc. Asana is fast becoming a go-to for teams looking to stay organized and improve entire work productivity.
This is no surprise. As only a few software with such robust functionalities are easy to use. From its task management tools, to project management tools, up to the business management tools, Asana still makes it quite simple to navigate.
Of course, before you adapt to its web of features, some trial and error will suffice. This, however, wouldn't deter you, as it has a very intuitive interface to help spot things easily. And, best, provides structures, templates, and in-app articles to help when you feel stuck.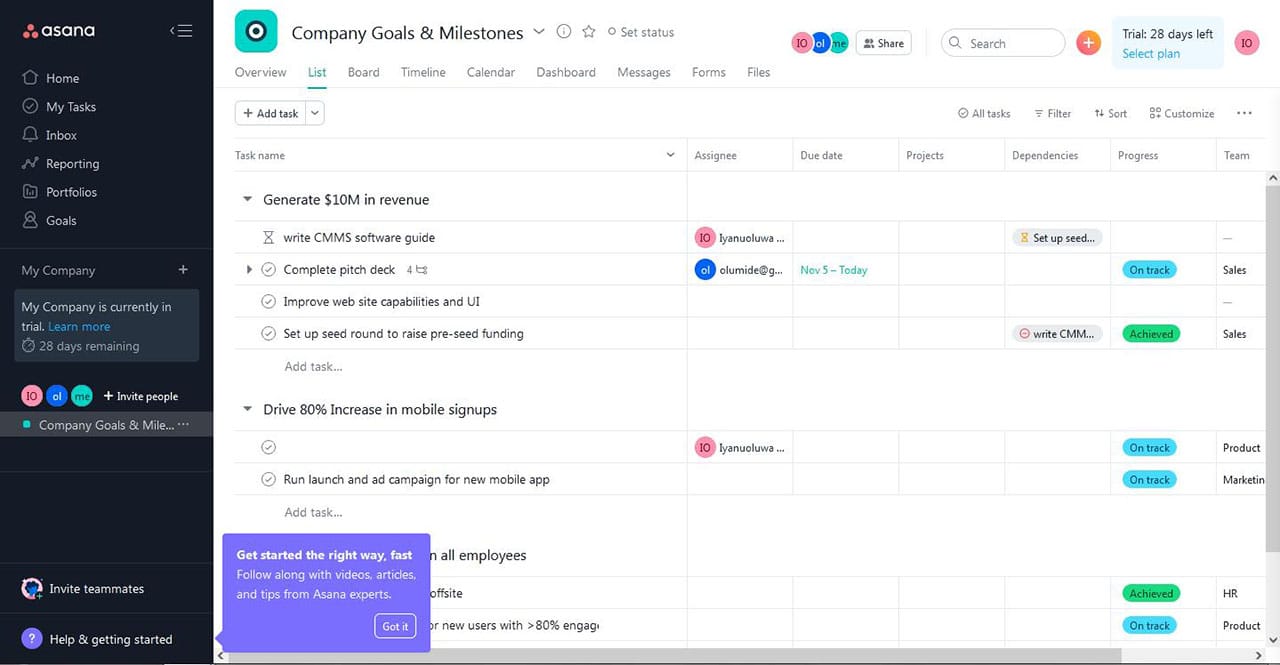 If you are looking for this type of flexibility, ease-of-use, and functionality in productivity software, then Asana might be your best bet.
Best Charts, Graphs, and Diagram Tools
However, you should also consider Wrike, Zoho, Airtable, and other apps in that category before making a buying decision.
And whichever tool you choose to bank on will depend on your technology requirements and how easily you can achieve your goals, not on which tool is deemed the overall best in the market.
Asana: Now than ever
Asana proves to be one of those companies that listen to customers. Every year, they roll out new features to improve software capabilities.
And with teams working remotely now than ever, the new feature eases team collaboration.
Some of the most recent improvements are my task tab, dark mode, video messaging, invoice tracking, etc.
The new task tab allows you to find the right work to focus on when you're working on multiple work-spaces in your organization.
Now you can choose to view your work in board style, list style, and calendar style. And it is easy to move around to another project.
Also, it comes with new automation for project dependencies. This means that you are immediately alerted when a teammate completes their bit in the project.
This feature is making a lot of users switch from Trello.
Users have been on Asana for a dark mode feature. And Asana came through with it in the latest update.
With the windows and macOS app, users can now switch to dark mode. And of course enjoy cross-device usage, as Asana now is available for android and iOS.
Although the dark mode isn't available on the mobile view just yet.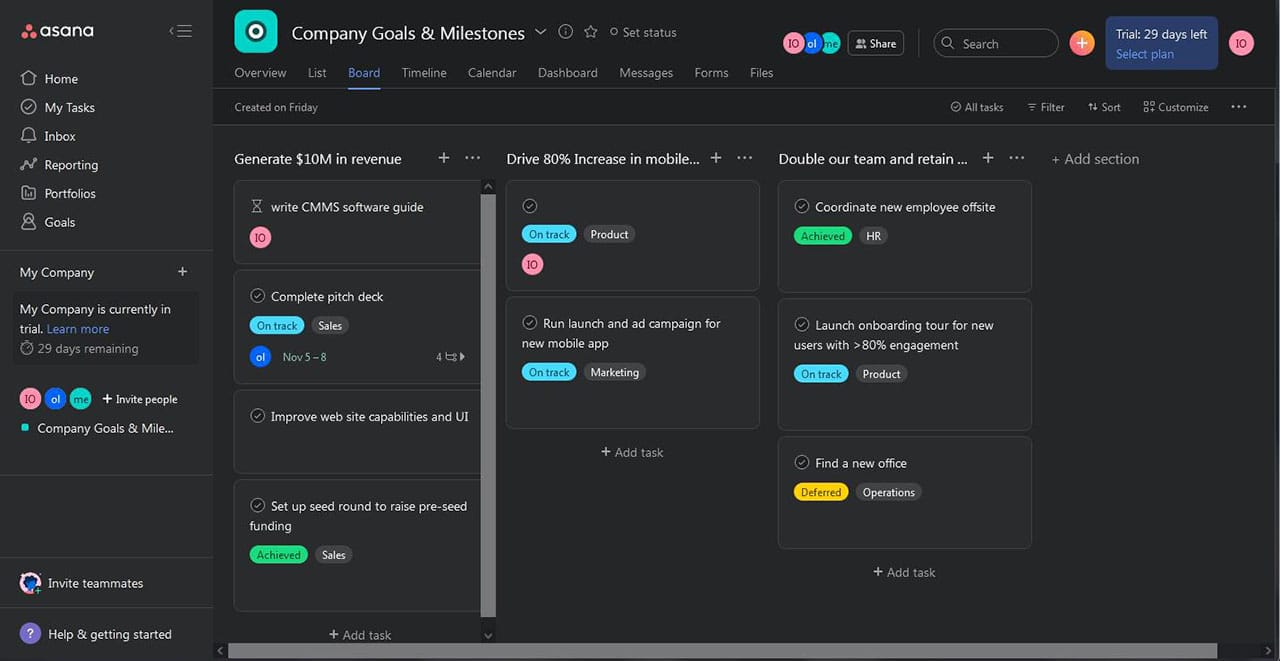 The video messaging option is a contender for the most thoughtful feature added to Asana.
Now you can attach a video headshot in your inbox to give more clarity to give team members on a certain project.
This eliminates the need to call for a meeting that takes an ample amount of time from work.
Asana: The Pricing
Asana has 4 pricing options: The basic plan is free. Although you have access to very limited features. Yet you can still collaborate with your team to complete simple tasks.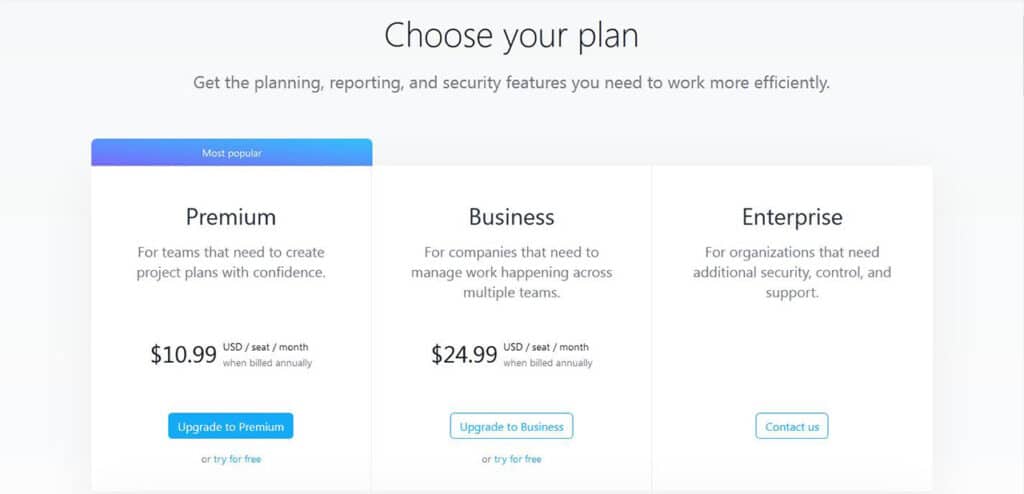 With the premium ($10.99 per month and billed annually) you can access more features, including timeline, reporting, custom field, inbox, private project, track task dependencies, and more features.
All the features you will need to manage a project, your workflow, get real-time reporting. And you wouldn't have to worry about not getting your money's worth as you get 30 days to try it for free.
The business ($24.99 per month) has slightly more features that can help you manage complex business processes and help you work towards achieving your business goal. You also get templates to help you get started quickly.
To get the enterprise you must send a quote to Asana sales. Of course, it has all the features in the Asana and will be a good fit for enterprises that manage multiple and complex projects.
Best Charts, Graphs, and Diagram Tools
Asana: Customization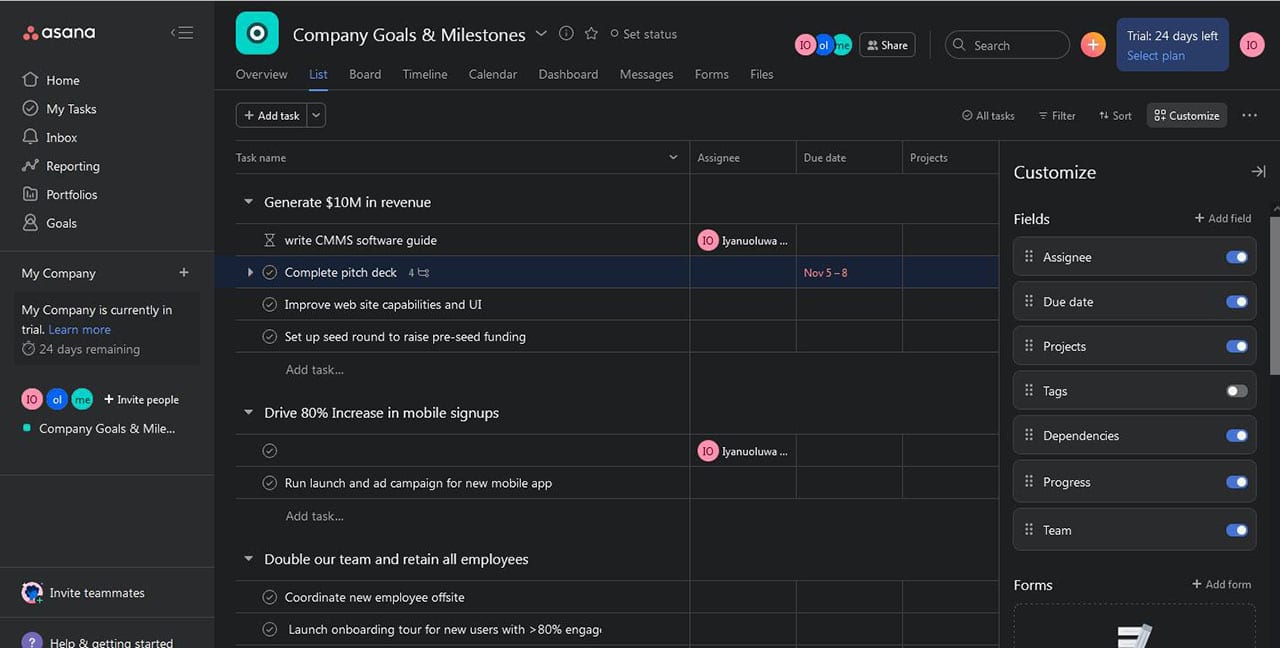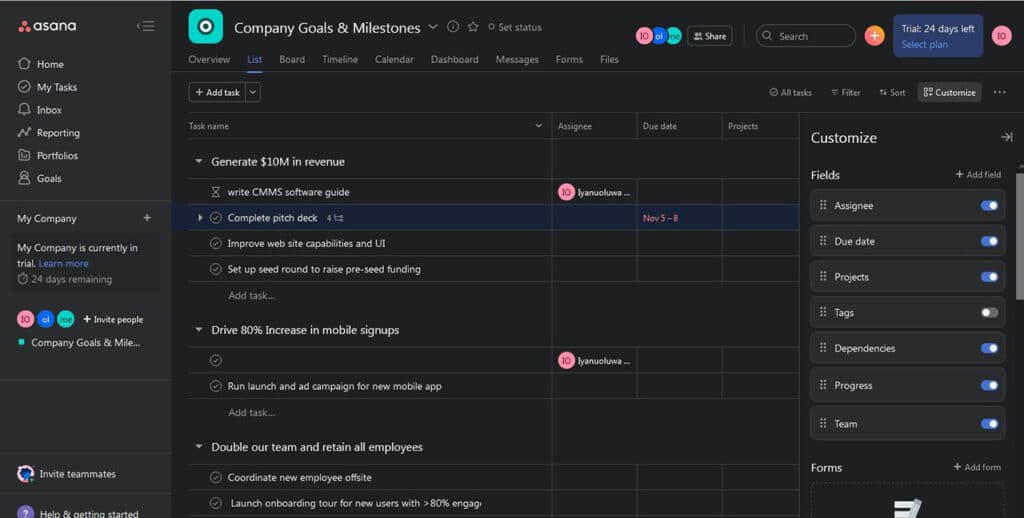 Before adopting a system, it is very important to understand the opportunities it brings to your work process and how easy it will be for your team to adapt.
Asana is a work management tool that is designed to help teams organize, manage work. Mainly, it allows the team to assign tasks, monitor the process, and complete tasks in time.
For some teams, Asana is a project management software that allows teams to keep tabs on tasks, manage resources, monitor performance, maintain cross-communication, and more.
And Asana is designed to fit any time if team or project. Yes, when it comes to being able to modify the software to fit your specific need and requirement, Asana understands the assignment.
Its flexibility and simple interface make it easy to customize according to your work processes. This is especially true because Asana offers templates to help you get started.
Asana: Integration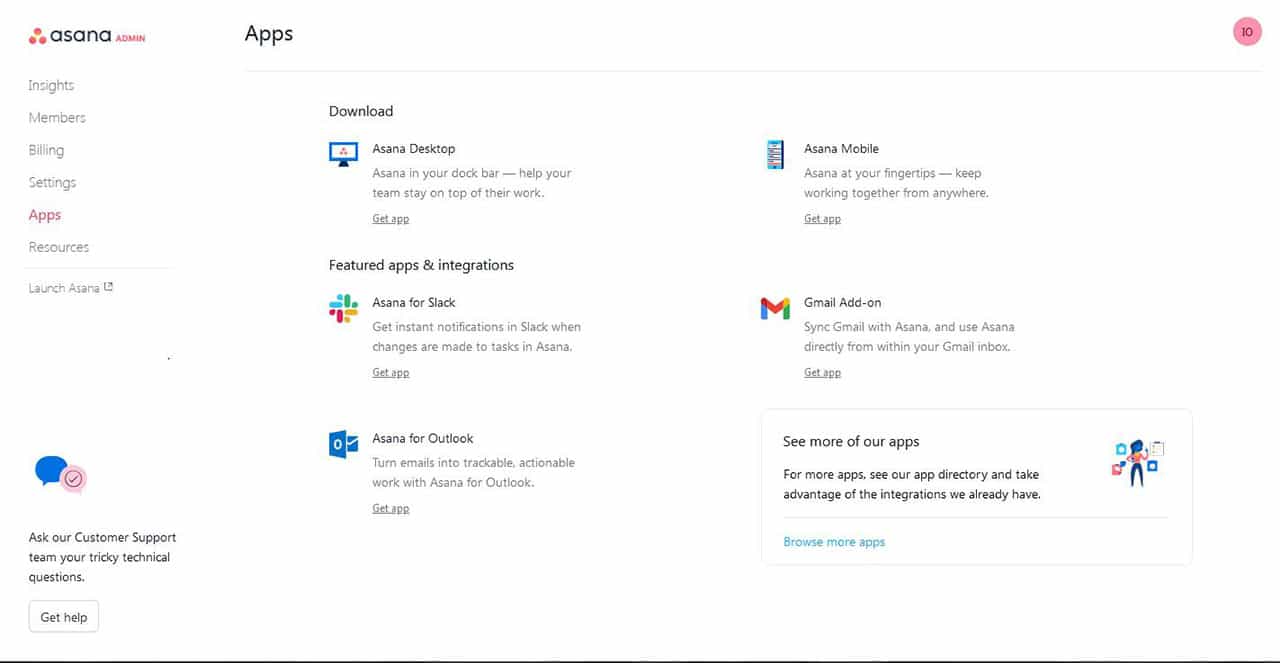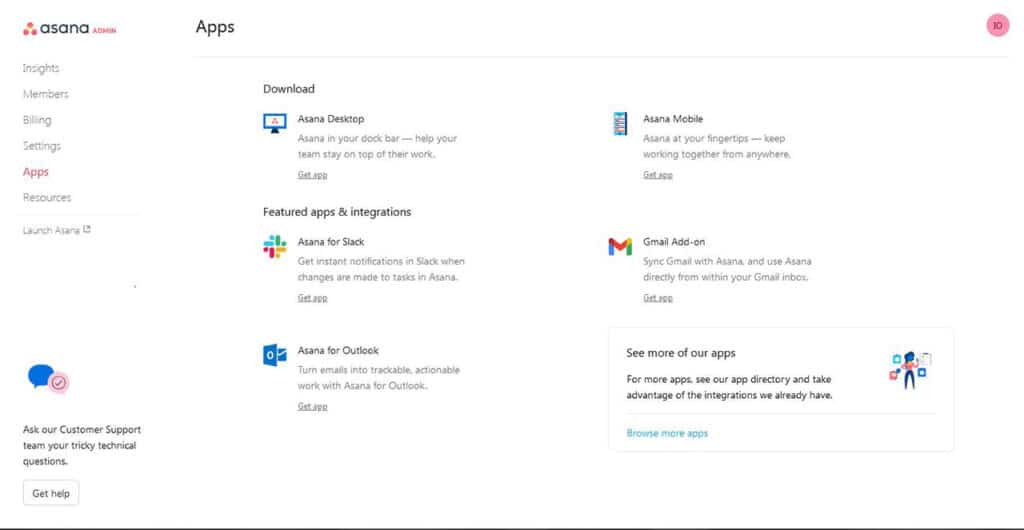 Also, Asana integrates seamlessly with your existing software. For example, for a design team that uses Adobe Creative Cloud, you can collaborate on a project by integrating Asana with adobe.
So you can see new tasks, collaborate on the design and send feedback without leaving your software.
Asana has other apps including IT and development apps (Okta, Azure Active directory), sales and services (salesforce), communication (Microsoft team, slack), reporting (Tableau, Power BI, Google sheets), etc
Asana and User Experience
The productivity software is available for download on desktop (Windows, macOS) and mobile (play store and apple store).
And every feature on the web or desktop app is available to you on mobile depending on the size of your screen.
The only thing you might find displeasing is the fact that dark mode is not available on mobile just yet.
Asana has a great visual design that is easy to interact with. You aren't left to find your way around in clustered software. Its layout, labelling, colors, and navigation offers an exhilarating experience to the user.
Asana's basic structure includes a workspace where you have all the information you need about projects and tasks.
The window has a navigation bar to view tasks details in the list, and board and other views timeline, calendar.
And of course a dashboard for real-time reporting. And each is labelled accordingly. If the interface gets confusing, however, Asana has materials (in-app tutorial, pop-up guides & animations) to help get on track.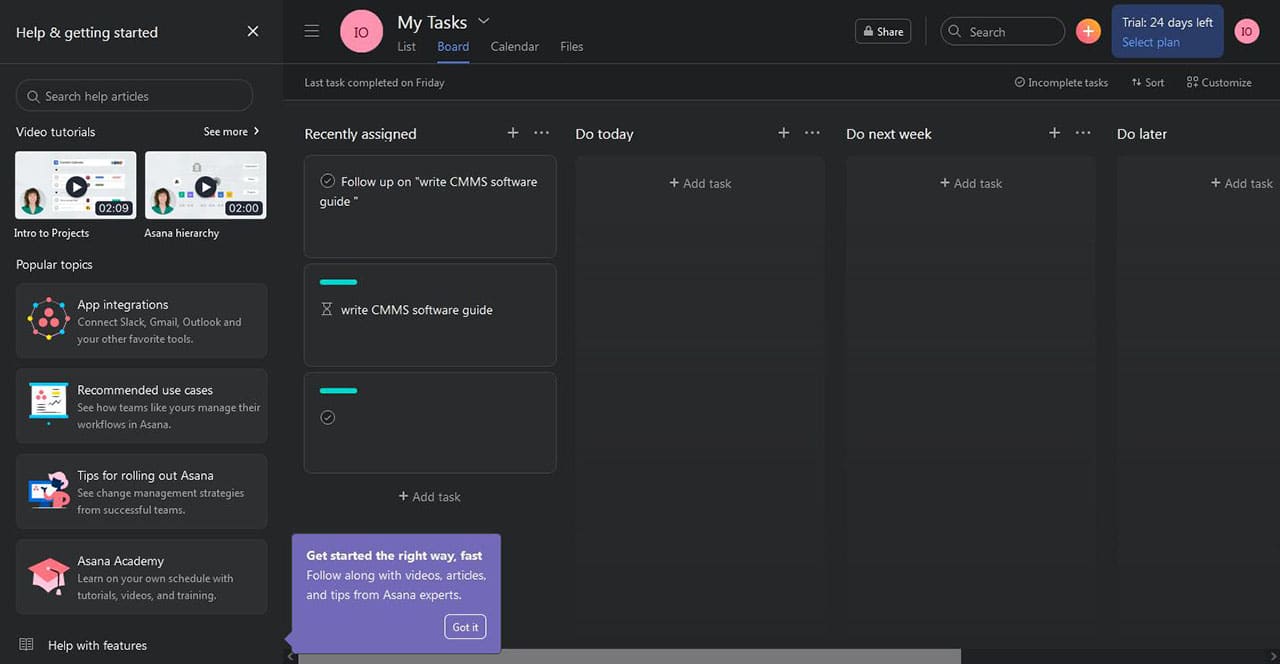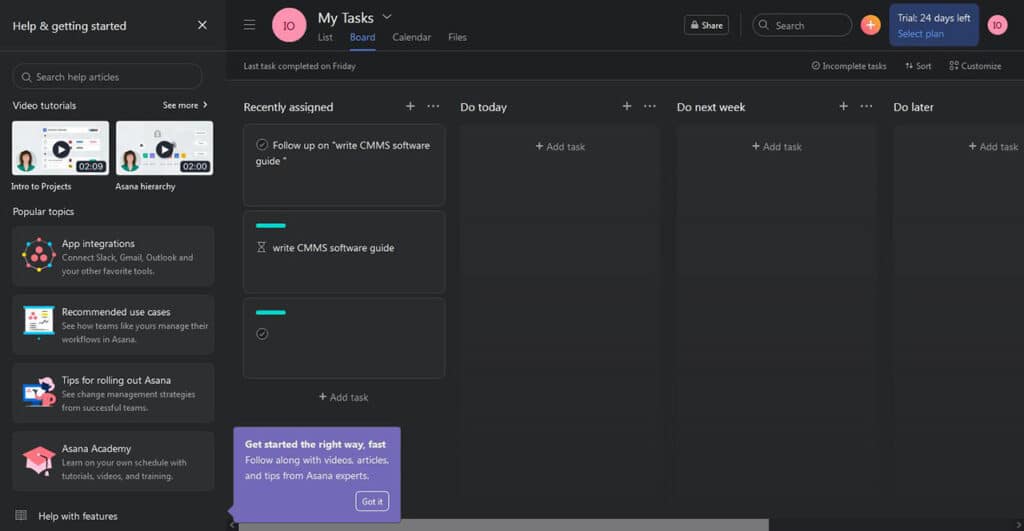 And you can tweak the app to your preference. You can adjust the visual effect (even for folks that are), switch to light or dark mode. Control how to receive notification or even go full "do not disturb". Although the dark mode isn't available on mobile at the time of writing this review.
Asana: The features and use
Asana has 3 salient features, my task, reporting, and portfolio. All these appear in the left collapsible tray alongside the Home and inbox tab.
On my task, you can view the details of your tasks (the collaborators, dependencies, to-do, due date, and the messages attached.)
And, of course, you can choose to view in list style, board (kanban board), and calendar. All this is accessible at the navigation menu of my task window.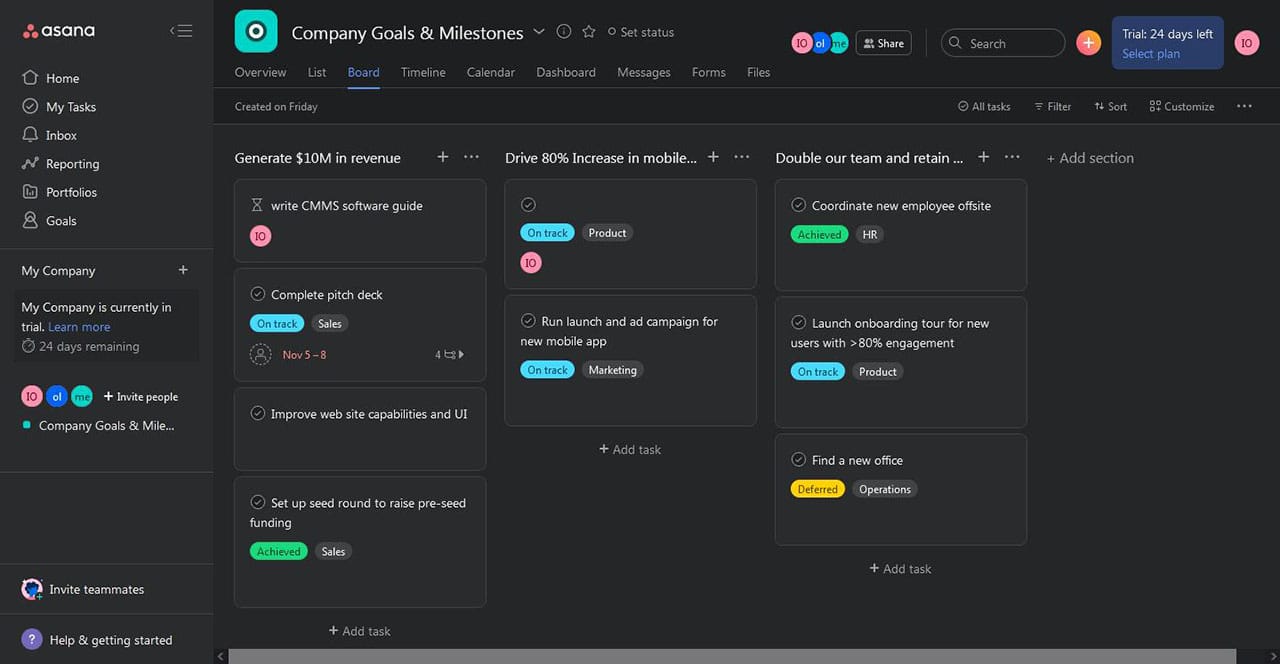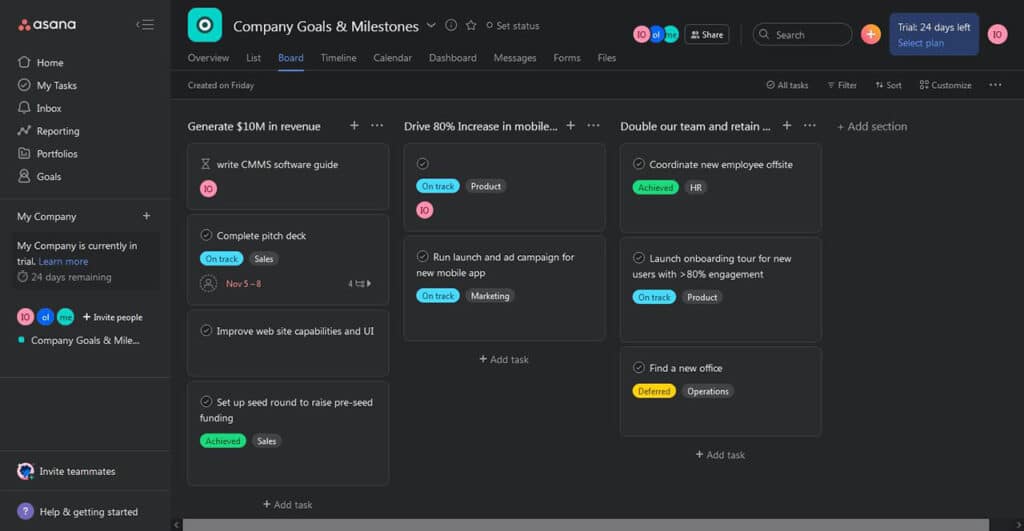 Now the main window gives a border view of your project or entire work. When you have multiple tasks to complete, you must be able to track tasks in real-time.
Each task has sub-tasks, assignees, due date, the teams, dependencies of the particular project, and you can also add a custom field depending on your work structure.
Every task has a progress status (achieved, on-track, deferred, failed) to see where you are at completing the task.
And you can automate a task, so you get alerted when a dependency unblocks you.
Asana: Team Communication
Asana makes it easy for all team members to understand the project details.
You can add comments, rules, descriptions, file attachments, etc, to help stakeholders know what to do when to do it, who to do it, and how to do it.
You can also seek more clarification by commenting on the task.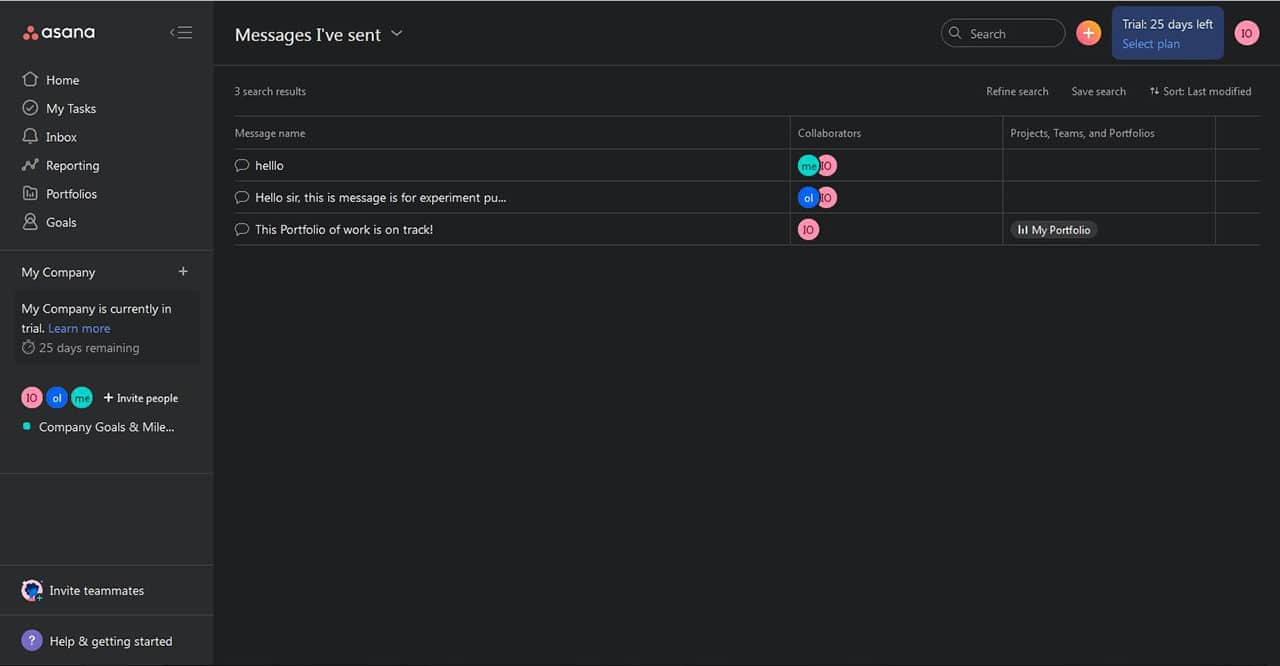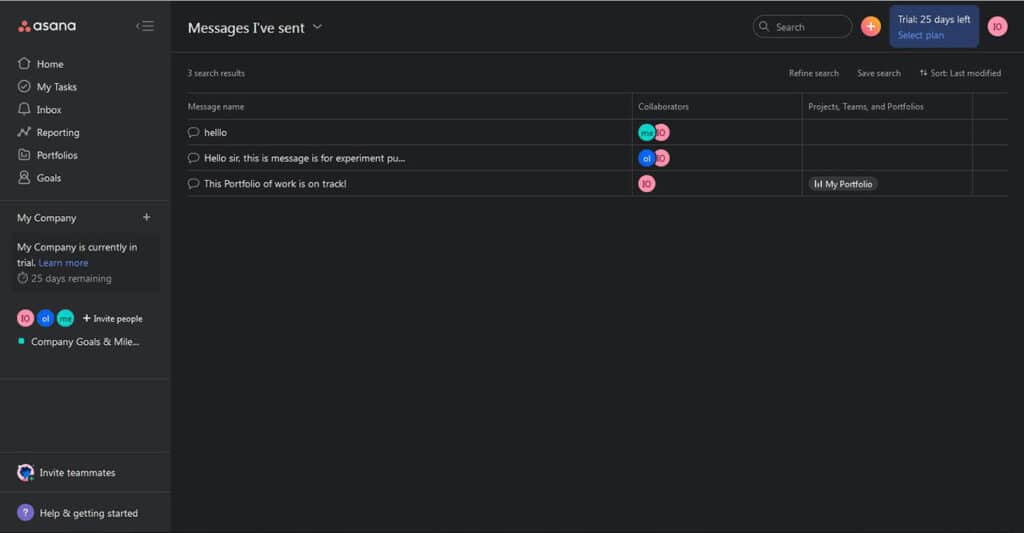 The inbox is the place where you get updates and notifications on tasks and projects. And you can use it to send messages to a team without having to send emails.
Alternatives to Asana
There are many work management software. The most popular ones include the Microsoft project, Work zone, Base camp, Trello, etc.
Each with its distinct features. And while Asana is an easy favorite because of user-friendliness, it might not be the best fit for you. Let's see how Asana compares to other software.
Trello has 3 tiers of pricing. Unlike Asana, the free version has features to get the work done. The business and enterprise cost $12.50 per person per month.
Trello only comes in Kanban board style and is therefore not as flexible as Asana.
Work zone, Airtable, is in the same price range as Asana. Airtable has a spreadsheet and more budgeting and invoicing features. Which you need integration to do on Asana.
Asana: The End Note
Many businesses use independent productivity tools to organize work, manage complex projects and create collaboration between teams, and they end up spending thousands of dollars procuring these tools.
If you are looking for software that allows you to do all these in the system at a lower cost you should include Asana in your evaluation process.