Create and visualize your data and information graphically with one of the best infographic maker of 2022 listed here.
In recent years, graphical data is witnessing higher preference and adoption as it imparts a quick understanding of the existing content and is found to be largely impact rendering on the reader in comparison to plain textual data.
The illustration of any kind of information with the help of graphics is an elementary approach to highlight necessary and important messages for a lengthy repetitive text that can otherwise get the viewer bored.
In an attempt to accomplish a full engagement of the data towards the reader, the incorporation of graphics across content management has picked up a stronger pace.
The growing competition among various industrial verticals and businesses has pushed the demand for them to market themselves in such a way that their business ideas do not miss the reader's eye.
Best Charts, Graphs, and Diagram Tools
The management and illustration of the content with numerous graphical designs and patterns also help to drive a lot of customers to the businesses.
Individual users or, be it small to large enterprises are seen to be making use of colors, charts, and data elements to add value to the information they want to communicate. These firms deal with a lot of data, some highly important compared to the remaining text.
To differentiate this data, so that it is conveyed and marketed to a whole extent, graphics have come into the picture. The appropriate use of these structures with colors, fonts and styles and the rising need to get the content noticed has led to the development of infographics.
Best Infographic Maker 2022
Considering the outgrowing popularity and requirement of infographics, there is an optimum availability of several infographic making software, tools and editors across diverse applications or individual use.
These applications can easily produce and beautify the infographics in lesser time. They can be accessed with zero charges or can have extremely affordable subscription plans.
Furthermore, their feature and design-rich attributes make personalization handy to bring the user's imagination on the graph, without demanding any graphical expertise.
Mentioned below are some of the top-most ranked and highly preferred infographic maker for the year 2022 identified for their versatility and ease of use.
1. Visme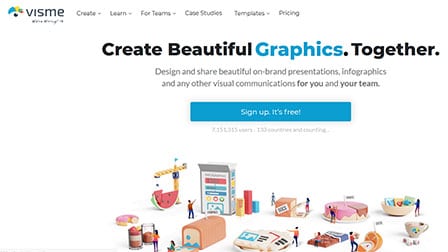 With over millions of users in across 130 countries in the world, Visme finds its solid presence to rigorously cater to the infographic need of top-notch marketers, executives and educators.
This web-based tool is in use across giant firms like Intuit, IBM, Axa, and Swiss Life, among various others.
Users worldwide can log onto Visme, at absolutely zero cost to furnish some of the most stunning looking infographics using the most advanced enhancing components.
One of the top-most highlights that makes this application a premium choice among the mentioned major companies, is its drag-and-drop feature.
Over 50+ images, data elements and widgets can be quickly and easily inserted onto the graph by simple dragging and dropping on the workspace.
Once the infographic has been generated and enhanced, it can be downloaded, shared on multiple social platforms, can be kept private through password protection or can be prevented from google indexing.
2. EdrawInfo
EdrawInfo, without a doubt, can be addressed as a superlative infographics creating software owing to its compatibility with Windows and MAC operating systems.
It is best known as a super beginner-friendly designing tool as it helps curate visually striking infographics in a jiffy. By merely following 5 simple steps, and by just enhancing the pre-existing templates, one can come up with some eye-catching infographics that have numerous streaks of customization.
This web-based platform is also in widespread use across bigwigs, such as Spotify, NASA, Illuminia, and Lufthansa among a host of others.
Additionally, with over hundreds of vector clipart elements, EdrawInfo supports the quick and effortless creation of compelling infographics that are highly customizable with respect to colors, shadow effects, lines, and chart values.
When it comes to saving the completed infographics, the application offers access to diverse variety of file formats, such as PDF, PPT, PNG, SVG, and HTML.
3. Venngage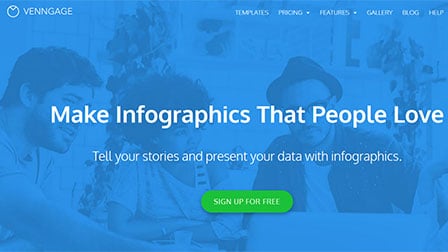 Venngage is an online application that is highly popular for creating data visualization structures, mainly charts and infographics.
This tool is in excessive use across over twenty-one thousand businesses in the world with Harvard University, Google and Airbnb as its prominent clients.
Best Charts, Graphs, and Diagram Tools
Its presence in these esteemed organizations can be attributed to its ease of operation in creating the infographics that take less than 3 steps and over 5 minutes.
There are around hundreds of professionally articulated inbuilt templates rendered by this application which can be used as a base for the infographic in order to further add texts, charts, icons among other visuals.
The infographic can be later customized and branded as per company specific choice of colors and styles. The finalized structure can also be updated or altered whenever needed.
This simplicity of personalization of the graph makes Venngage the most desirable infographic maker among users across the globe.
4. Snappa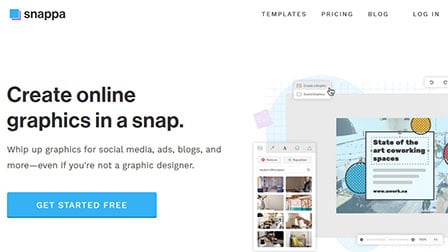 Snappa can be regarded as the best in business, subscription-based infographics making platform for non-designing professionals to come up with eye-catching and visually appealing infographics and other graphical charts.
The graph making procedure can be completed in just 3 simple steps with the help of over hundreds of colorfully attractive and easily customizable templates. This can save a lot of time for the user as the designing aspect is looked after by the inbuilt templates.
This online tool is configured with preset infographic dimensions and offers over 7 million stock images that can be used to add value to the infographic.
These high-resolution images are freely accessible in the application and can be used as background pictures in the infographic.
Besides, there is an enormous variety of text, graphics, and shapes in the tool that can be altered to furnish a user-satisfying infographic, which can be later saved and shared.
5. VistaCreate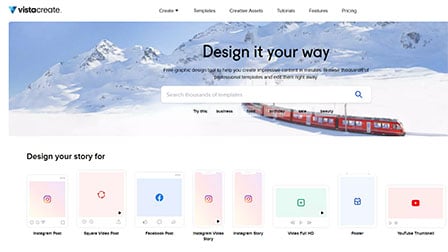 VistaCreate can be deemed as one best infographic maker for 2022, compelling its users to stop writing statistical data in a boring old-fashioned way and project it in style.
By creating designs from scratch or using any of its professionally-designed templates, one can easily and effortlessly craft some engaging and beautiful-looking infographics.
This tool comes with affordable plans and is loaded with all the necessary objects and features to create an awesome-looking infographic devoid of any prior design experience.
Apart from templates, VistaCreate lets you play around with fonts, and animate the graphics by incorporating various stunning charts and lists, while embellishing them with design objects.
One can also customize the infographics with an assortment of elements and add animated effects to the text blocks and images. Another best part about this application is that it lets you upload your own content and customize the dimensions of the illustrations.
6. Infogram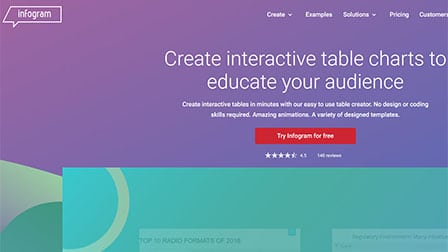 An easy to use, and internet-based graphical application, Infogram helps its users to furnish interactive infographics in a matter of a few minutes, without stressing the need for any designing or coding skills.
This tool is highly preferred by individual employees or team members, specifically across the corporate vertical as the infographics can be generated and made stunningly appealing with a variety of animations.
These end-users can get hold of on-point geographical, hierarchical, anatomical, data-centric and a dozen other categories of infographics through this online application.
Infogram is inbuilt with an ample number of maps, charts, icons, widgets, and professional images to assist its users for the ease of customization.
Also, there are more than 200 templates rendered by the tool that can be picked to start creating the infographics to take them to the next level with regard to content placement and design. Hence, this application is highly recommended.
7. Adobe Spark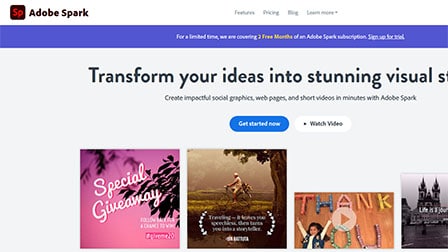 To add visual value and generate some of the most complex and design-rich infographics from scratch in less than a few seconds, Adobe Spark is the best choice any user can make.
This application is best known to offer resizing of the infographics with ease.
The ready to use, visually pleasing templates offered by this web-based application can be enhanced with attractive looking typography using an abundance of professionally designed fonts. One can also insert iconic images either through the internet or simply upload them from their collection.
Another striking feature of Adobe Spark is that it can provide an impressive range of professional themes that can be personalized with the help of superlative layouts, and icons.
The infographic template can also be tweaked for options like texts, fonts and photos. Once the final graph is curated, it can be downloaded or exported across various online portals in any format.
8. Piktochart
Piktochart is a popular infographic making application that lets you craft eye-popping infographics with perfect images, illustrations, and icons.
Apart from offering a free library of graphics, the tool comes with good-looking and easy to customize templates, as well as design components.
One can also spice up their infographics with images to make the content more beautiful. The main highlight of this portal is that it helps you translate complex data into visual stories, making it the most recommended infographic maker in 2022.
The brand assets feature of Piktochart makes sure that the content of the infographic is customized and always on-brand in seconds.
Using the robust charts and maps of the application, one can also quickly translate their data into an infographic to grasp the audience attention. Another perk of this tool is that it offers automatic data updating as the graphs are linked to Excel or Google Sheets.
9. Lucidpress
A renowned cloud-based infographic maker with more than 6 million users across the world, Lucidpress helps you come up with some well-finished and award-winning infographic designs.
This intuitive, and interactive drag-and-drop editor lets you create beautiful, on-brand infographics that are easy for everyone. One can pick a template from over a hundred others, and completely customizable it to match the brand. The infographics can also be made professional by enhancing them with the power of Smart Brand Assets.
Moreover, this online tool helps you add your intended fonts, colors and logos to the selected template. It also lets team members personalize the co-owned templates and ensures that the content remains consistent without going off-brand, with the help of advanced template locking.
This browser-accessed platform also offers data automation. The resulting infographics can be conveniently shared and easily imported through handy integrations with YouTube, Google Docs, Drop book, Facebook and InDesign.
10. Easel.ly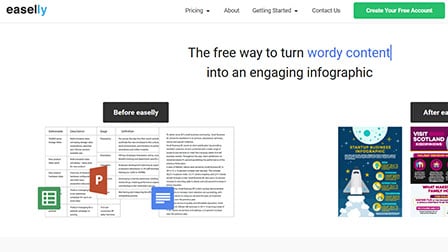 Consisting around 3 million esteemed users across the globe and having furnished more than 6 million infographics till date, Easel.ly can be touted as the most sought after platform to shape your boring data into an engaging and storytelling infographic.
The best part about using this web-based tool is that the users can log in and start creating infographics without bearing any monthly or annual subscription costs.
The logged-in users can choose from an optimum variety of professionally-designed templates to initiate the infographic making process. On a surprising note, these templates are so versatile that they cover more than 90% of the whole process.
The remaining task involved would additionally beautify the template by simply dragging and dropping an ample number of icons, illustrations, and images that are offered by the application.
The resulting infographic can be saved in almost every format available or can be embedded on any webpage.
About Infographics
Infographics as the name indicate deals with the management of large amounts of information on a graphical body and can be described as a concise composition of charts, minimum textual data and images.
They are mainly employed to make hard to digest but vital information, easy to read and understand that would otherwise seem boring as a plain, repetitive text that would miss the reader's eye for important facts and figures.
The proper placement and distribution of this data reduces its complexity, making it entertaining, eye-pleasing and easily perceivable to the user.
Infographics are extensively adopted to turn crucial and data-rich concepts into illustrative stories that are abundant in images, maps, styles, fonts, charts and colors, and various other branding elements to increase the user engagement.
These structures can be resized, reshaped and conveniently customized with the help of existing templates or can be built from scratch to match the end-users needs.
This property of the infographics to merge attractive text, images and elements make visitors spend more time capturing all the information.
Taking note of their superior and value-rich dimensions, they have gained immense limelight for personal, educational and corporate use in comparison to presentations or word documents.
This can be attributed to the immense need to bring creativity and quick understanding of concepts in the education vertical and garner a lot of consumer traffic and enhance brand awareness in marketing scenarios.
They are also well-versed to highlight statistical data that needs to be communicated to the specified audience.
Verdict
Taking insights from the aforementioned top-ranked infographic making applications, one can say that all these online tools and software bring visually impressing and value-added graphics to the user's table in seconds.
Almost all these graphical editors ensure the creation of the infographics with the help of an extensive palate of colorful templates that can be then loaded with an impressive amount of visual elements.
Applications like Easel.ly and Lucidpress do not necessitate any payment formalities and can be accessed by the users at zero registration costs, making them a standard choice specifically for designing across fresher's and students.
On the other hand, Visme and Venngage are witnessing increasing presence across leading and renowned brands that operate across the globe.
Infogram and Snappa are known to bear some subscription costs but are highly recommended for generating customized infographics to cater to the surging professional and corporate purposes.
While online tools like PicMonkey and Piktochart along with Adobe Spark allow their users to turn some complex data into advanced design-abundant infographics by consuming minimum time and efforts.
On a final note, these 10 infographic maker serve the same purpose of furnishing top-class graphical and animated illustrations while offering modernized personalization benefits.