The prolific growth of the corporate sector has paved the way for the spiraling need for organizing and managing projects. Owing to this, employees are increasingly making use of some of the best project management software tools in order to initiate, plan, execute as well as manage some novel approaches to bring initiatives in an organization.
Off late, we have been noticing that project planning is playing a crucial role in assisting sponsors, guide stakeholders, teams, along project managers for enhanced productivity through all the project phases.
Companies have been largely focused on planning measures as it helps them identify and evaluate their desired goals, limit the associated risks, at the same time reduce the instances of missed deadlines.
This eventually ensures that they deliver their intended products, services and results on time and with ease. Considering this, an adequate number of online and offline project management portals are coming to light to cater to the escalating corporate strategizing requirements.
Project management software and tools not only assist in keeping track of tasks but also visualizing them through the backdrop of the whole project.
Best Charts, Graphs, and Diagram Tools
They precisely impart a bigger and better picture of the various tasks in terms of influence on other tasks, while also showing if a task is in progress, or completed.
These platforms are believed to save a lot of time and money as they render the right planning, which in turn ensures that your work is completed and delivered on time as well as within the budget.
Additionally, as project management helps in mapping the project's journey through the outset, it also notifies the deadlines in advance alongside skillfully allocating the resources, while avoiding delays and overspending on the projects.
Another vast concern faced by organizations is the lack of communication as working together poses numerous challenges. Hence there is a larger dependency on online software to offer improved internal communications.
To add further, the incursion of highly effective project management processes enables teams and their members to weed out the complexity associated with collaboration with enhanced transparency and accountability in real-time.
The applications are also used to give a deeper insight into the spent resources, their prioritization and off tracking outcomes.
As proper management of the projects assists in forecasting any issues on a prior hand and offer details of the project progress, they prevent the occurrence of bottlenecks in order to come up with smarter and data-driven decisions.
They also ensure that users scale a high performance to build on a team's best practices. Taking the learnings and data from the previous projects, the team members can also pinpoint the areas of excellence while looking for improvements. This in fact plays an ideal part in viewing the entire team's performance.
In totality, the dearth of proper project management as well as planning can lead to an ample wastage of time and effort. This has made way for the rising utilization of project management software in a bid to improve the fecundity of the entire business.
Best Project Management Software 2023
Project management software are carving a niche for themselves across numerous companies to offer effective project guidelines for higher rates of positive outcomes.
These platforms are growing popular and are widely deployed as they can quickly craft a hierarchy of tasks to curate their efficient completion. They also give you an insight into the actions that are sequential and dependent on each other.
In simple terms, their central motive is to make project planning and task execution easier for the team members. Here is a list of some of the best project management software to look forward to in 2023.
1. Teamwork
One of the leading and most widely used platforms for managing client work, Teamwork offers unrivalled project management functionalities and is equipped with easy-to-use enterprise-level features.
This online tool records extensive presence across major companies, including PayPal, Netflix, Disney and Panasonic and is trusted by almost 20000 businesses across the globe.
Teamwork, apart from project management, also helps users to scale up a client services team or business.
Additionally, as this online portal is integrated with tools, such as Google Drive, Dropbox, Zapier and Hubspot, it offers more flexibility and feature-rich benefits along with providing effective time tracking.
Teamwork is immensely popular for its ability to manage multiple complex projects and instantly knowing what's on and off track.
It also helps users in making most of their resources more wisely whilst employing dashboards, the Board View as well as project health status updates to view the progress of the reports.
Pros:
Comes with free 30-day trial
Dedicated tools for time management
Amazing data visualization tools
Bulk edit sections
Compatible integration with third-party tools
Cons:
Modifications take time to show up
Involves a few complicated features
2. Asana
Asana is an online tool that allows its users in planning, organizing, and managing a team's work from the start to finish.
What makes this platform one of the most preferred project management software is its robust ability to shuffle between emails, spreadsheets, as well as other tools in order to keep the projects on course.
Best Charts, Graphs, and Diagram Tools
In a nutshell, Asana helps you in looking after and keeping track of all the activities from day one to the deadline.
Apart from offering superior project management characteristics, Asana is widely deployed as a collaboration tool. This is mainly ascribing to the fact that this tool helps in coordinating the team tasks to get a gist of everyone's activities.
It also collates all the team's work together into one shared space. Users can customize the project view, in terms of lists, boards and timelines to suit their style, whilst tackling the right tasks.
Pros:
Easy to use
Expansive integration
Supports multiple collaboration tools
Has immaculate task management tools
Cons:
Lacks time tracking features
Assignments features are limited
3. Nifty
For assisting in bringing corporate teams and their clients together into one simple as well as powerful platform, Niffy has emerged as one of the top-most used project management software in recent times.
This online application is highly popular among bigwigs like Verizon, IBM, Loreal, among various others as it allows thousands of remote teams to save time in switching between their docs and chats.
Apart from creating a coherent action plan for projects along with automating the progress tracking, Nifty offers effective collaboration with attention to detail using the Kanban and the Swimlane views.
However, what makes this software unique is that it helps its users quickly and easily move their projects, tasks, teams, and files from Asana, ClickUp, Basecamp, JIRA, Trello, or Wrike.
Setting up a visual timeline for building team alignment, balancing workloads, besides offering real-time feedback in one-click Zoom meetings, are some other advantages of Nifty.
Pros:
Easy collaboration tools
Supports unlimited guests and clients
Great for remote project management
Intuitive UI
Cons:
App isn't that great
System notifications are often annoying
4. Zoho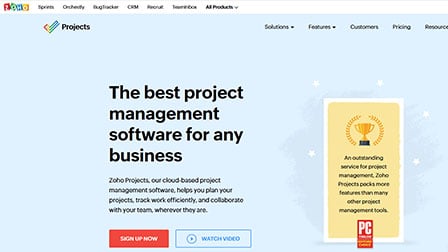 Finding comprehensive and intuitive project management software is the need of the hour.
Among all the available options on the internet, Zoho deserves a special mention.
Designed for dynamic teams, the software helps you plan your projects, track your work and collaborate with any team member without geographic limitations.
Besides providing access to graph and chart makers, one of the highlights of this software is timesheets, which allows the users to log both the billable and non-billable parts of the project. Programmed with task automation feature, users can automate different routine tasks to take the burden off the boring tasks.
The best thing about this project management software is the third-party app integration. Not only can you integrate the native Zoho apps, it enables you to integrate third-party apps like Slack, Chrome, Box, etc.
Furthermore, beside the standard web application, Zoho has a mobile app version, which simplifies and streamlines the whole user experience. Users can access their tasks on the go, providing you with an added advantage both on your iOS devices and Android devices.
The pricing plans of Zoho ensure that you won't break your bank. There are three tiers available – Free, Premium and Enterprise.
Pros:
Easy to set up and navigate
Has time tracking tools
Deep configuration options
Cons:
5. Basecamp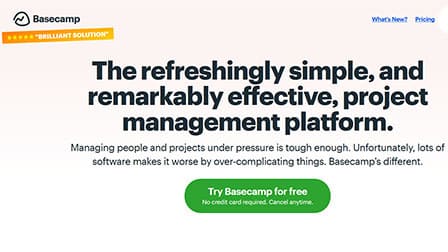 Project management has become indispensable in our professional lives. With so many different PM software, Basecamp stands out with its minimalistic and refreshingly simple UI and features.
No longer will you have to spend hours just understanding how basics work.
What makes Basecamp such a unique software is its straightforward and single-page dashboard. You can manage all your priorities in one spot. Also, the software features a centralized layout, where users can track all the relevant conversations and updates.
Integrated with to-do lists, you will no longer have to procrastinate on what to do next. Besides the organized layout, Basecamp also features easy sharing and collaboration tools for the team to work in real-time and without any confusion.
Backed with their chat room, Campfire, the project members can come together and have streamlined conversations to keep everything in line. Lastly, Basecamp has a unique scheduling feature, where users can set deadlines, milestones for their relevant events to ensure they never miss out on anything.
Pros:
Doesn't involve per-user fees
Easy calendar integration and syncing
Supports free accounts for teachers and students
Clean UI
Cons:
Free personal plan has limited features
Priority support is exclusive to business plan users only
6. Monday.Com
Renowned project management platform that lets you work beyond limits, Monday.com not only extends the ease of planning, and tracking to its users but also places a team's best work on the table.
It has gained the trust of more than 125 thousand companies worldwide to effectively collaborate and keep a record of all the moving entities. The tool is known for automating repetitive work within seconds and offer 24/7 customer support to help the users avail personalized and outstanding services.
Monday.com is enriched with hundreds of visually impacting and customizable templates that assist in setting up the project plans in minutes and integrate the completed tasks with the existing tools.
It also helps you view the project status in a glance through clear and intuitive project dashboards. Considering these trends the application has made its presence across leading companies, like Adobe, NBC, and Coco-Cola among a majority of others.
7. ClickUp
ClickUp stands out as a best project management application as it tracks the entire project from its start to finish by projecting visually impacting views and helps the team to effectively collaborate on project planning.
This online software is in massive use across corporate giants such as Google, Booking.com, and Squarespace and marks a widespread presence across more than 200,000 highly productive teams. Alongside organizing the projects at a glance, it also helps the users to track progress levels and goals.
Another prominent feature of ClickUp is that it manages the resources on a box, list, Gantt, board, and a calendar view as well as helps in building personalized workflows with customizable views.
It additionally offers a total alignment on the project with the addition of comments to tasks and documents.
Taking note of its productivity and ready-made templates, the application is also the recipient of multiple awards and accolades.
Pros:
Supports powerful project management tools
Efficient dashboard view
Customer-centric features
Quite cost effective
Cons:
Customization features are overwhelming
UI needs a little improvement
8. Hive
Hive is a newly introduced project management platform that lets its users plan and work through multi-step projects at their highest comforts and convenience whilst ensuring in getting to their goals at record speed.
Comcast, Toyota and Starbucks among several others are some of this software's esteemed users. Apart from being packed with powerful proofing and annotation tools, what makes Hive a much preferred and utilized portal is its thousands of integrations to offer centralized information for maximum efficiency.
Additionally, project and action templates offered for repeatable steps in this platform also cut down the users work in half.
Access to an umpteen number of project templates coupled with advantages like document as well as video proofing and approval workflows also contribute to making Hive one of the best project management providers.
Task tracking and collaborative notes to make meetings more engaging and interactive are also rendered by this application.
Pros:
Comprehensive features
Optimal customer support
Support unlimited integrations
Amazing collaboration tools
Cons:
Mobile functionalities are limited
Challenging user navigation
9. Trello
In order to collaborate and manage projects effectively in a bid to reach maximum productivity peaks, Trello has ranked itself among the leading project management applications.
Users can simply start their planning with boards, lists, and cards configured in this portal. Along with customizing and extending a spread of features to cater to the need of the growing teamwork, Trello is highly recommended for managing projects, organizing tasks, and building a team spirit as well as its robust capabilities to offer no-code automation.
This software application also easily connects the apps used by the team members to the Trello workflow, along with adding a power-up to fine-tune one particular requirement.
This is ascribing to the powerful tools coming with Trello to manage the meetings, projects, events and goal settings. Along with this, its intuitive features assist users in quickly setting up and customizing the workflows in a matter of minutes.
Pros:
Time tracking features
Easy data organization
Amazing collaboration tools
Intuitive and simple UI
Cons:
Commenting feature isn't great
Limited storage option
10. Wrike
Wrike, a well-known work management platform, not only offers freemium benefits to its users but also renders next-level collaboration and project management solutions.
This platform houses more than 20,000+ happy customers across the world and is in forefront across bigwigs, such as Google, Dell, and Siemens among many others.
This can be mainly ascribed to the growing utility of Wrike in empowering teams to bring their best work on the table through 360° visibility, powerful automation as well as true cross-departmental collaboration.
The tool also helps in eliminating endless email threads by providing easy sharing of information with all the stakeholders at any time. It also provides real-time updates in order to view potential roadblocks ahead of their occurrence.
Another prominent feature about Wrike is its cloud-based work management and superior on-premise security. The application is also integrated with Microsoft, Adobe and Google.
Pros:
Robust application with diverse features
Free version is quite resourceful
Optimal customer service
Easy integration with third-party apps
Cons:
Not beginner-friendly
Difficult onboarding process
You may like:
Verdict
Taking a gist of the above-mentioned pointers, it is safe to say that these project management software offer an ample amount of functional benefits, be it multiple app integrations or efficient team activity tracking.
Most of these platforms come with affordable subscription plans, while few of them offer free trial services.
However, what stands out for all these applications is their assistance to users in constructively planning, tracking and in some cases, automating the project plans in an attempt to produce successful business outcomes.
Google, Electronic Arts, Disney among a vast majority of others are increasingly making use of these project management providers to coherently handle their client work in the project's entirety.
While Teamwork provides rigid enterprise-based functionalities, Wrike, which works on cloud technology, is immensely opted for its email threads and power-packed visibility.
Similarly, Asana and Zoho Projects are well-versed when it comes to constructive team collaboration, though the latter also gives the convenience of using gannt charts.
ClickUp is known for its dynamic approach to project scheduling, in line with Trello which offers superior customization benefits.
Monday.com, Hive and Forecast are also recording maximum utilization for their simplified and automated ways for project planning.