Plan and schedule your projects with one of the best gantt chart maker of 2022.
Large corporate offices and organizations have thousands of employees working for them, with each employee assigned to specific roles and task assignments.
The tasks are goal-specific and deadline based and hence the employees need to have clarity on priorities of their assigned tasks concerning the time taken to accomplish them for better productivity and effective results.
Keeping track of all the finished, in-progress and forthcoming assignments, along with dedicated timelines for each of them can be a methodically tedious process.
Additionally, saving these details as reports are beneficial for further use in the continuously changing and largely recruiting corporate environment.
To manage this requirement, various teams across companies utilize gantt charts to attain an overview of their work schedules and hence manage time for the tasks accordingly.
Before gantt charts, spreadsheets, word or excel sheets were employed to trail the work statuses or progress with time management of employees.
Maintaining and updating these documents on a timely basis was time-consuming and challenging. Hence gantt charts are proactively used by all the employees and team members for the benefits they offer them to plan their schedules.
The charts are retrieved through various platforms which are free licensed or paid online applications.
What is a Gantt Chart?
Gantt chart is an essentially important asset to project management teams of any industry or corporate enterprises to track and monitor various tasks and assignments with deadlines or time-limits, which are allotted to the team members.
They are graphical representations of the list of tasks or management events against the time taken to complete them, making the tasks and time, the most important attributes of the charts.
The tasks can be segmented into sub-tasks to understand the time dedicated to each of them and give clarity on deadlines for the tasks and schedule incoming tasks accordingly.
The gantt charts can be constructed from a massive library of templates that every software or tool offers. The tasks are represented in the form of bars, which can be color-branded as per owns choice.
Various other styling elements like fonts, icons and other dynamic structures can be utilized to sharpen the looks of the charts.
An extremely vital feature of gantt charts is that the dependencies of tasks on related employees in the team can be portrayed with the help of connecting arrows.
Claiming the importance of gantt charts in the industrial scenario, tons of chart making applications are in use in leading companies.
Best Gantt Chart Maker of 2022
Citing the simplicity of use with the ease of access, apart from the enhanced and lucrative features the online chart maker have to offer, below is a consolidated list of the top 10 best Gantt Chart maker of 2022.
The below chart making software and tools are employed in use at various top-notch leading industry brands for fabricating gantt charts that are of official help and valued as important management guideline documents.
The chart maker have a user-friendly, intuitive interface with all the personalizing features placed on the screen to generate charts in less time without any complexity in execution.
1. Edraw Max
Edraw Max can be regarded as one of the most top-rated online gantt chart making applications in 2022 as its offers ease of curation of the charts through its project management option.
The gantt charts can be created from scratch on the main interface on a blank drawing page or can be simply value-added with the help of a host of templates. The software also enables its users to import project data in the form of XLSX and CSV files.
Another striking feature about Edraw Max is that it gives numerous customization choices. Upon selecting a gantt chart, the formatting tools present on the toolbar and the Task Information section get automatically activated to help the registered users change the bar colors or edit the task information.
The Edraw Support Center also offers users quick answers as well as step-by-step instructions to come up with attractive gantt charts in minutes.
Pros:
Effortless and ease of use: EdrawMax not only lets its users visualize their ideas effortlessly but also provides them an ease of use on account of its all-in-one diagramming interface.
Extensive diagram creation: Using this tool, you can create as well as customize over 280 types of diagrams, spanning from flowcharts, mind maps, Venn diagrams, organizational charts, UML diagrams, Gantt charts, electrical drawings, genograms, and building plans.
Perks of advanced functionalities: EdrawMax gives beginners and professionals the advantage of cutting-edge functionalities for building professional-looking diagrams that are easy, fast, and cheaper.
Reliable support center: Using Edraw Support Team and its customer service center, users can get step-by-step instructions and quick answers to their queries.
Cons:
No tablet support: Although Edraw Max comes with a diverse functionality, and excellent visualization tools, it misses out on offering tablet support to its users.
2. Teamwork
Teamwork is one of the top-ranked project management application that lets its esteemed users fabricate stunning gantt charts while keeping the projects running on the track.
This cost-friendly software is configured with an interactive gantt project planner to assist you in managing your timelines and delivering better work by offering insights on the pending tasks.
The best feature about the application is that it breaks down the project into tasks, with the addition of due dates, enhanced accountability with the assignment of work to the right people.
This online platform gives a visual representation of the project's timeline and keeps clients and stakeholders on track with immediate updates on the progress of the projects.
Teamwork also allows users to drag and drop their tasks to seamlessly update their Gantt project planner while responding to changes and cutting down the need for manual updating of all the associated tasks and dependencies.
Pros:
Effective team management: Teamwork is increasingly popular among its users as it helps them manage their projects, freelancers, clients, and the team in one place.
Enhanced profitability and business growth: This application is packed with tools and reports that let you maximize the resources while perceiving a bird's eye view of every project, their milestones, project planning, budgeting, and time tracking.
Powerful integrated solutions: Another outstanding feature of this software is that it offers users a complete platform on account of its integration with CRM, Knowledge Base, Help Desk, and Chat.
Wide assortment of templates: Teamwork caters to all multi-domain requirements, be it marketing, creative, operations, engineering, or IT with the help of its wide range of templates.
Prominent customer base: Teamwork has been trusted by over 20,000 companies across the world, including Spotify, PayPal, Netflix, Panasonic, Liberty, among many others.
Cons:
Insufficient profitability: This application lacks strong project profitability in instances of tracking and reporting.
3. Asana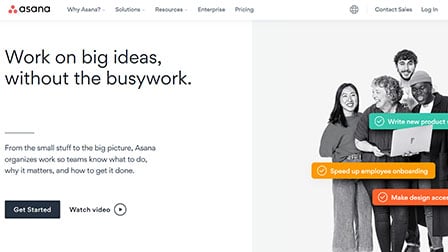 Asana is another leading Gantt chart making tool, which lets you come up with project plans to help stay on schedule and hit your respective deadlines.
This online accessed portal makes sure that all the tasks and deadlines are connected to assist you in identifying problems and fix the dependency conflicts before starting.
Asana not only allows its users to share their plans with everyone to ensure that all the team members are on the same page but also lets you show your teamwork whilst getting hold of the buy-in on the plans.
What makes this affordable tool a frontrunner in making gantt charts is that it compels users to plan as well as execute the projects like a pro with Timeline. It also enables one to modify the plans as the work changes and deadlines shift, in order to easily adjust the plans for keeping the project on track.
Pros:
Effective deadline management: With the help of Timeline, Asana has garnered significant popularity to create and design project plans to help its users stay on schedule so that they do not miss their deadlines.
Project mapping: Asana makes sure that all the tasks and deadlines are connected to help the user detect the problems and fix the issues dependency before heading to the project creation.
Effortless sharing of plans: Asana offers all the team members a simplified approach for sharing plans to allow them to showcase the team's work while getting the buy-in on the plan. This tool is also highly favoured as it allows everyone to be on the same page.
Ease of importing the files: One of the biggest advantages of this online application is that it ensures that all the spreadsheets are converted into Timelines. One needs to simply import their CSV file directly into the tool for creating actionable Timelines that may help to hit the deadlines.
Cons:
No Time Tracking: As Asana is mainly a project management tool and focuses on task management, it is not that efficient in terms of tracking time.
4. Lucidchart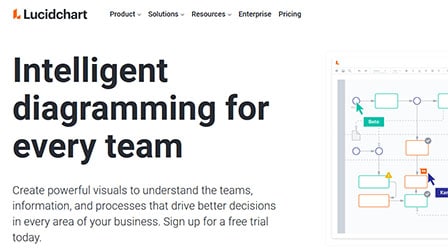 Renowned for its visual workspace, Lucidchart combines data visualization with diagramming, and offers collaboration to drive better understanding.
This software has made its mark into the best Gantt chart making applications as it lets users effectively and effortlessly manage project timelines by condensing all tasks and deadlines in the project into a single document.
The template gallery feature helps you create and add structured diagrams to streamline your project from its start to finish while letting go of cumbersome and disorganized traditional charts.
Using its drag-and-drop shapes, one can also easily modify the diagrams with formatting options, swimlanes, and customizable colors to define critical tasks, teams, and resources.
This diagramming platform also provides support in allocating resources timely and facilitating the coordination between groups, and managing multiple deadlines.
One can share and present the Lucidchart documents with other free add-ons, and insert the charts directly into Google Docs, Slides, and Sheets.
Pros:
Proficient management of project timelines: Lucidchart lets its users condense all the tasks and deadlines related to the next project into a single document. It also helps in the effective allocation of resources and management of multiple deadlines.
Extensive Template gallery and Enhancement features: As traditional charts could be cumbersome and disorganized, the template gallery coming in this software allows you to craft structured diagrams to streamline the project from start to finish. You can simply choose one of the templates to come up with a detailed and tailored diagram to match your exact project needs. Lucidchart also offers easy modification of the diagram with a gamut of features like formatting options, and customizable colours.
Powerful G Suite integration: This tool lets you share your Gantt chart in G Suite to offer a touch of additional flexibility when you edit, share, as well as collaborate to create the graphics online. This integration also gives users the privilege of automatic synchronization and backup, for the easy storing, opening, and updating of all of the files in one central location.
Effective team collaboration: Lucidchart provides real-time collaboration to allow input from all of the stakeholders whilst conveniently ensuring that you simultaneously work on the same document with other collaborators. You can update and share the files anytime and anywhere, holding the advantage of offering the latest version of the project's Gantt chart.
Cons:
Desktop-accessed application: The biggest disadvantage outlining Lucidchart is that it can only be downloaded as software or browsed on a desktop, making it less popular among android users.
Limited features and shapes: The application can include more modification features, such as the addition of drag-and-drop shapes, to turn the charts more customization-friendly.
5. ClickUp
An all-in-one project management platform, ClickUp is extensively used for scheduling, managing dependencies, and prioritizing data into an elegant project timeline.
Through this online tool, which comes with affordable pricing, one can schedule multiple projects in a jiffy whilst getting a bird's eye view of all lists, spaces, tasks, and projects.
One more lucrative feature associated with this application is the ease of time management it offers its users as its dynamic timeline allows you to schedule tasks.
Other than this, ClickUp lets users keep up with the project progress alongside handling the deadlines, and bottlenecks. Also, the real-time collaboration for automatic project updating and clear colouring options that come in handy with the tool imparts an easy understanding of the entire project and its shortcomings.
Organizing and prioritizing all the tasks, managing dependencies and intelligent dependency-path tracking to spot potential bottlenecks are some other advantages of using this platform.
Pros:
Affordable pricing plans: ClickUp is a largely preferred application by its users as it comes with free and a variety of unlimited subscription plans for business and enterprises.
Multiple laurels and accolades: Deemed as the future of work, Clickup is the recipient of numerous awards, including Best Software, and has gained many accolades for its leadership and high-performance attributes.
24/7 real-time support: This software offers client support 24 hours a day, per day of the week, inclusive of holidays.
Real-time reporting: ClickUp allows you to see how deals track over time, their closure, while giving a peek into the overall team performance with customizable Dashboards.
Progress tracking and automated sprints: This application not only maximizes the team's efficiency using Sprint automations but also visualizes the progress against backlog through real-time reporting.
Cons:
Sluggish loading time: Although ClickUp comes with good documentation, it exhibits slower loading times.
6. Backlog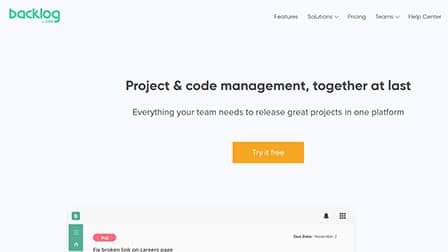 An online application that comes at absolutely zero cost to its users, Backlog can be without a doubt accredited as one of the leading Gantt chart maker in 2022.
This tool is widely deployed to visually track projects as well as to manage and design programming codes in the same workspace.
The ease of use and its simplicity of operation has made Backlog a premium choice for making gantt chart across more than 10000 corporate companies like Adobe and Omron.
Furthermore, the charts curated in the application render a discreet analysis in a single glance of all the tasks that may be completed or are currently in progress without rummaging through any notifications or task lists.
Backlog's gantt charts are highly recommended for project management as they give an overview of the different assignees, milestones as well as deadlines. They are also employed to track the teammate's performances and tasks.
Pros:
Prolific project management: Backlog lets you quickly look into an overview of issues, view upcoming deadlines, detect tasks that may need enhanced time or teamwork, as well as prioritize these issues with urgency.
Advantages of personal work to‑dos: As each user is in possession of their charts, this tool gives them an edge of viewing and managing their workload at a glance and to check in on other member's progress.
Shortcuts for efficient and ease of work: Backlog enables you to create and update the charts by dragging and dropping the timeline bar in order to quickly alter the start and due dates. It also lets you update the tasks, such as due date and status, in bulk as well as give the unassigned tasks an owner.
Teammate tracking: One unique feature about this application is that it allows users to check in with the teammates' schedules for viewing who's overloaded or free, to offer help.
Cons
Less intuitive GUI: Although, Backlog can be touted as an all in one tool that caters to project management and new interns, its GUI could be more intuitive.
7. GanttPro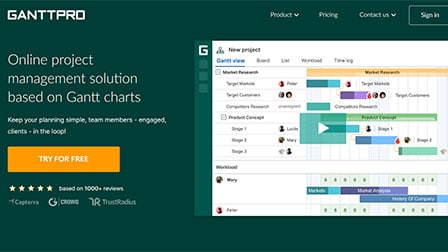 With more than 5 million registered users worldwide, GanttPro can conveniently be addressed as the high-rated software used for project management.
Accredited with awards and accolades, it is one of the best-used software for building Gantt charts.
Some of the vital features associated with using GanttPro are effective teamwork and management efficiency, productive time management and cost savings on the projects.
The interface is rich with workspaces to structure multiple project outlines or assignments with an ability to assign team members with individual plans. The plans can be scheduled for deadlines, dependencies, priorities, indent and outdent etc. within minutes with drag and drops.
Once ready, the chart maker automatically updates related tasks. Additionally, one can also assign roles and responsibilities to team members, track project progress and attach comments in the charts. GanttPro can also be utilized for resource allocation activities along with time management analysis for individual user's tasks.
Pros:
Superlative Progress Tracking: GanttPro makes sure that its users track their project progress, by letting them add attachments as well as comments in just one click.
Teamwork at its Best: Other than setting roles, and assigning tasks to the team members, GanttPro comes with outstanding Gantt charts features along with the attributes of a team management software.
Implicit resource management: This tool is known for its resource planning and management as it enables you to easily add another whole dimension to the projects. One can also add resources to the Gantt charts while connecting them to specific tasks on the timeline.
Automatic online project scheduling: In GanttPro, users can easily plan their projects and craft powerful Gantt diagrams online in a jiffy given the fact that the app schedules all tasks automatically.
Simplified drag and drop functionality: For making project management easier, this application allows you to prioritize the tasks, set dependencies, durations and progress with one click online, right on a Gantt chart by simply dragging and dropping the tasks and their attributes.
Cons:
Ineffectual App version: Although Ganttpro is easy to use and offers an interactive interface to its users, its mobile version needs some improvement.
8. TeamGantt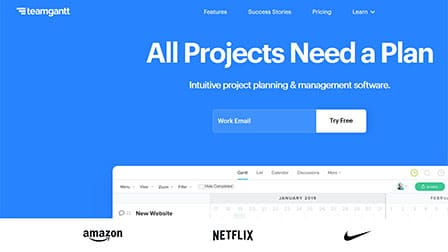 TeamGantt is an intuitive, management software for creating gantt charts with utmost ease and is used by top-notch companies such as Netflix, Nike, Disney and Amazon.
This top-rated and highly reviewed software is most recommended for project planning and scheduling among teams because of its ease of operations.
A user located in any part of the world can be assigned tasks and responsibilities for clarity on his job using this software. The tasks can be aligned to related documents, files or chats to make the data management centric.
The most promising feature of using TeamGantt is its in-built resource management software to monitor every individual team member's tasks on a timely basis with dependencies projecting the delayed and pending tasks.
Hierarchies and associations across a project team can also be exhibited through this software. The generated gantt charts can be exported into PDF or Excel CSV formats for further use.
Pros:
Impressive customer base: With over 1 million users, TeamGantt is massively deployed by bigwigs, like Amazon, Netflix, Starbucks, Nike, and Intuit among many others to manage their projects.
Ease of chart making: This free Gantt chart creating software ensures that its users plan, schedule, as well as manage their projects with simplicity and no additional designing expertise.
One-click Switching: In TeamGantt, one can easily switch between a gantt chart to different project views, including the calendar views or Kanban Board in a single click, to attain an ease of operation.
Synchronized, updated, and productive teamwork: This online software allows its users to move projects forward, while working remotely in order to let the team members to view the projects from any location as well as update their progress with just one click.
Cons
Taxing project management: This application offers some challenges, like no clear option when moving from project management apps to another.
9. Toggl Plan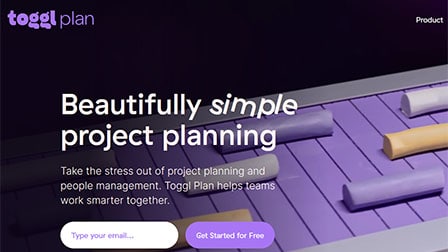 Toggl Plan can be recognized as one of the best chart-making tools and appreciably used among the fortune 500 companies of Amazon, Airbnb, and The New York Times with a few others.
On its flexibility and ease of use, this online tool makes the project visually appealing with project scheduling plans that assert better understanding and give an overview of the task or assignment timelines.
The segments, assignees, start and end days and dates can be updated as a deck installation and can be amended as and when needed.
An outstanding feature that Toggl Pan allows its users is Forward Planning, which gives an overview of the workflow of tasks in the coming weeks or months or years in the same chart.
Along with appending employees to their specific projects and deadlines, users can also insert notes. The clients can also be given access to view the charts when required.
Pros
Simplicity of use: Toggl Plan is one of the easiest to operate online application as it quickly imparts a visual overview of the team's projects and tasks to the user alongside providing a big-picture planning.
Free For Single Users: This online Gantt chart tool is highly favored by solo users, including freelancers, and consultants, as they can sign up for free to easily create plans as well as make adjustments on the go.
Ease of File Sharing: Toggl Plan makes sharing of charts with teams & clients at ease, while adding employees or colleagues to get a peek into the set deadlines, pipelines and add notes. It also renders the benefit of keeping the clients in loop by sharing view-only versions of the calendar.
Quick visual project overview: In this tool, users can select the project view for viewing the team calendar for a specific project. This lets one to receive a quick visual overview of the project by color-coding the Gantt chart.
Access to Forward planning: The forward planning feature integrated in Toggl Plan allows users to look beyond the current days' tasks and get a gist of the workflow in the near future to yield productive outcomes.
Cons:
Wider scope for Multiple Integrations: Besides its integration with Asana, Toggl Plan can have better data integrations with more apps and programs, like Smartsheet.
Fewer types of views: The gantt view in this online software can get too crowded with multiple tasks and a large number of members in the team, and hence needs to amalgamate more view types.
10. Vizzlo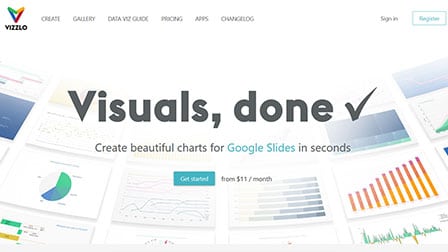 Vizzlo can be considered as one of the best platforms to help come up with attractive and visually appealing Gantt charts in the present day.
It is mainly a web browser-based tool that has gained popularity among users for its excellent project management, roadmap planning and timeline scheduling features.
Apart from this, Vizzlo is also best-known for establishing proper team coordination in a single click with the insertion of new tasks as well as the creation of milestones.
On account of these attributes, this application is witnessing higher presence across multinational giants like IBM, Sanofi, Deloitte, and Adidas among many others. The data needed to create the charts can either be imported from Excel sheets or any spreadsheet tools.
The resulting charts can be customized as per the user's preferences. Once done, they can be exported as PDF or PNG files and can be embedded into PowerPoint and Google Slides.
Pros:
Create fast, easy, and beautiful charts: Vizzlo enables its users to communicate all of their ideas by helping them quickly create and design stunning-looking simplest pie charts to complicated data visualizations.
Real-time collaboration on workflows: Using Seamless plug-ins for Google Slides and PowerPoint, as well as platform-agnostic desktop apps and cloud support, Vizzlo gives you the perk of superior workflows anywhere and whenever you need it.
Simplicity of operation: The intuitive interface of Vizzlo takes just seconds to navigate irrespective of the skill level, allowing users to handle complex data with ease. One can also access this online tool's Powerful additional analysis functions with one click.
Advantage of Document History: In order to let users create designs together, while adding members to the team to keep the ideas flowing, this online application is integrated with the document history feature. This also enables one to know and view the exact project representatives.
Multiple-faceted customization: Vizzlo does not offer only a pretty interface, but also gives you the edge of uploading fonts, colours, logos and layouts to incorporate design and templates to turn them beautiful, flexible, and aligned.
Cons:
Relatively Over-priced: One biggest drawback associated with Vizzlo is that it is not completely free. While the free version enables users to download only PNG files, the PDF and VZL formats are premium-based.
Verdict
Introspecting and analyzing the views on each of the ten best gantt chart maker of 2022, one can perceive that they are crucially deployed in the companies. All the software and tools mentioned are built on generating the charts quickly and updating them is a very simplified process.
The steps involved in the chart maker are more or less the same with attention to personalizing the gantt charts as per a company's or individual's liking.
Of all the charts described above, Canva and Edraw Max are multiple chart making applications recognized for their simplicity of use and operability, along with basic customization features.
Besides, the massive library of templates these tools provide is overwhelming. Lucidchart is known to be the most used online tool worldwide with over millions of registered users for creating visually impacting gantt charts.
Toggl Plan offer some unique functionalities in gantt charts to intrigue and engage the users to look forward to subscribing these applications.
Compared to others, Wrike, TeamGantt and GanttPro can be assumed to be best in practice online chart maker in 2022 which are unique to gantt charts for the extended and advanced workspaces or interfaces they offer.