Want to create flowcharts in minutes? Below flowchart maker are easy to use tools with lots of templates.
Technology boosts and paves way for digital innovations with each passing day.
These innovations lead to a rise of development of newer software and tools that are employed by companies and industries to carry out work effortlessly and with accuracy, cutting down the risk of errors.
Every company heavily relies on a certain set of tools and installed software for the smooth functioning of work processes within the organization.
Stretching on this dependency, techies have been coming up with millions of online tools, apps, software, which can be available with free license or with paid subscriptions to feed the need of performing day-to-day task-oriented activities to an individual.
Any organizational process or event requires a visual and thorough understanding of the sequence of steps that take need to be followed in a work cycle.
Also for the development of any software, to ensure efficient tracking down a large number of lines of codes, graphically articulating and branching down the steps, flowcharts are extremely pivotal.
What is a Flowchart?
Replacing contextual data with graphical data gives a better view and understanding of concepts and ideas that one has in mind and has to perform.
Flowcharts are basic diagrammed representations or documentation of a sequence of steps or tasks or processes or decisions of an event or work process that can catalyst a speedy work output.
They are especially essential in monitoring of actions and troubleshooting in case of errors. Presented in the form of boxes or shapes with arrows as connecting elements to exhibit the logical flow, flowcharts can be made visually pleasing with added attributes like various layouts, background colors, varying shapes, colors and fonts and a lot more.
Flowcharts can be simple to complex, single branched to multi-branched, and can be loaded with icons and widgets and stock or personal images. Its prime purpose is to keep the content precise and clear.
Best Flowchart Maker For 2022
In current day scenario, flowcharts can be very easily accessible to any individual via free or paid online applications or software with so many added innovative features and user-friendly, intuitive interfaces for simplifying complex processes and decisions for yielding productive results to bring out goal-focused solutions effortlessly, consuming less time in any industry or organization.
1. Visme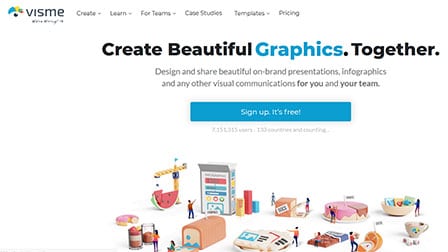 To create colorful, attractively appealing flowcharts in a flash, Visme makes up for the perfect online editing tool.
The flowcharts can be generated with ease from selecting from a variety of beautiful, inbuilt templates, with the help of enhancers like background colors, fonts, icons, data widgets, connecting lines and elements, and some additional customization features like the custom flowchart elements.
Visme is responsible for producing some of the best looking, color branded and coded flowcharts for some of the leading brands like IBM, Intuit, Voya, and few others.
This tool readies a customized flowchart in just 5 steps, starting from choosing a template or layout of choice.
The finishing format of the flowchart can be saved as a public or private file, and later shared as live links or can be embedded in docs, PPT's or webpages and exported in the form of a PDF or a high-resolution image file.
Pros:
Exceptional Drag and Drop Interface
Expanding brand value
Customization of flowcharts
Multi-platform sharing of files
Cons:
Limited images and add-ons
2. Moqups
Moqups, with over 2 million users worldwide, can be accounted as one superlative flowchart making tool that offers ease of use to remote teams in real-time diagramming of the charts.
It supports its registered users in mapping out complex systems, customer journeys, business processes, and information hierarchies with their entire cross-functional team.
Besides being enriched with several shapes, diagramming arrows, connector labels and diagram extenders to create a host of diagrams, Moqups's drag and drop feature gives a quick visualization of flows, systems, processes, and ideas.
Owing to its cloud-based dynamics and Jira & Confluence integrations, this streamlined application helps the users stay in sync, irrespective of their location.
It also provides effective team collaboration in terms of creating and styling the flowcharts on the same page via live cursors, chats and comments. Once done, the resulting diagrams can be exported to PNG or PDF and shared as project links.
Pros:
Extensive assortment of templates
Perks of Diagram Extenders
Simplified Flowchart Modification
Links to visual assets
Creation of personal workflows
Cons:
No offline access
Complicated advanced mode settings
3. Lucidchart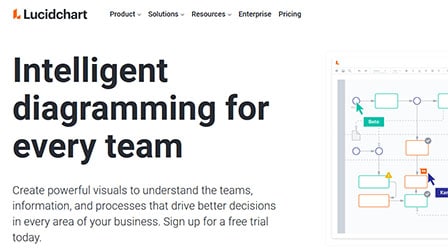 Lucidchart acts as a visual workspace for presenting and generating potential flowcharts with innovations to depict a better understanding of work.
Browsing through a PC or a MAC, on any device, on any operating system, a wide range of simple to complex flowcharts can be borne out of this online tool carrying out just five simple steps.
With its integration with Google applications, this tool acts as a virtual office to promote online collaboration of team members to simultaneously work on creating and manipulating the flowchart with comments, from anywhere, at any time.
Choosing from an extensive range of templates, one can start working on the flowchart with elements to showcase the steps, using its unique drag and drop functionality for arranging the sequence logically.
Adding Microsoft apps to this tool helps to embed the flowcharts in Microsoft applications and subsequently share them as links and save as an image document.
Pros:
Organized and efficient data flows
Provision to standardized processes
Intuitive diagramming
Real-time stakeholder collaboration
Instant presentation of the charts
Cons:
No centered markings for columns
Not a desktop application
4. Edraw Flowchart Maker
The most renowned and simple to use software for generating professionally efficient flowcharts picturing event and process flows is Edraw Flowchart.
Providing a lifetime license for usage at an affordable cost, and compatibility with MAC, Linux and all versions of Windows OS, this software is needless of any expertise or professional aptitude to create exclusive flowcharts, with a user-friendly drag and drop interface with innate symbols and elements for depicting the workflow.
Edraw is handpicked and trusted by first-rated brands like Dell, Samsung, IBM, Siemens, and HP among a few others to fulfill their dependency of creating and utilizing great quality flowcharts.
This software also specializes in providing its users, real-time examples of flowcharts which they can use, to replace with their own data to create a newer flowchart. These flowcharts can be shared in editable formats so that they can be reformed in case of any future tweaks.
Pros:
Wide spectrum of built-in templates and professionally-drawn symbols
Ease of customization
Import and export of mainstream file types
Simplified sharing of the flowcharts
Exceptional search accuracy to find symbols and icons
Cons:
Missing cloud-based backup of the diagrams
5. Adobe Creative Cloud Express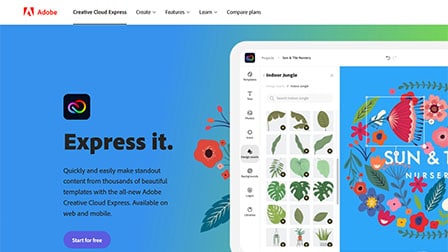 Adobe Creative Cloud Express is a highly recommended platform for creating and designing customized as well as streamlined flowcharts for school, work, or any other infographic materials.
This online application can be accessed with affordable plans and inspires its users to think outside the box when beginning new projects.
Starting from scratch or by using professionally designed templates for remixing and revising to match the brand requirements, one can build flowcharts that could be reformatted for infographics, posters, emailers, and various other graphics.
This tool is well-versed for helping users establish themes for their designs using icons, logos, photos, personalized fonts, among other customizable elements for making them feel entirely authentic.
One can also duplicate the designs and resize them for bringing consistency across multiple types of assets. Users can also save and share their finished designs in minutes, and subsequently add collaborators, obtain approvals, and publish their impressive flowcharts.
Pros:
Easy designing of customized and streamlined flowcharts
Vast variety of professionally designed templates
Access to animated stickers and text animation
Handy and auto-magical resizing feature
Instant download of designs
Cons:
Improper consulting/integration services in premium plans
6. Microsoft Visio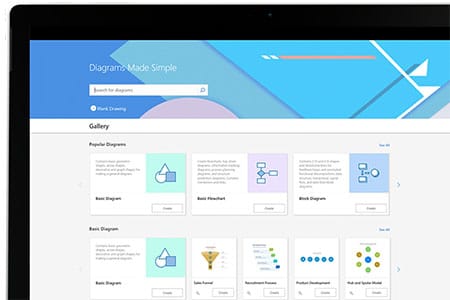 Ensuring that its users work visually at any time, from anywhere, Microsoft Visio has emerged as one of the best flowchart making applications in 2022.
This application is considered an ultimate tool for diagramming as helps create easily understandable visuals by choosing from dozens of pre-existing templates, stencils and starter diagrams that are accessible on the desktop version and web app.
One cans also choose from a wide assortment of customizable shapes to come up with powerful visuals. The real-time collaboration feature of Visio lets one craft and coauthor professional diagrams to offer increased business productivity through effective decision making, and process execution.
In short, this online tool transforms the way one uses as well as visualize data in order to bring their best ideas to life. It supports various accessibility features, such as Accessibility Checker, Narrator, and high-contrast support to ensure that the diagrams are available for all users.
Pros:
Variety of pre-defined templates
Effective team collaboration and data visualization
Wide variation of accessibility features
Enterprise-grade privacy and security benefits
Cons:
7. SmartDraw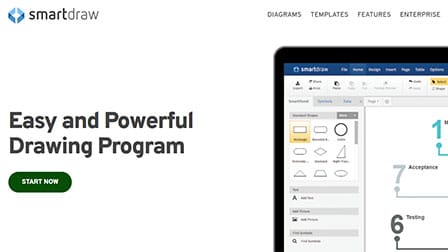 In order to create flowcharts easily with an interactive interface, SmartDraw is one of the most sought-after software which lets you picking one its pre-designed templates to design the charts in just a few clicks.
This application can be deemed as an easiest way to craft any flowchart or diagram that represents a process. SmartDraw also automatically aligns everything to cut down the formatting, rearranging, and reconnecting steps.
Another vital option unique to this software is Intelligent Flowchart Formatting which makes it easy for users to automatically craft the flowcharts by clicking simple commands and adding or removing the steps.
One can also create the charts for Word, PowerPoint, Excel, Google Docs and other Google Workspace app. SmartDraw is also highly preferred for its effective team collaboration as it lets its users save their flowcharts to the shared team folders to ensure that all members work on the same diagram.
Pros:
Streamlined flowchart creation
Intelligent Flowchart Formatting feature
Ease of team collaboration
Multiple file integration
Cons:
Faulty Autosave function
Too sophisticated for beginners
8. Gliffy
Gliffy is another creative tool for leisurely producing flowcharts with instant clicks of a mouse.
This tool is apt for placing your ideas or decisions as visual diagrams and simplifying or breaking down difficult and complex processes into steps or sequences of workflows that is logically easy to understand and follow.
Almost every process in any business can be conferred in the form of a flowchart with the help of Gliffy. With a user-friendly interface loaded with intuitive features, one can initiate flowcharts from templates or begin with scratch by simply using the drag and drop options for placing the shapes and other elements on the screen.
Once finished, a user can easily export the flowcharts and provide permissions for viewing and editing. They can further be imported in case of any changes. Gliffy flowcharts can be integrated with Atlassian or can be added directly to Confluence docs and Jira tickets.
Pros:
Provision to affluent team communication and collaboration
Benefits of free-trial periods
Intuitive drag-and-drop interface
Access to previous versions
Simplified sharing of diagrams through URL or embedding
Cons:
Limited color customization for diagrams
9. Zen Flowchart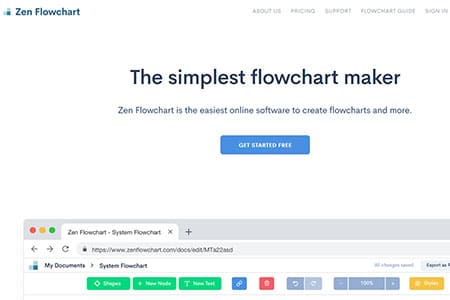 Zen Flowchart can be considered as the easiest platform to create flowcharts in a jiffy with smart connectors in a fraction of clicks.
With top-notch companies like Google, Apple, Spotify and Atlassian benefiting from this tool and over 4.5 million registered users around the world, Zen Flowchart can prove a strong contender as the best choice one can make to create different kinds of flowcharts.
The best part of using this tool is the attractive looking and minimally configured interface it offers its valuable users.
Cutting down all the extra, non-functional features and placing all the essential and relevant ones, it gives access to thoughtfully creating flowcharts, which can be customized as per one's requirement choosing from templates and layouts.
The resulting flowcharts can be derived as PNG files or can be published as a live document which automatically restores all the changes any user makes while editing the flowchart.
Pros:
Broad user base
Countless flowchart symbols and shapes
Uncomplicated and minimal user interface
Simplicity of styling options
Delivers a suite of diagramming & productivity apps
Cons:
Disconnected and messy connector lines
10. Creately
Creately is a basic online application powered with templates and tools, one can use, to create beautiful flowcharts in less time, imparting an option to choose from an array of professionally built, regular or complex, innate templates.
These templates can range from a simple one-way sequence of steps to a more enhanced collection or sequence of processes, all representing the logical systematic flow of operations in a work cycle.
The interface offers its users is in the form of a well-organized and ordered drawing space with styling elements and options located at the edges of the screen in order, to personalize the flowcharts depending on the preferences of the users with the choice of colors, shapes and other elements.
The final product of the flowchart that is garnered can be exported as a high-resolution image like PNG or SVG, or as a PDF document to support HD quality printing purposes.
Pros:
Effective visualization, documentation, and analyzing of content
Wide assortment of shape libraries
Presence of dynamic connectors
Context-based shape switching
Access to freehand drawing and highlights
Cons:
Lagging customer support
Five-document limit in free versions
Related:
Verdict
Reviewing the characteristic capabilities of the above-mentioned flowchart making applications, one can be assured that every tool and software runs on the fundamental idea of creating and implementing flowcharts from templates that are user-oriented, handy and well-designed for organizations so that the business processes and events can be laid out as plans minimizing the time taken to achieve them.
Gliffy, Creately, Visual Paradigm, and Visme are very basic and elementary online tools with millions of registered users for creating good-looking, simple, creative flowcharts with beautifying features for individuals at the beginner level and professional level.
Lucidchart and Diagrams.net with third party integrations are convenient for use at the corporate level. Among all, Zen and Edraw Flowchart maker are sought after tools by the top brands for their result-driven performance and their compatibility with all the operating systems.
Focusing on the ease of use for producing compact and professional flowcharts through a visual workplace, Lucidchart can be highly recommended for official use and is one of the top-notch flowchart making tools in the market.
Gliffy and Creately can be thoughtfully pronounced as the widely used, easy and attractive looking flowchart makers among others.