If you are into the corporate or business world, you'd know and understand the importance of diagramming and visual representation of thoughts and data. Not only does the pictorial representation give a better idea into things, it also does help build better scopes for identifying loopholes that could be worked upon.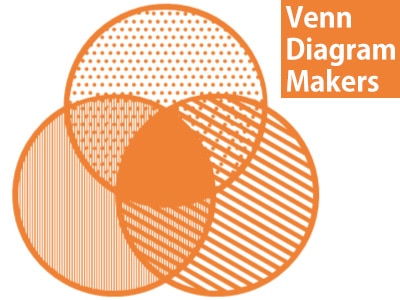 Venn diagrams are one such diagram that have amazing impacts in helping propel the growth of a brand in the forward direction.
For those who aren't aware, Venn Diagrams are used to represent mathematical or analytical data in the form of a diagram enclosed by overlapping circles.
These overlapping circles are then represented in a rectangular space that represents the universal set.
The main reason why Venn diagrams are prepared in the market and the corporate world is because it helps in establishing between relationships between two or more elements in a visual format. This helps in identification of the similarities and the dissimilarities between the said elements.
Best Charts, Graphs, and Diagram Tools
If you are wondering why Venn diagram is called so, it is named after John Venn who was the one who developed this method for establishing and analyzing the relationships between multiple elements in a set.
For those business professionals who are looking for effective and easier ways to develop their own Venn diagram for better comparison of elements and establishing better relationships, there are a number of diagramming tools that you can take a peek into.
10 Best Venn Diagram Makers 2023
In here, we have sorted you out with some of the very best available diagramming tools that can be used to make Venn diagram.
1. Visme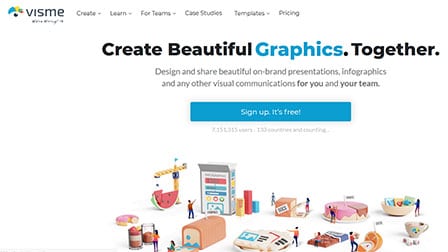 Visme is yet another popular online Venn diagram maker that you can access after signing up and registering on this platform.
The free account doesn't come with all the perks but it is an okay option for someone who is just starting out with their diagramming approach to this. Visme and its Venn diagram maker are one of the easiest ones in the lot.
Not just that, the best thing about this platform is the fact that you get to choose from a wide range of templates, some of which are free and some are not.
Apart from the ease of use, the one thing about this platform that makes this a favorable option is because it helps in creating professional looking Venn diagrams and not ones that you made at school.
The tool helps perfect every single stage and elements and ensures to guide you with better relationships among them and pointing out the differences and the similarities between the elements as well.
You do need to create an account for this. Apart from the free account, there are two other options – the single and team accounts which charge $25/month and $75/month respectively.
Pros:
100% free to use
Intuitive user interface
Easy importing of data sets
Cons:
Paid plans are quite pricey
Lacks guest collaboration
2. Lucidchart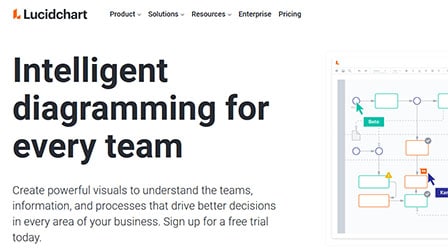 Lucidchart is a versatile diagramming tool and that doesn't require any kind of further information.
This visual workspace helps in combining all your thoughts into one place to further ensure easy access to things.
It enriches the data visualization and provides with better understanding of things around. The best thing about Lucidchart is the fact that you can easily choose from a variety of templates around.
The templates library does have multiple options for you to check out for yourself and see which one is the best for your needs.
This platform also comes with a number of accessible functions on the screen which helps you customize your very own Venn diagram without any confusion at all.
The thing with making Venn diagram with Lucidchart is the fact that it provides with easy sharing and integration options that make this a viable option. Drawing a Venn diagram with Lucidchart helps you get a better insight into the kind of relationships and the differences among them.
Pros:
Bright colored templates
Designed for professionals
Interactive UI with lots of customization
Cons:
Lacks desktop apps
Templates are limited
3. Edraw Max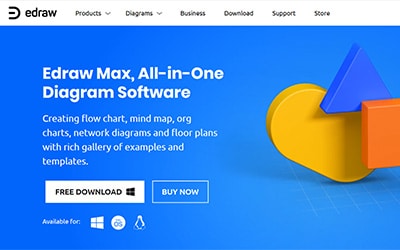 Edraw Max is yet another amazing online diagramming tool that can be used for the creation of Venn diagrams as well.
They have a number of template options that you can look through and explore as per your needs.
This isn't technically an online Venn diagramming platform, so you need to download the same onto your desktop or laptop to use it for your needs.
There is a free download option along with the purchase options for this platform that does come with improved features and even more templates that you can play around with.
Apart from the Venn diagrams, this platform is an all in one platform for you to look around and create the diagrams and flowcharts needed for your presentation.
Best Charts, Graphs, and Diagram Tools
The templates are so well crafted and easy to use that all you have to do is choose the basic template and then fill in the details as required for the elements in the Venn diagram.
It is as easy as that and brings forth your visual ideas in the form of a diagram for better understanding of things. You can also share your designs via this platform with ease and import images onto it as per your requirements as well.
Pros:
Very easy and interactive
Optimal collaboration tools
Ideal for beginners
Cons:
Free version has limited features
Lacks easy importing of data sets
4. Creately
Unlike other data visualization charts and diagrams, creating Venn diagrams isn't the easiest. It involves a lot of shapes, data assortment and proper text placement, which can take a bit of time.
Creately streamlines that process without any complications, especially with their industry-standard templates.
Featuring an extensive shape library, getting started with drawing Venn diagrams shouldn't be as difficult as you think it is. What's great about Creately is the easy export options and you can also get streamline the collaboration process with varying video conferencing features to connect with the team members in real-time.
Trusted by over 8 million people and teams, Creately is an ideal software that helps you create your Venn diagram with professional templates in a matter of minutes. The editing and customization features are also quite promising on this platform, further adding to the benefit.
Pros:
Easy to use
Optimal sharing and export options
Interactive collaboration tools
Cons:
Templates could be better
Pricing plans are quite pricey
5. Canva
With some of the leading enterprises, inclusive of Watsons, Pfizer etc., as its esteemed users, and its highly interactive workspace, Canva has ranked itself among the best Venn diagram making platforms.
This online and completely free application tool gives you an option to pick from a host of templates and examples to start creating and designing the diagrams.
Additionally, it makes collaboration and teamwork on the designs much more feasible with some advanced interactive features.
This online tool not only allows you to add icons and images to your Venn diagrams but also helps you to color code the circles to increase their visual appeal.
It is also profoundly used for its effective team collaboration attributes. Another interesting feature about Canva is that lets you add comments and offers viewing and editing rights to different users. The resulting diagrams in the tool can also be accessed and shared as links.
Pros:
Free plan is pretty great
Diverse templates
Easy sharing and embedding options
Cons:
Alignment features aren't prompt in free plan
Some templates are very limiting
6. Vizzlo
Vizzlo is another free-of-cost application that helps its users to create visually impacting and attractive Venn diagrams.
It has made a strong place for itself among some of the most prominent companies, such as Deloitte, IBM, and Adidas etc. and is also increasingly preferred by designing professionals across the world.
Apart from offering a number of enhancement and styling streaks on the Venn diagrams, Vizzlo gives its users an option of rotating and sliding the circles as per their preference.
The tool is also inbuilt with a host of tools, which give direct access to crafting the charts while consuming less time and with interactive interface.
It also lets you come up with Venn diagrams in Google Slides with the help of some exclusive add-ons. Additionally, what makes Vizzlo highly recommended by users is that it works online and is compatible with PowerPoint to enrich presentations with good-looking Venn diagrams.
Pros:
Free chart maker
Easy integration with Powerpoint, Google Slides
Intuitive UI
Cons:
Projects are public
Templates are quite limiting
7. Miro
Miro is a versatile software and online tool that also has a separate feature enabling you to create Venn diagrams from scratch.
If you aren't good with data organization and shapes, Miro's pre-existing modern and professional templates should sort out that issue for you.
Trusted by 45+ million people globally, Miro is a name that won't disappoint. With Miro's diverse Venn diagram templates and features, you can easily plot your data into one diagram for an easy understanding of what's overlapping and what's needed.
Miro is designed for the professionals, so don't be surprised when you get access to a variety of premium features, including refined customization tools.
The collaboration features for Venn diagram aren't that profound, however, the easy sharing option makes up for it. If you are looking for a visual aid to compare your data, Miro helps you sort that out in a few minutes time.
Pros:
Simple UI
Excellent collaboration tools
Easy third-party integration
Cons:
Lacks offline functionality
Paid plans are quite expensive
8. Adobe Express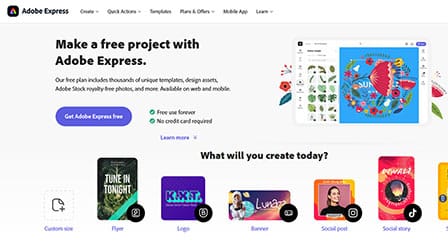 When it comes to creating exclusive graphics, nothing beats Adobe Express. It has been around for years, offering users easy access to all the most functional diagram and graphics tools, including that of the Venn diagram.
This free tool enables users to create the perfect and most aesthetic Venn diagram in a matter of few minutes.
What's great about Adobe Express is the availability of pre-made templates. All you have to do is select the template that best aligns with your data set and then tap on Edit to get started. From there, it's a matter of entering the data and text and then saving the final draft.
Featuring authentic design elements and varying collaboration and customization tools, creating your choice of Venn diagrams doesn't require you to have preconceived knowledge.
This is one of the reasons why it is such a beginner-friendly tool to get started with. Also, saving and sharing your designs takes a few minutes.
Pros:
Free version is quite great
Easy editing options
Professional templates
Cons:
Not the best for beginners
Pop-up menus are frustrating
9. Cacoo
As weird as the name of the software is, Cacoo is just must of an amazing option for all your Venn diagram needs.
It has an easy to use layout and a plethora of attractive and very interactive templates that you can look into.
It is predominantly used by the corporate officials for their presentation because of how professional the results come out as. You get an extensive number of shapes and templates for creating your Venn diagram from scratch.
Not just that, following finishing the diagram or even during creating one, you can easily collaborate with people in real time to get inputs and edits as per the requirement.
It also does allow the users to indulge in a secure and safe file management system so you don't have to struggling keeping your data and the diagrams in one place.
This tool also allows you to export and save your diagrams once you are done. Apart from the free account, Cacoo offers two other plans – the single user and the team options. The single user account costs $5/month while the team account costs $5 per team member/month.
Pros:
Built-in Venn diagram templates
Real-time collaboration tools
Easy data organization
Cons:
Lacks good features in free version
Sharing and export features could be better
10. Venngage
Venngage can be touted as a well-known and easy-to-use software applications when it comes to creating and importing diagrams.
As the name indicates, this online tool is apt for creating Venn diagrams with expertise within seconds.
What makes it most preferred amongst users is the simplified approach in creation of the Venn diagrams by using one of the multiple creative-looking and interactive templates.
One does not need to have designing skills to create professional graphics or a deep understanding of font pairings, colors, or spacing while creating Venn diagrams in this tool.
Another bonus is that it turns the resulting Venn diagram into informative infographics in instances where one needs to add extra information to put more value to the context.
Users are also free to insert icons, photos, and text, from the personal collection, and later download the diagrams or insert them to PowerPoint, Word, Google Slides or Docs.
Pros:
Free diagram maker
Connect multiple data sets at a time
Optimal customization options
Cons:
Free plan doesn't have all the important features
Drag and drop feature isn't great
Related:
Final Words
If you have been on the lookout for some of the best Venn diagram maker and online applications, these are the top 10 available ones on the internet as of now.
Each and every single one of them help transform your ideas into a diagram that helps provide with better results in terms of understanding the relationships between the elements and sorting through the available differences and similarities between them.
Ensure that whichever platform you sign up for; always try the free version first to get a hang of things and to see the seamless efficacy of the application and then move on to the premium and paid versions.
Doing so can help you assess your compatibility first with the platform and then check out for yourself which one of the lot seems the best one for your needs and requirements.