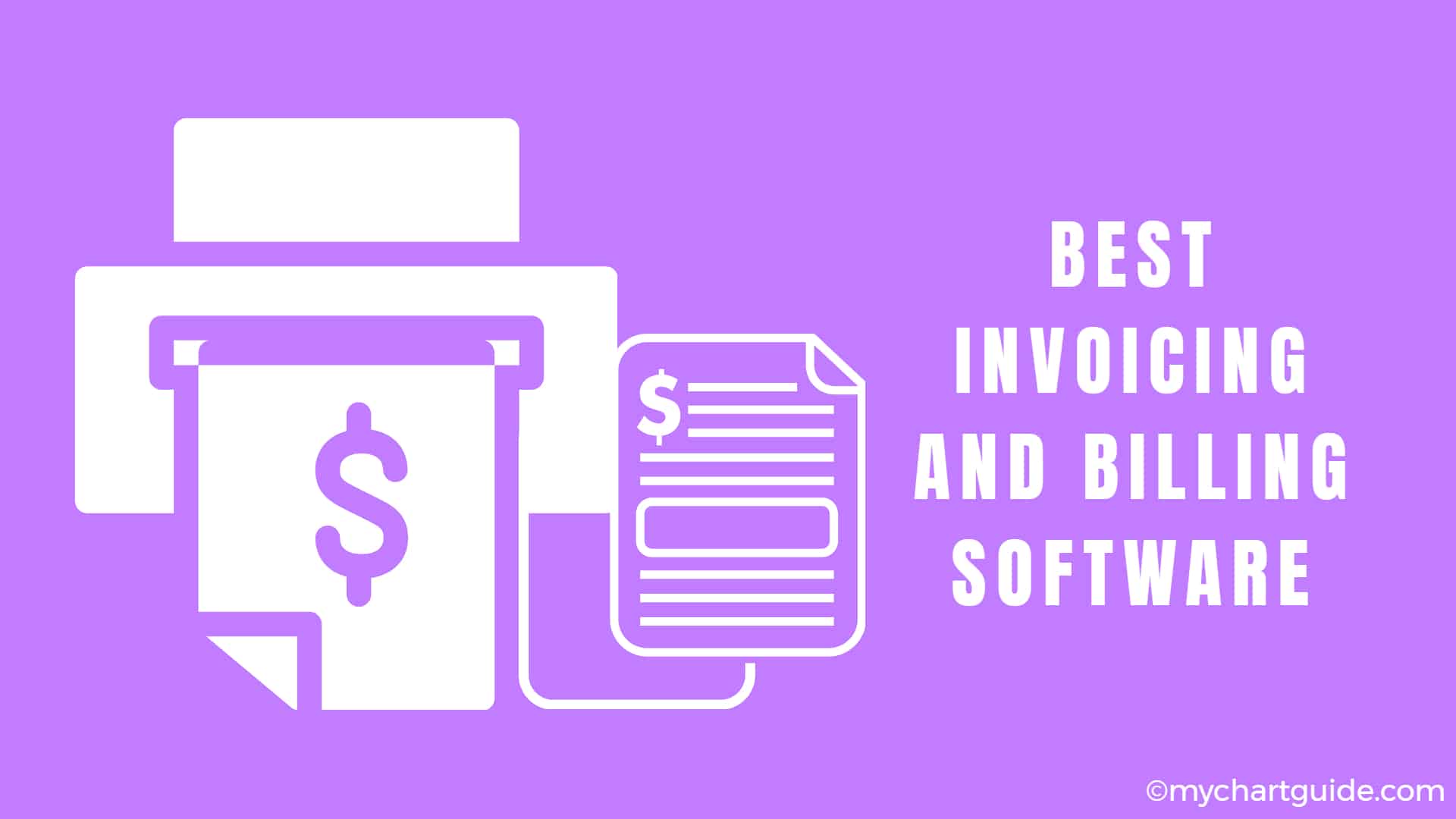 Running a business involves a lot of big and small processes and invoicing is possibly the backbone of a successful business. Think of it as the oil that you need to run an engine. Timely invoicing and billing maintain transparency, allows systematized payment collection and ensures consistent cash flow for a business.
However, we currently live in an ultra-modern and digitized world where manual work has taken a backseat. The process or invoicing and billing can now be done using software and there are a few different ones worth paying attention to.
When you rely on an automated or software-based invoicing and billing, you significantly reduce human errors, thereby saving a lot of time. Not just that, these software are also designed to help businesses (big or small) to keep track of the expenses incurred across multiple projects without needing to do the same process over and over again.
With so many different invoicing and billing software available, choosing one can be a challenging task. So, we have done the complex work for you and sorted out the best invoicing and billing software that you can consider in 2023.
Best Invoicing and Billing Software
When you type "invoicing and billing software" on Google, the search results are extensive and somewhat confusing as well.
Best Charts, Graphs, and Diagram Tools
So, which one is the best and why should you opt for it? Well, there are a few criteria that can make the choosing process simplified. They include:
Affordability: If you are a small business, you might not have a lot of budget to spend on an invoicing software, so choosing an affordable one is key.
Features: Another factor that's crucial to pay attention to are the features. How will this software automate and streamline your tasks?
Collaborative features: Does the software support collaboration features? Will you be able to have multiple people edit and add to the final invoice or bill?
These are a few standard features that one has to prioritize when it comes to choosing the best invoicing and billing software. That said, following are our top 10 picks:
1. FreshBooks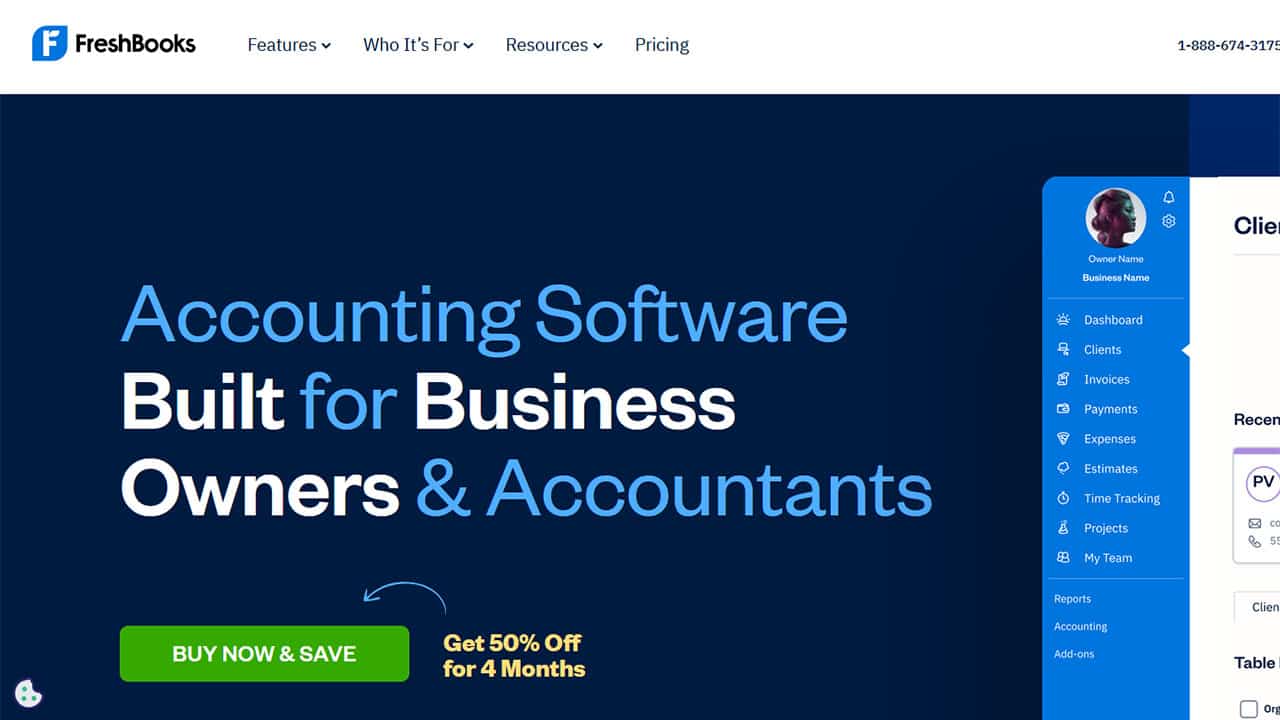 This is hands down the best invoicing and billing software that's specifically developed for accountants and businesses. If you want to get personal invoicing sorted, the tool has a free trial for you to assess the good and bad side of this tool.
What's great about FreshBooks is the versatility. Since the process and intent of invoicing is different for different professionals and businesses, they have categories sorted, enabling you to make the most out of the process.
With 30+ million users already, the platform is reliable and doesn't disappoint you with the basic billing requirements. Besides their diverse range of features from invoicing to accounting, another thing about them is their back-end support.
From the start till the implementation and final touches, you can be assured that every step of the process will be streamlined and simplified. Their free trial is for 30 days, which might not seem like a lot but it does get you enough time to track the features and see if it's worth the time.
Pros:
Versatile features
Has a 30 days free trial
Bookkeeping and accounting features
Automated recurring invoices
Cons:
Pricing plans are steep
Limited payment gateways
2. Zoho Invoice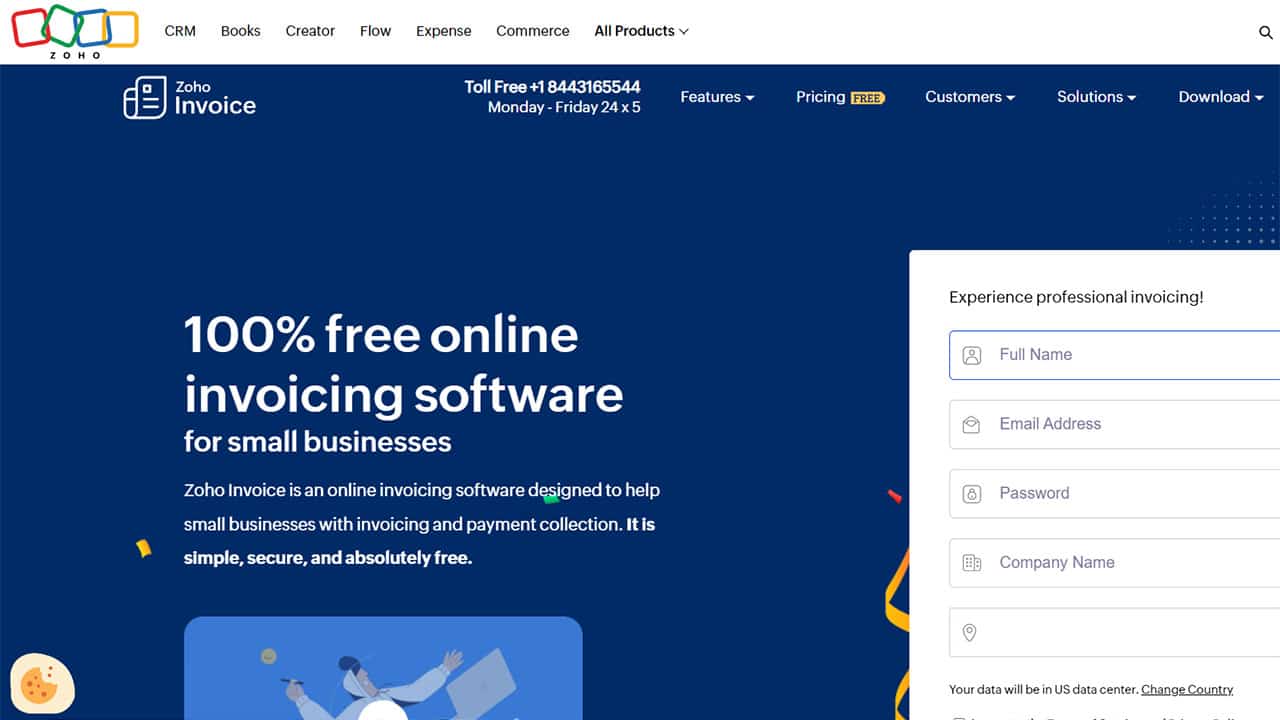 When it comes to invoicing software that's built specifically for small businesses, Zoho Invoice is an option you won't regret indulging in. With this tool, users can now generate professional-looking invoices in a matter of seconds.
The tool has a pre-existing list of amazing templates for you to choose from. All you have to do is select the template, enter your credentials and amount and create a perfect invoice within seconds. Also, it supports billing in multiple languages and automated recurring invoices too.
Once you are done creating your invoice, forwarding it to your clients is seamless. You can do so via email, SMS or through an exclusive customer portal. But, what makes this software stand out is the payment processing space.
Users can set up different modes of payment gateway and enable multiple localized payment options to ensure that there are no restrictions with receiving the payments from the clients. Besides invoicing and billing, there is a conclusive expenditure tracker as well.
Pros:
Comprehensive invoicing solution
Supports automated recurring payment
Wide range of pre-existing templates
Multiple language support
Cons:
Some templates are not editable
Integration features aren't great
3. Square Invoices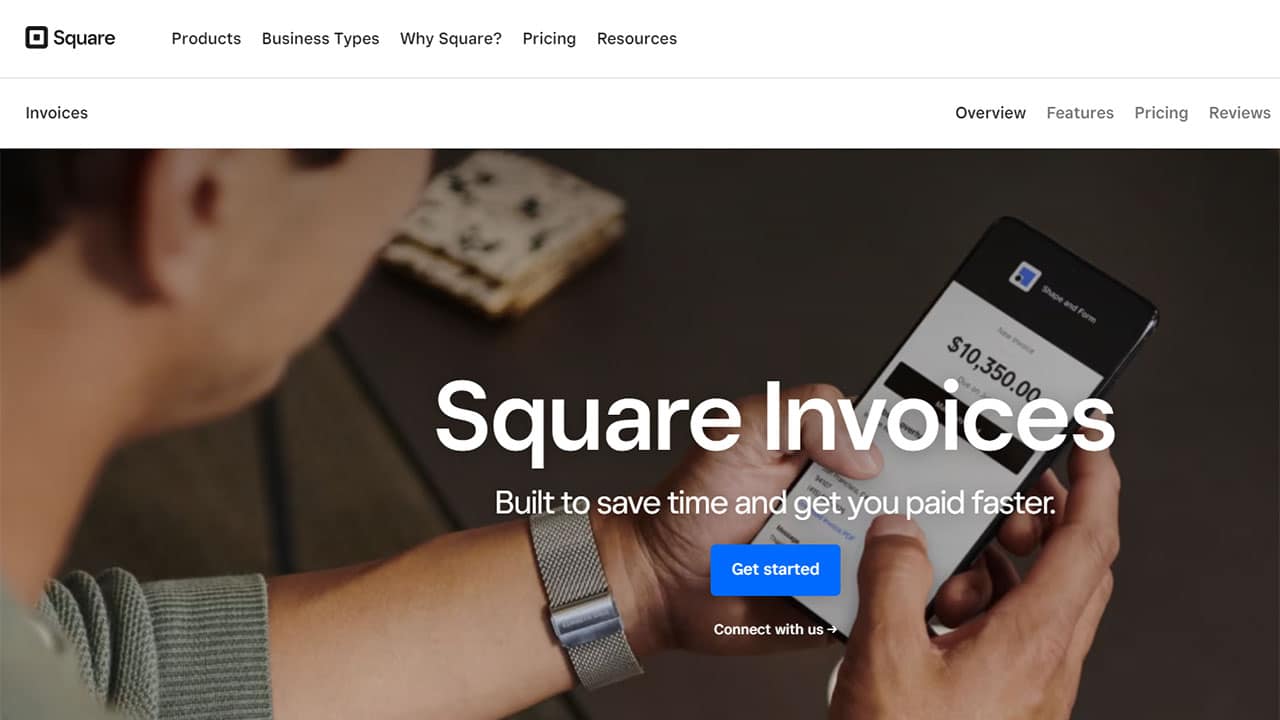 With a motto of "built to save time and get you paid faster," Square Invoices is for modern businesses that understand the power of automation and delegation.
If you don't want to block your time preparing pages upon pages of invoice and billing and instead want to focus on tasks that matter, this is the tool you need to embrace. The software allows the users to pick the templates and create invoices within minutes and directly send it to the clients for approval and payment.
The ability to set up a simple payment gateway with a credit card, Apple Pay, Google Pay, ACH bank transfer, or Cash App Pay makes accepting payments a lot simpler and organized. You won't have to remain restricted to when you receive the payments.
Furthermore, treat this software as your one-stop expense manager and tracker, allowing you to maintain cash flow management and even know your customers better. Some of the features are locked under their "Plus" version, which you have to pay for.
All in all, if you are looking for a clean and minimal invoicing and billing software in 2023, Square Invoices do make a good option.
Pros:
Unlimited number of invoices can be created
Supports recurring invoices
Automatic payment reminders
Has a mobile app
Cons:
Some of the advanced features require a Plus subscription
Lacks project tracking
4. QuickBooks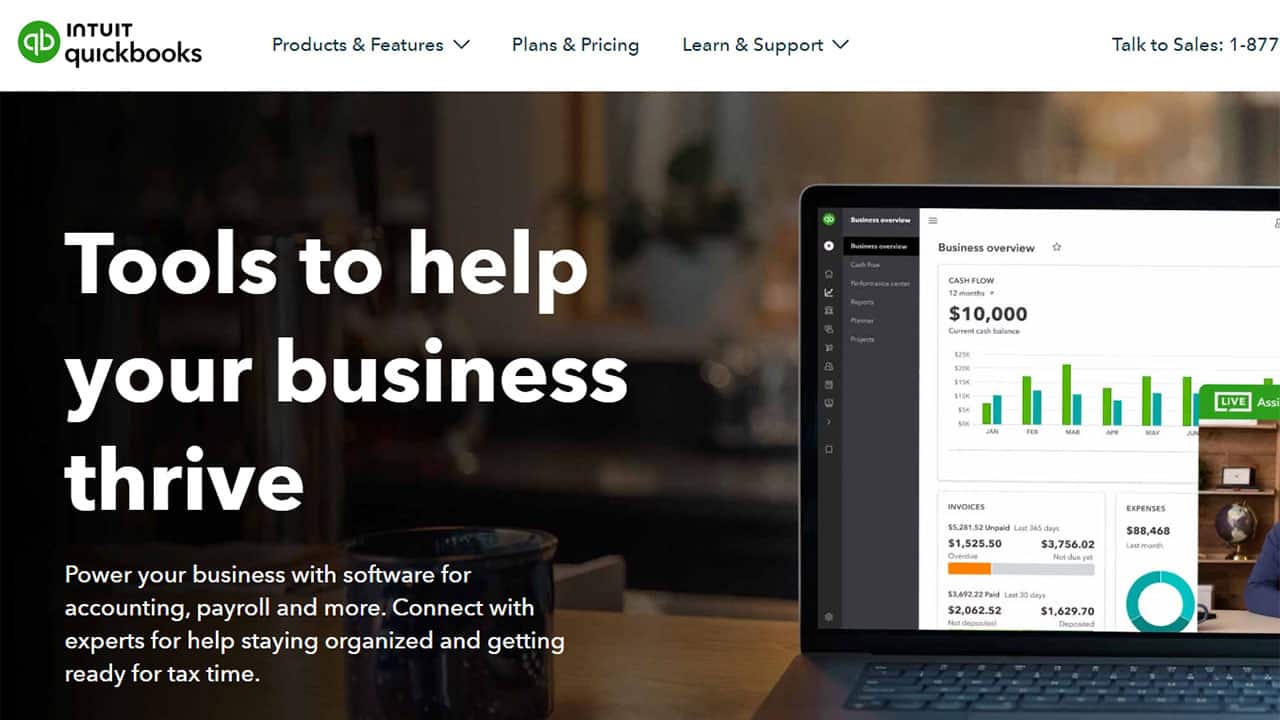 One of the most popular and renowned invoicing software in the market has to be QuickBooks. It has gained a steady popularity, thanks to its comprehensive features and specifications. With accounting and payroll features, you won't have to worry about your business' growth.
Not only can you use it to raise invoices and get paid, the same billing software allows you to pay your employees and even keep an eye out on the profit that your business is making. Getting to do all of that in one place is a benefit that many love.
There is a bookkeeping feature too, which you can directly contact their team about. If you are a large-scale business and want to keep your tax documentation in order, this software has got you from the start till the end.
When it comes to payment gateway, the software supports a variety of options, including credit and debit cards, ACH payments, Apple Pay, Venmo, etc. So, you know that your clients won't have a hard time processing your payments.
Pros:
Unlimited and customizable invoicing
Bank reconciliation
Inventory management feature
Has tax features too
Cons:
Lacks a free plan
Lacks a built-in client portal
5. Paymo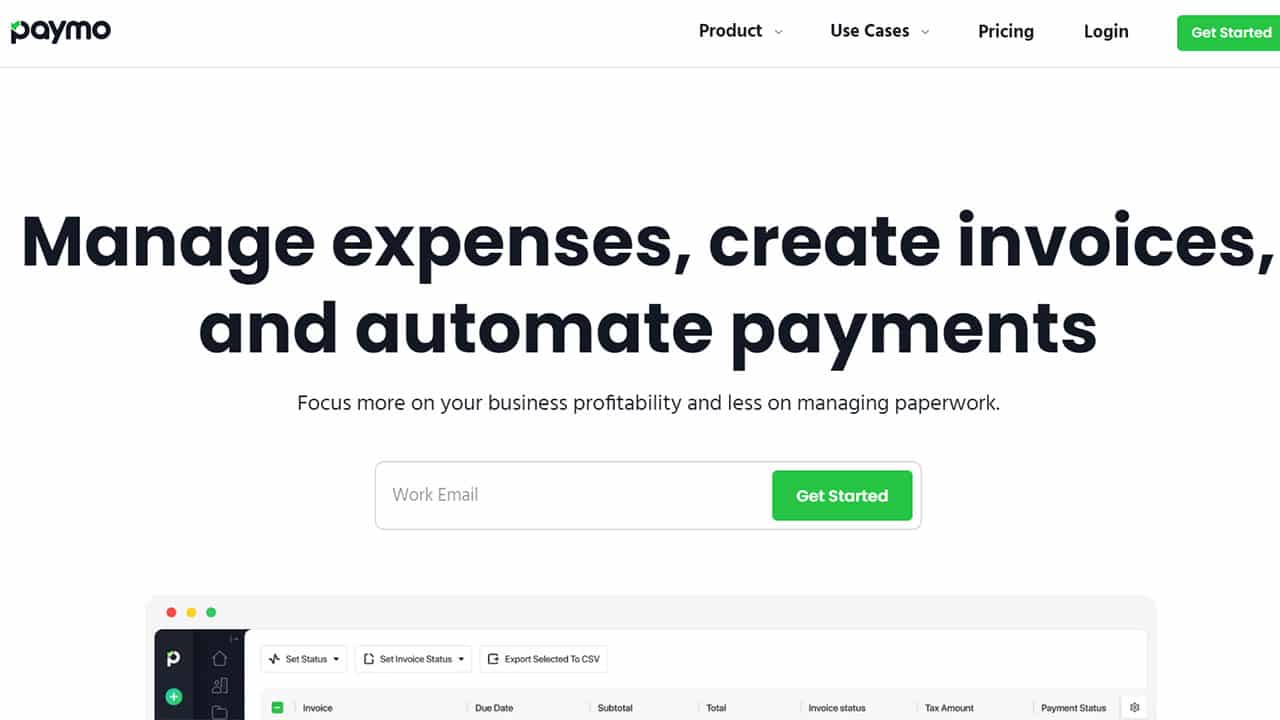 Looking for a one-stop solution that can not only manage your expenses but help you create invoices and manage the payments too? Well, Paymo takes care of all those needs. The main intent with this software is to increase business profitability and reduce paperwork.
Best Charts, Graphs, and Diagram Tools
With this invoicing and billing software, users can turn the timesheet data into invoices without any compromise. The wide range of customizations that you get to sort out with this platform is what makes it stand out from its competitors.
Once you are done creating the invoice, Paymo allows you to export the invoices in different formats, including PDF, CSV, Xero, QuickBooks, etc. Since designing professional estimates can be time consuming, Paymo simplifies the process in no time.
Furthermore, preparing yourself and your business for the upcoming tax season has never been easier. With tax manage on Paymo, you can rest easy knowing that the hard part of the balancing is being done for you.
Pros:
Intuitive invoicing features
Easy set up
Flexibility and customization
Seamless integration
Cons:
Limited mobile app functionality
Customization limitations
6. Wave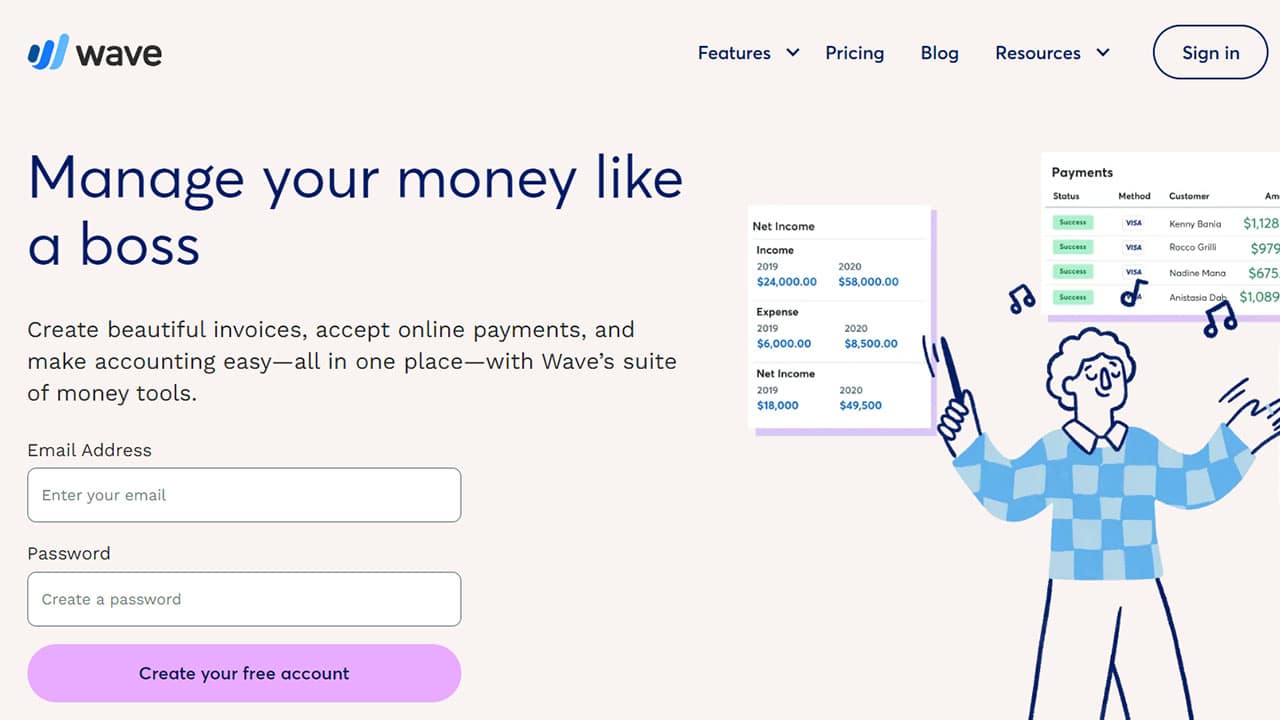 Next up on the list is Wave, which is another famous and reliable invoicing software you won't regret indulging in. Like most of the other options in the list, even this one allows you to create invoices, accept online payments and make the whole process of accounting a lot easier.
What's great about Wave is the simplicity. The interactive and user-friendly interface is designed for individuals so you don't have to rely on a professional accountant if you don't have the budget. Getting to stay organized ahead of the tax season also takes off the burden of doing things last minute.
With this invoicing software, you can take a look at the financial health of your business by logging into the account. No longer will you have to worry about lagging or not staying informed when there is a need for it.
Wave also has their in-house team of professionals that can help you with bookkeeping, accounting and even payroll coaches to get the work done for you.
Pros:
Free to use
Unlimited invoices
Professional invoice templates
Cash flow insights
Cons:
Limited to sole proprietorships in U.S.
Extra fee for e-payments
7. Xero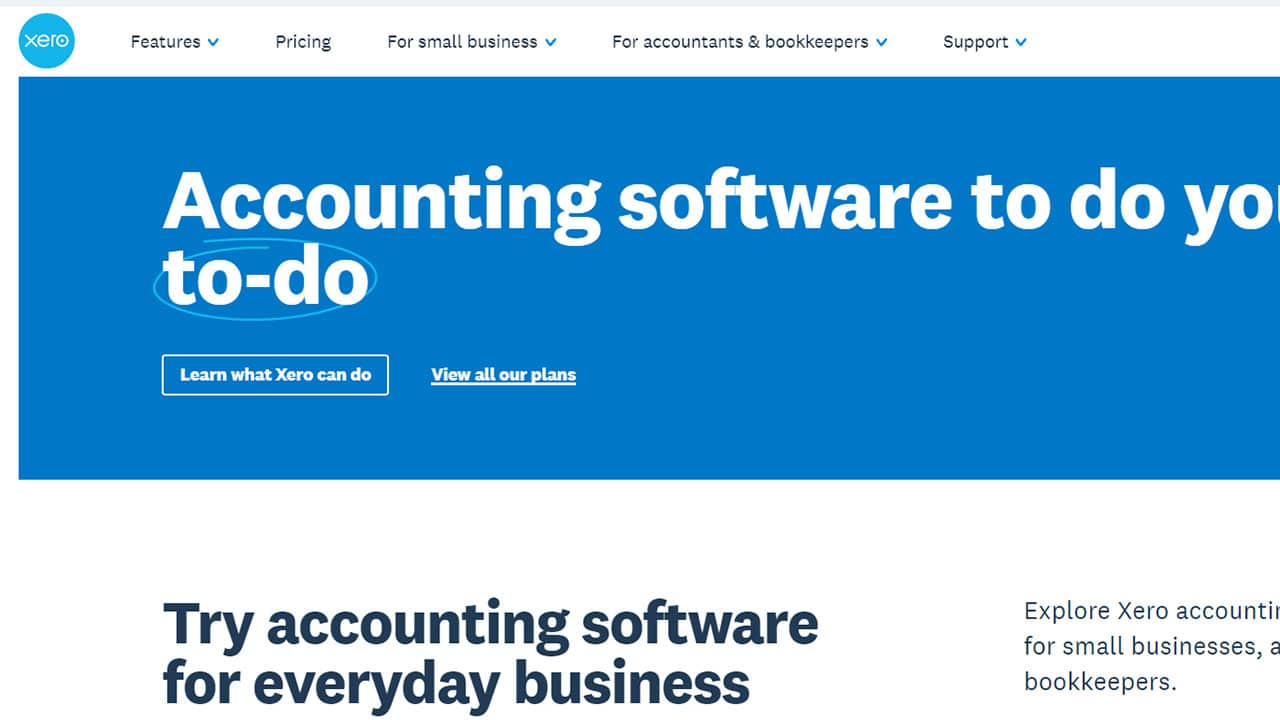 We often account Xero as a project management software but the platform/tool does a lot more than that. The invoicing software is easy-to-use and intuitive, making your accounting process a walk in the park.
With this software, you can pay your bills, claim your expenses and also integrate bank connections to accept payments seamlessly. Not just for individuals, the platform is equally effective for accountants and bookkeepers that want to simplify their job.
Furthermore, the Xero accounting app ensures that you can have access to your business' numbers and financial figures anywhere and anytime. Although there is a free plan, it is fairly limited with respect to the features, something that we won't necessarily suggest if you run a small or large scale business.
Lastly, the platform is safe and secure and their 24×7 customer support ensures that you won't have to worry about anything if you are stuck while using the software.
Pros:
Customizable invoices
Free trial support
Automated payment reminders
Cash flow and financial analytics
Cons:
Pricing plans are steep
Cancelling a subscription is complicated
8. Invoice2Go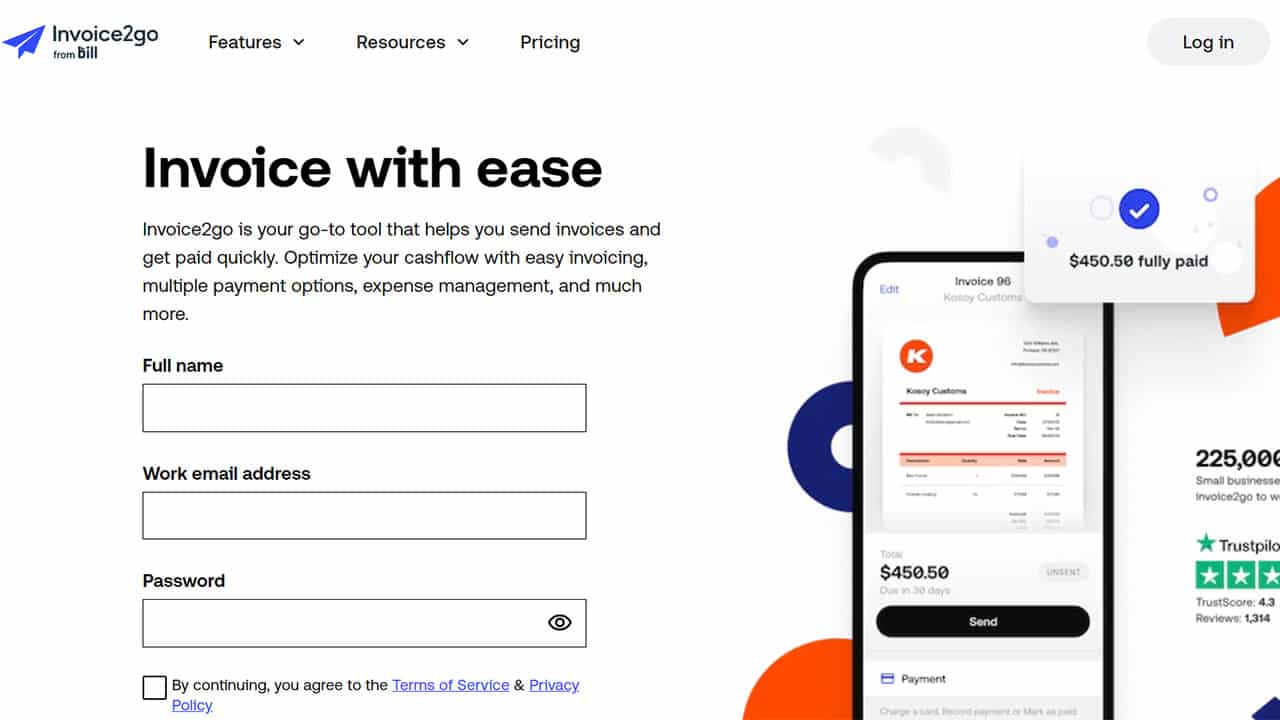 Like the name suggests, Invoice2Go allows you to simplify the invoicing process even when you are not stationary and traveling. The intuitive and simple to use features make the process of creating invoices and receiving payments a walk in the park.
You can optimize your cashflow with easy invoicing process, something that you will appreciate when you are running a business. There are multiple payment options available with this particular software, which is great if you have a diverse clientele that make payments in different ways.
With this tool, professionals can create invoices that stand out, are easy to customize and easier to share with the prospects. Featuring automated overdue reminders and invoice status tracking, you can ensure that the payments are cleared on time.
Also, the software allows you to integrate different payment options, making it easier for your client to pay at their convenience. From cards to PayPal, the options are diverse.
Pros:
Has a mobile app
Online client approvals
Time and expense tracking
Automated payroll
Cons:
Higher than average charges
Limited integration features
9. InvoiceNinja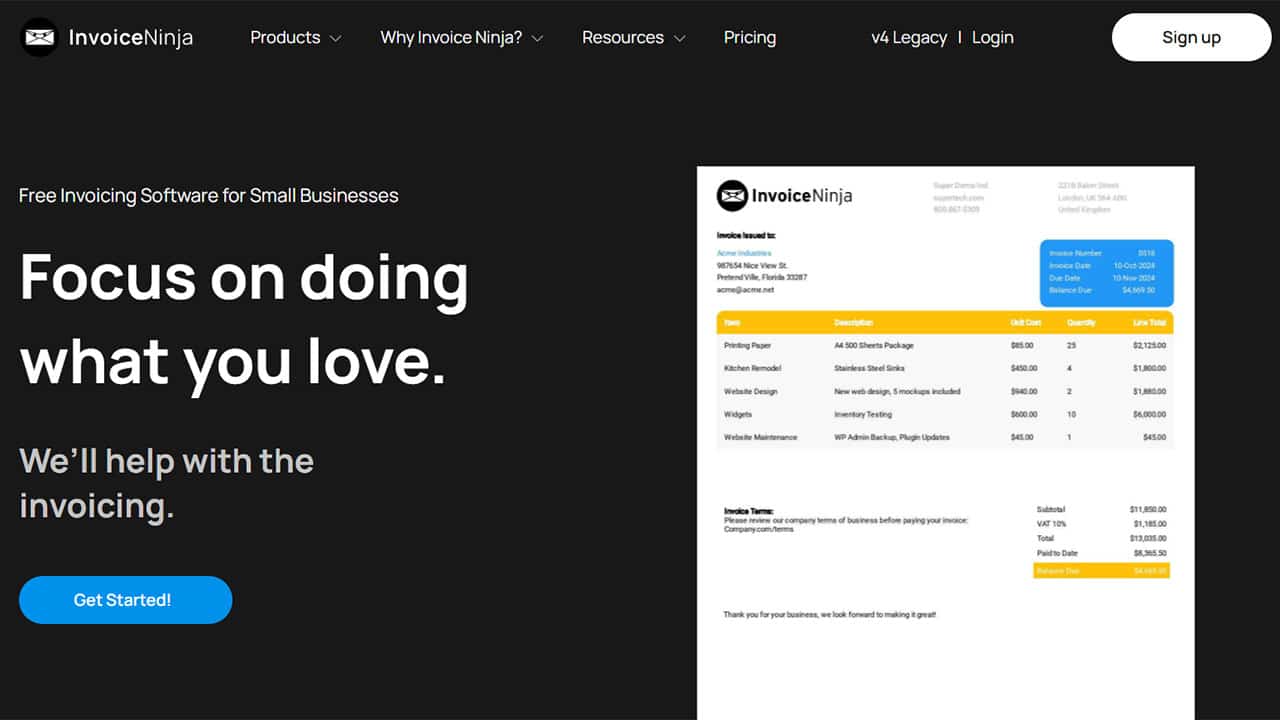 Another simple yet worthy invoicing and billing software that deserves a mention is InvoiceNinja. Besides the standard invoicing and payment tracking options, the platform also has dedicated time-tracking features for your projects.
Ideal for beginners or non-tech people that don't know how to create invoices from scratch. With the pre-existing invoice template designs, you can simplify the invoicing process with a few tweaks and customizations.
Getting started on this platform is simple. All you have to do is sign up, upload your logo, set up the necessary online payment options and create your invoices and start getting paid. From freelances to extensive businesses, the platform is pretty much for everyone.
Pros:
Integration with 45+ payment gateways
Automatic currency conversion
User-friendly
Automatic billing and recurring invoicing
Cons:
Doesn't integrate with third-party bookkeeping software
Limited automation
10. Stripe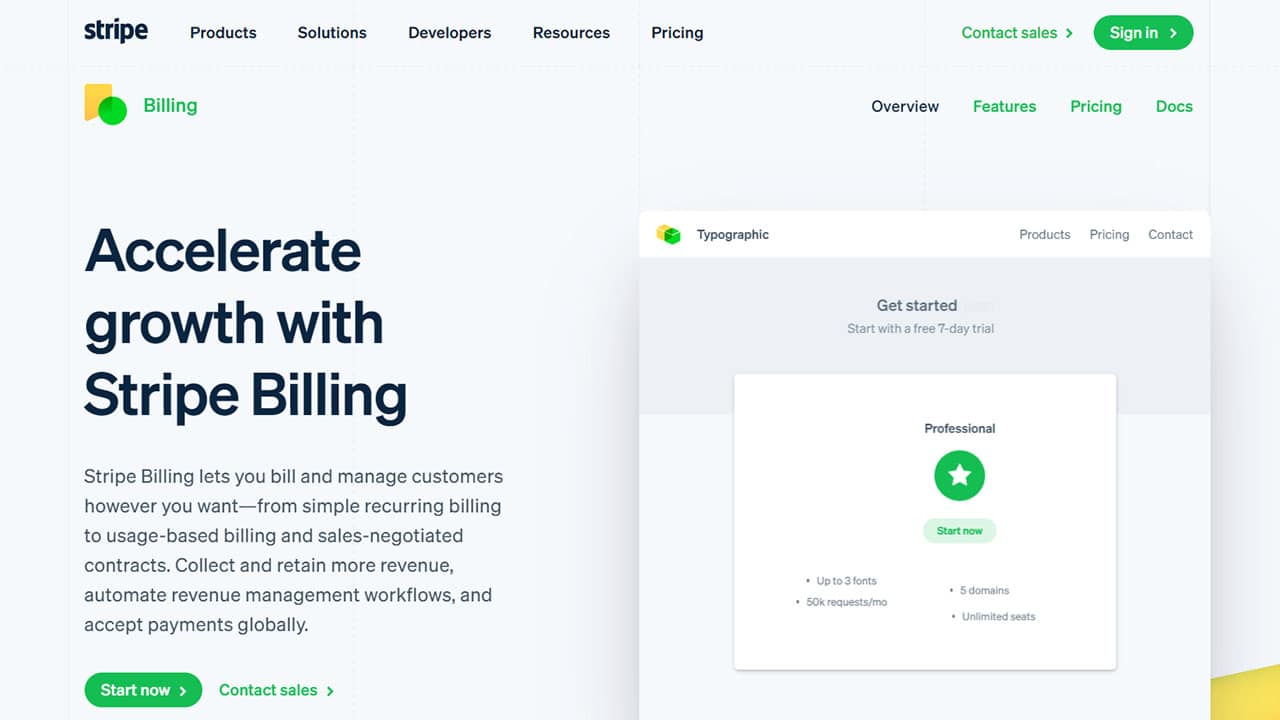 Last but not the least is Stripe. With Stripe Billing, you can watch your business grow on the side while you automate the invoicing and billing process. From recurring invoicing to financial health tracking, there is a wide range of features.
The integration of different payment gateway options allow users to raise the invoice and then collect the payments without any issues. Also, the automatic recurring invoicing is another benefit that you won't regret with this software.
Some of the unique features of this software include smart retries, automated failed payment emails, and an automatic card updater, which ensure that your payments are never inhibited.
Lastly, the end-to-end billing process that you get to enjoy with this tool is unlike anything else. There's no coding knowledge involved. Trusted by leading business, the software is growing and is perfect for businesses and individual professionals.
Pros:
User friendly interface
Has multiple payment methods
Easy and straightforward invoicing
Cons:
Percentage fee is high
Lacks seamless third-party integration
Conclusion
Getting to indulge in the best invoicing and billing software means that you won't have to worry about processing your payments and getting your invoices cleared on time. However, with so many different options on the internet, choosing one can be confusing.
Our comprehensive article has been curated to help you with the decision-making process. From providing you with an extensive array of choices to highlighting the features, we have included everything that you need to know about a specific software before you settle on one.
Whichever software you choose should be done after extensive research and after you have levelled out the pros and cons of each platform.