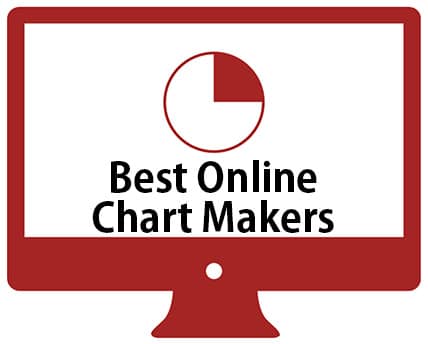 Data visualization is the peak of success at the moment. With everything propelled by technology and the constant drive for improvement in the technological advances, nothing is not written in blocks of paragraphs.
Chart making or diagramming is gradually taking a front seat in this prospect, one that you didn't even think would have been possible.
But, the problem is that nobody was born a pro in developing charts. This is the reason why there are so many available free as well as pain chart makers online that you need to know about.
How does data visualization and charting help business growth?
Charting or diagramming is a form of visual representation of data in the form of flow charts or even bubble diagrams to ensure easier understanding of the concept involved.
Given that we are here discussing about the tools available on the internet for the use of making charts, isn't it better that you first understand the kind of benefits that charting has on the growth and overall development of the business?
That being said, we thought we'd share some important list of benefits why charting is important for you to then select which tool suits your requirements the best.
1. More effective action
One of the most common benefits of charting that business professionals have reported about is faster action. Since the charts are so well devised and articulated with a simple graphical representation, it makes it easier for the people to understand. The faster they understand the concept, the easier it is for them to take an effective action for the same.
2. Better communication
Charting is a very interactive way of presenting data. Not only does it provoke interest in the minds of the people, it also helps them get a better perspective on what the project or the subject is about. When the decision makers of the industry can understand things easier, you know that your chart is communicating exactly what you are trying to convey. This is one of the reasons why carting is still a very important mode of project presentation.
3. Better linking between operations and results
One of the best benefits of the data visualization is that it helps the users involved track the connections involved with the operations and the results. Having a better idea about the overall business functions and the market performance ensures to help the businesses sustain well in the environment around. It also helps in ensuring that the progressing operations do results into the expected results that one expects in the end.
4. Blending in with the trends
Trends are important and key driving factors in the market. If you want better results from the get go, it is important that you follow along with the trend and the data visualization is possibly one of the biggest one in the market at the moment.
For keeping up with the consumer behaviour, it is also simultaneously necessary that one keeps an eye out on the emerging trends. Big data visualization and charting helps make the process of understanding the key market trends a lot easier. It helps monitor some of the key indicators and even the growth driving factors for the said trend.
5. Better chances at discussion
Better ideas are churned with better discussions. If you wish to drive better impacts for your business, the one thing that can help project better discussion is with data visualization and charting.
Given that these are easy to decipher, decode and understand, it helps in propagating better discussions without further delay. The tools used for the big data visualization has been found to have amazing impacts in helping drive better insights which later lead to extensive brainstorming and discussion which further give birth to more ideas.
6. Keep a steady track
With big projects, it is often hard to keep up with the progress which might not seem to have direct impacts in the time being but can end up causing a chaos if the needful steps are not taken. Charting helps in keeping a track of the progress of the project in a graphical representation to make the process more interesting and effective in terms of the outputs.
Knowing the status of the project also ensures to chop down on some of the unwanted lags that could cost a lot in the end. It acts as an effective prioritization tool to know what one needs to focus on at the moment and what can be checked out later.
All that being said, in order to imbibe and experience these benefits, you need to know the tools that can help you with the process of charting. To help you better, we are going to share some of the best tools that we thing you'd enjoy using.
10 Best Free and Paid Online Chart Tools 2021
As we did mention before, we searched through the internet, looked through the reviews and sorted out the top 10 chart tools that we know will help you drive your business towards success.
Let us walk you through the best ones in order, shall we?
1. Lucidchart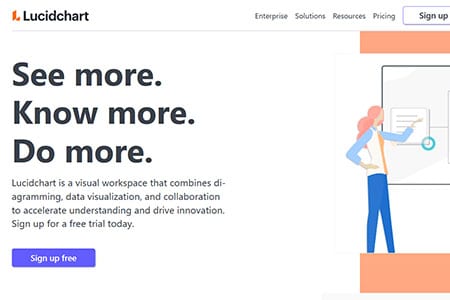 Lucidchart is an online visual workspace which streamlines workflow and management with the aid of diagramming, data visualization and better representation of the thoughts to further drive innovation.
The unique approach of this specific online chart is what further helps drive better growth and popularity of the platform.
This online chart maker helps you keep track of the actionable insights to further elevate the quality of the work along with the efficiency as well.
Graphical representation of the same ensures an interactive approach to the understanding of a subject which is often the foundation for better growth of the business.
Features
Helps in styling shapes easily in the diagram.
Better clarity in the diagrams.
Enhanced keyboard shortcuts for better efficiency.
Inclusion of containers for better arrangement of diagrams.
Inclusion of links helps better understanding.
On the platform collaboration for streamlined performance.
Pricing
Free: No money to spend and provides with easy sign up and free access to templates.
Pro: $9.95 per month when paid annually and includes all the necessary features.
Team: Starts from $20 per month for three users.
Enterprise: Need to get personalized quotes.
2. Microsoft Visio for Web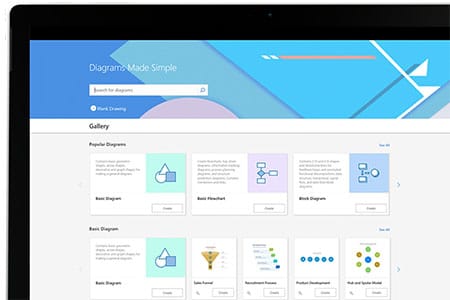 The Microsoft Visio for Web is yet another online chart maker that you can peek into if you plan on changing your thoughts into graphical representation for it to be perceived along better by the clients.
This has a very easy to use user interface that you wouldn't necessarily have to worry about or get confused with.
It lets you create professional diagrams and help engineer better charts and graphical representation for improved presentation.
It also helps promote better collaboration with the other team members to further streamline the work in a single space without creating further chaos.
Features
Helps in the creation of professional charts including flowcharts, floor plans, org charts and even modern shapes.
Promotes collaboration on the sheets and diagram to drive better growth and easier interaction.
Provides with real time insights for further understanding of the ideas.
Web access ensures that you can access and use it from anywhere across the world.
Pricing
Visio Online Plan 1: $5 per month per user to be paid annually. Includes all the basic features to start using the chart marker.
Visio Online Plan 2: $15 per month per user to be paid annually. Perfect for IT users who need better access to tools for diagramming. Includes the web and desktop application both under this plan.
3. Draw.io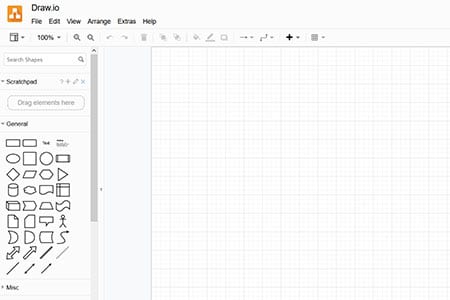 For those who aren't aware, the draw.io is yet another one of the popular diagramming tool that is available on the web for you to look through.
This has a very basic interface with no fancy fonts or anything confusing caricatures for you to walk through.
This is also a diagramming application which further allows the users to portray their thoughts and ideas into graphical representation to further ensure maximum impacts on the clients or the target audience involved in this.
They provide with options to create flow charts, process diagrams, org charts, UML and even network diagrams.
Features
Has an easy user interface to completely play around with.
Opens up to a blank sheet which can then be filled as per the requirements involved.
Has different shapes of bubbles available for you to use to express different terms.
Can be shared via web for safer and secure access.
Pricing
The draw.io is a completely free tool for you to check out. You don't have to pay anything for this but the end results are pretty impressive without any doubt.
4. Vizzlo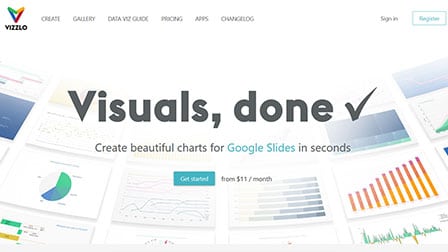 Owing to its versatile and intuitive data visualization workspace, Vizzlo can be accredited as one of the most extensively used online chart makers in the current times.
This application helps you to furnish some world-class and designer diagrammed representations in less time.
Vizzlo comes easily handy to its users as it can be accessed through any desktop browser. Once into the application, the users can start using their free trials and can pick from various options for basic and affordable monthly and annual subscription plans.
Vizzlo is best known for offering its logged-in users with an optimum selection of over 100+ chart structures that range from a variety of bar and column, circular, line and area, pictorial, bubble & scatter plots as well as process and structure diagrams.
One can also come up with time-based graphs like timelines and circular agendas, apart from gauges and status charts through this application.
Pricing
Free plan with limited features.
Professional: $11 per month when paid annually.
Teams: $45 per month for 5 seats when paid annually.
Enterprise: Contact directly for high-volume pricing.
5. Visme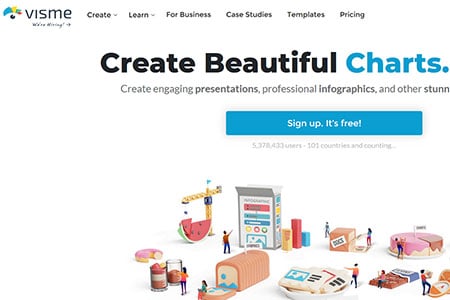 Visme is yet another one of the popular online chart preparing platform that helps enhance your chances of conversions with graphical representation of ideas and better implementation of data visualization.
This one predominantly focuses on the development of the infographics or the presentations that you need to get done on your job or for your business.
It is a very powerful tool that helps narrate visual stories without the complications of hard task involved in it. The platform is quite easy to use and has some of the best features to further ensure seamless work done for your business.
Features
Helps in creating engaging designs that convert and draws in audience.
Is a storehouse of hundreds of infographic and presentation templates to choose from.
Full immersive experience with on spot addition or even editing of the content involved for the picture.
Easy share or download options to further keep the work safe and secure and use it whenever you need.
Trusted by over 3 million marketers from some of the big names in the industry.
Pricing
For individuals

Basic: Free.
Standard: $14 per month when paid annually.
Complete: $25 per month when paid annually.
For business

Single: $25 per month when paid annually.
Team: Starts from $75 when paid annually.
Enterprise: Need to contact to get personalized quote.
6. Smartdraw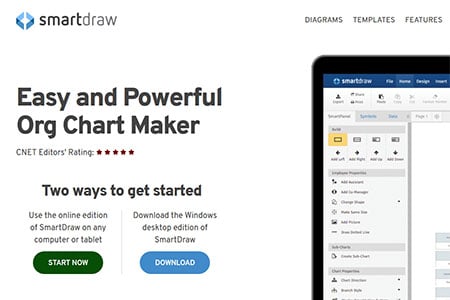 Just as the name of this tool suggests, Smartdraw is one of the most streamlined and efficient flow chart maker in the market that can take your professional presentation from the rock bottom to the top of the sky.
Comes in two editions, one being the online edition and the other being the windows desktop edition.
It has a very easy to use interface and ready made templates to further streamline your work for the better.
The Smartdraw drawings are so flexible that they have been reported to be easily inserted in any kind of file that one wishes for, including Microsoft office and G Suite. It runs on any device, be it a tablet or even a desktop, without imposing any kind of glitches.
It also does include the quick start diagram template with over 70 different types of diagram types, from the flowcharts to the other data visualization modes.
Features
The work done comes with intelligent formatting for easy editing.
Provide with professional results.
Integrates seamlessly with the accessory tools one uses.
Final image can be imported or exported to any device.
Allows easy collaboration for enterprise plans.
Pricing
Single user: $297 for one time purchase.
Multiple users: Starts from $595 per month when billed annually.
7. Gliffy
As informal as the name of the platform seems like, Gliffy is such as good of an online chart diagramming platform that ensures seamless results to enhance better communication, collaboration and better sharing of the ideas in a graphical format.
It is a very easy to use tool which even a novice can master if they have their ways known around.
It has a very easy interface with the drag and drop feature which ensures maximum ease while creating an online chart. It also allows the multiple users to collaborate and further pave way for easier editing and final touches. It also helps preserve and track the changes made to further provide with a revision history to look back on and change, if needed.
Features
Easy to use interface with amazing templates to choose from.
Allows any moment collaboration to further get in inputs and edits directly to ensure saving time by preventing redoing.
The platform allows with easy important and export to further enhance the overall saving of the created files without any hassle.
Trusted by millions of users and tech brands across the world to further enhance chances at winning.
The platform keeps your revision history intact by preserving and tracking the changes made.
Pricing
Personal: $7.99 per month when billed annually.
Team: $4.99 per month per user when billed annually.
Enterprise: Need to contact to get the customized quotes.
8. Infogram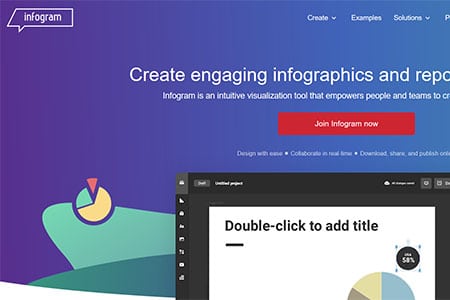 Just as the name of the platform suggests, Infogram is a very popular and engaging infographic developing platform that brings your thoughts into life with infographics and diagramming.
This is considered as an intuitive visualization tool which further streamlines the process of learning for better implementation.
It is perfect for individual users or even the team collaborating to work together. Allows you to create interactive visuals by staying on the page without causing any distortion. It ensures to help you create interactive content that sells.
Features
Has  wide range of designer templates to choose from as per your needs and requirements.
Includes a wide range of animations that makes the final project even more interesting and interactive.
The platform offers the users with tool tips, clickable legends and even linking for better rush of traffic.
Real time collaboration with the team members for better insights.
Better tracking of the work till you come up with something that resonates well with the audience.
Helps create responsive content for the web.
Pricing
Basic: Completely free.
Pro: $19 per month when paid annually.
Business: $67 per month when paid annually.
Team: Starts from $149 per month when paid annually.
Enterprise: Contact them to get personalized quotes.
9. Creately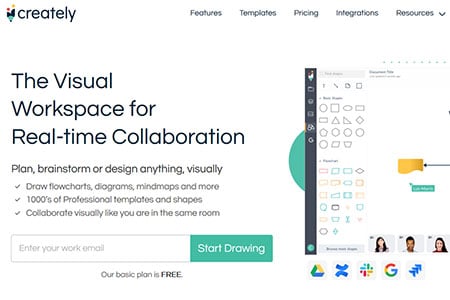 If you visualize ideas, Creately can bring them to life. It helps with visual conceptualization and helps you create, plan and collaborate on the platform.
It is integrated with some of the most popular intuitive drawing tools that further ensure maximum drive to the business' growth.
With a loyal customer base amounting to 3 million now, this is an important spot that you need to know of.
Features
Helps create the ideas that you are visualizing to further streamline the end results.
Real time collaboration for on the spot inputs and edits.
Chic and professional appearance without any further questions.
Helps you choose from over 1000s of templates to look through.
Pricing
Public: Completely free.
Personal: $5 per month when billed annually.
Team: Starts from $25 per month when billed annually.
10. Venngage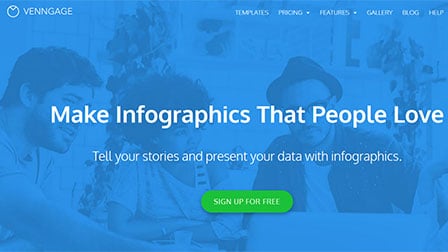 Venngage is a highly popular application that has made a strong footprint across 40,000 leading companies to easily visualize complicated data.
This online chart maker, which can be accessed at zero registration charges, offers the best-in-class data integration solutions and comes with hundreds of easy-to-edit templates.
It helps you create a host of structures including bar graphs, diagrams, pie charts, line graphs, scatterplots etc. in a snap and by placing very little efforts.
In addition, Venngage lets its users tell their stories with the help of their desired templates whilst offering branding on the graphs or charts with dozens of customization options.
The application is also configured to provide more enhancement features, such as free icons and illustrations. It also gives you access to the My Brand Kit to avail the preferred colours, fonts and logos. Venngage is also well-known for its effective customer care service and team management offerings.
Related:
Verdict
If you are tired of being in a stagnant market, you need to do something that stands out. Preparing online charts and opting for data visualization is possibly the best way to churn better results from the prospects. Not only are these interactive, they are also quite amazing in terms securing deals and making prospects understand your vision on the screen or on a piece of paper.