For the most part, diagramming is what is driving the growth of a brand now. Prospects want to engage visually first which is why visual representation of any kind of idea is what is propelling the growth in the right direction. If you have been looking for a good quality tool that can further help you create the perfect Entity Relationship Diagram (ERD), there are a few available in the market that you can further look into.
But before we discuss anything about the tools, it is important that there is clarification on what ERD actually is.
The Entity Relationship Diagram or ERD is set to help and understand the correlation between the entity sets that are available in a database.
Entities represent specific concepts or elements involved in a database. These can further have specific attributes that further define the overall properties of that said entity.
The reason why ERD is so popular in the corporate and business world is because it helps create and define a clear relationship among the entities and the attributes involved. It helps define the logical structure of the database better.
These diagrams help in sketching out the overall design involved in a database. For the most part, people make ERD to help sketch out a new layout for the database or even document the existing on. It depends on the requirements but the end results are pretty amazing when it comes to this.
Opting for tools for ERD that are available on the internet helps streamline the process for you. Half of them come with pre-designed templates, making it a lot easier for you to just put in the data and get the job sorted.
Best ER Diagram Tools 2022
Now with the basic introduction out of the way, let us take a look at some of the best available ERD tools that you can further check out.
1. Lucidchart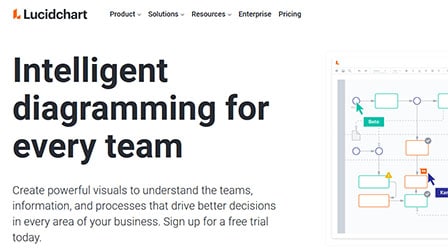 It doesn't require any introduction that Lucidchart is possibly one of the best platforms when it comes to visual diagramming of the data involved in a database.
The best thing about this tool that makes ERD so easy is because of all the pre-existing tools and templates available on the internet.
It helps simplify the process of diagramming and puts forth your conceptual and physical ideas into a format.
There are amazing customization options available as well, further making this an ideal option for your diagramming needs. It also lets you import all your database structure, ensuring that you wouldn't have to worry about doing that manually.
You can also collaborate with anyone across the world, ensuring easy access from wherever you are sitting. All you need is an operational account on Lucidchart and you are set to share the sheets with another user to let them put in their inputs.
Pros:
Simplified database modelling
Effective real-time team collaboration
Easy export of entity relationship diagrams
Customization through templates
Cons:
Limited number of symbols for use
2. Edraw Max Online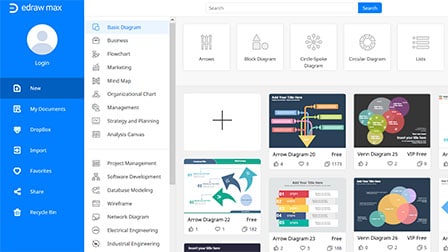 Edraw Max Online is a graphical tool to help one fabricate some of the best and visually appealing graphical diagrams and charts.
It can be best used to create Entity Relationship (ER) Diagrams and can be recognized as the best tool equipped for designing ER Diagrams in 2022 for its ease and simplicity of use.
Using this tool, one can effortlessly create attractive designs and diagrams in minutes or seconds by merely following a few steps.
Once logged in into the tool from a web browser, one can navigate to the left side of the screen and click on Database Modeling and can choose from a variety of templates or start from a blank screen to create ER diagrams.
They can be further modified with features and customized as per one's preferable choices to make the diagrams look visibly potential to the users and saved on the cloud for further use.
Pros:
Versatility
Ease of operation
Perks of professionally-produced templates
Multiple formats for export
Cons:
No backup of diagrams in real-time
3. Moqups
To create good-looking and easy-to-code ER diagrams easily, Moqups is marking its presence as one of the best-used tools in 2022.
In this freely available online platform, one just needs to select an ER diagram example, say template to start furnishing the diagrams that are invaluable to the projects.
Here, all the diagrams and flowcharts can be quickly linked to other visual assets, including mockups, wireframes, charts, and graphs within the same project.
Other than offering a specific set of stencils that are designed for assistance for instantly building the diagram template with ease, Moqups ensures that the team creates its workflow.
This simply implies that you traverse to where the project takes you by eliminating the blocks, barriers, and obstacles related to single-purpose apps.
Another interesting feature of this tool is that the ERD templates can be modified and adjusted to match the user's work, regardless of the industry.
Pros:
Online real-time team collaboration
Effective communication
Compelling Data Organization
Ease of sharing of database Schemes
Cons:
Inaccurate image resizing and editing
Lack of designing options
4. Gliffy
Yet another amazing and very easy to use tool for ERD is Gliffy. It helps you create these entity relationship diagrams like a pro without any hassle or over the top technical knowledge.
All you need to have is an account on the platform and you are set to get your job done without any issues as such.
The pre-existing templates help with easy illustration with highlights, making it a lot easier for you to handle the process without any hassle at all.
It allows the basic drag and drop feature, ensuring to make your work a lot easier and streamlined. You can also share and collaborate with people on the final or the ongoing template to get their input into the final result.
It also allows easy import and export of information, further easing the process of understanding a lot better. It allows you to get a kickstart to any pre-existing diagram and lets you continue with the same.
Pros:
Wide user- base
Instant collaboration for editing and commenting
Simplified diagramming through drag and drop functionality
Access to previous versions
Easy addition of attributes and cardinalities
Cons:
Limited color customization options
Issues with saving complex diagrams
5. Creately
If you want a clean and easy tool for all your diagramming needs, especially when it comes round to the ERD development, we would suggest that you do opt for Creately.
The tool is known for making the process of diagramming and visual representation a lot more easy and streamlined, without any kind of added hassle that many tend to complain about.
It allows quick and easy visualization of the available data to be transformed into the final ERD.
The interactive drag and drop interface on this platform makes it a lot easier for you to create the diagram. It also comes integrated with a contextual toolbar, making the process a lot more streamlined.
You can also customize your final result by changing colors, fonts and several other attributes with just a single click. Even this one provides with an option for you to collaborate with the individuals on your team for better understanding of things.
Pros:
Streamlined designing of databases and systems
Real-time visual collaboration
Provision to simplified and automatic drawing tools, like drag and drop
Convenience of over 10000+ professional shapes
Multiple access and role levels for the diagrams
Cons:
6. SmartDraw
Just as the name suggests, SmartDraw makes the process of creating ER diagrams a lot easier and hassle free.
They come with a plethora of already available templates for ERD that you can use to further get your final diagram done without any hassles as such.
The existing templates are pretty convenient and have been made to suffice the standard needs of the people around.
It allows automatic generation of the ERD with the existing data that you have in the database. Once the first draft of the diagram is done with the existing template and data, it then lets you edit and customize everything as per your needs and requirements.
If the templates don't suffice your needs, there are manual options available as well. You can select the shapes and enter the data manually to then get the final results without any issues at all.
Pros:
Intelligent Formatting
Wide variety of professionally-designed and quick-start templates
Free Support
Automatic generation of ER diagrams
Multiple stylistic options
Cons:
Restricted customization options, like shapes and objects
Inaccuracy of add-on images
7. FigJam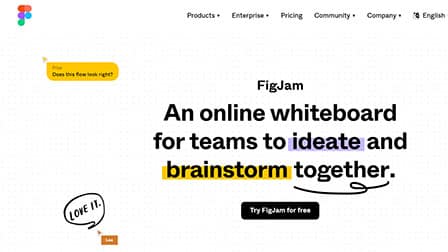 One of the most commonly used entity-relationship (ER) diagram makers, FigJam helps its users in planning better pathways and debugging the existing database designs.
This application enables one to build connections with the help of a collaborative tool. However, the most outstanding feature of FigJam is that it brings the relationships between products, users, and processes into focus through its ER diagram templates.
This application is also well-versed for its customer journey mapping, as it gives the edge of planning the ideal customer pathway from the first impressions to the final pushes.
In fact, users can collaborate on diagrams, flowcharts, and tables that depict how concepts connect in this platform.
Process mapping is another advantage offered by FigJam as it helps the team in working out smarter ways for working together. One can also document the existing processes and pathways while presenting the ER diagram to new hires, and investors.
Pros:
Concept mapping through collaboration on flowcharts, tables and diagrams
Choice of multiple templates
Creation of design sprints, brainstorms and mood boards
Precise documentation of existing processes and pathways
Cons:
Challenges in addition of images in designs
8. Diagrams.net
The platform of Diagrams.net is a hit or miss among people. While some genuinely love using it, some do tend to shy away from the same.
The primary reason why this is considered such an amazing option is because you get to create the ERD from scratch. It allows you to create your own without having to depend on any existing templates.
To be fair, if you are someone who likes to get things done manually without being reliant on the existing templates, this is the perfect platform for you to get the ERD done. It comes with all the needed tools and shapes that you need to get your final diagram done without much hassle.
You can operate it online without having to register, and it is completely free, which is perfect for the businesses and individuals who don't want to spend their money on the tools for diagramming.
Pros:
Wide variety of templates
Advantages of new extended table tools
Access to tools and keyboard shortcuts
Free software
Intuitive designing
Cons:
Problems with compatibility
9. Dbdiagram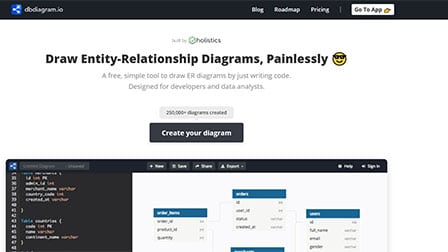 Dbdiagram is without a doubt the most recommended web-based tool with cost-effective pricing that leads its developer and analytic domain users towards drawing superlative entity-relationship diagrams.
These professionals can jot down the minimum and easy-to-perceive lines of codes to continuously pop up the ER diagrams on the screen.
One of the most striking features of this application is that the ER diagrams can be sourced from SQL dump files. Furthermore, certain SQL statements can be directly generated to form the database tables.
Dbdiagram also supports the creation of the diagrams by uploading the schema.rb files on renowned web platforms like Rails or Django.
Once the required ER diagrams are handy, they can be transformed into PDFs and can be shared on various social media channels to other users with the courtesy of a click. Owing to this, Dbdiagram can be deemed as one of the best ERD tools in 2022.
Pros:
Effortless curation of ER diagrams
Automatic generation of SQL statements
Creation of stunning PDFs for the ER diagrams
One-click sharing of files
Cons:
Complicated creation of perfect straight lines
10. Miro
Miro is another highly popular and commonly used online application for fabricating entity relationship diagrams (ERD), and can be counted among the top diagram making tools in 2022.
Through its cost-friendly and minimum registration charges, it enables users to design and graphically depict their databases.
Moreover, Miro makes the creation of diagrams more feasible with the help of its wide spectrum of templates that span from value chain, risk assessment, status report, project scope and kickoff, etc.
The ERD diagram making procedure in Miro can be accomplished in just 4 simple steps that only need a few clicks of the mouse. In addition, this online podium comes with some advanced interactive features to bring ease of design to the workspace.
It is also gathering a large user base on account of its extensive array of modification elements and its color pallet that turn the diagrams into attractive and eye-pleasing graphics.
Pros:
Easy visualization of database designs
Simplified customization of the diagrams
Effective team and document collaboration
Benefits of adding comments
Access to multiple file formats
Cons:
Issues in drag and drop function
Not so advanced mobile user experience
Related:
The End Note
If you have been on the lookout for some good quality and accessible tools for creating Entity Relationship diagram, these are some of the best available ones that you can take a look into. Just ensure that you do check out the features as well as the available pricing options because that is what helps ease the process even further.
It is best that you don't struggle with things last moment and prefer using the ones that fit your requirements better. If you want one with pre-made templates, look accordingly. If you want one that allows manual diagramming, look for one with such features.