Numbers and statistical data, in the present day, hold more value in almost every aspect of life, and more importantly across businesses. With heaps and bounds of data being generated, and the rising weight-age related to costs, performance, targets, and revenues, numbers are gaining much more importance than before.
Hence it has now turned extremely crucial to give these numbers an interpretation in order to influence decisions that are associated with performance, effectiveness as well as investments.
This has in turn paved the path for the growing incorporation of a diverse spread of charts and graphs in a bid to give more life to numbers.
One among these graphical structures is line chart or graph. So what exactly does one need to know about line charts? Line charts are tremendously popular among a large set of users as they are used for the connection of several individual data points within a data view.
They are increasingly adopted for displaying trends over time in comparison to several other chart types. This is mainly ascribing to the trajectory of the lines in the graph that go up or down, to impart clear information about the progress of specific data points over time.
Best Charts, Graphs, and Diagram Tools
In addition, line graphs are also employed for tracking the changes during short and longer periods. In instances for depicting smaller changes, line graphs are highly preferred over bar graphs as they can match the changes through the same period for one or multiple groups.
Similar to area charts, these graphs can assist you as well as teams to track critical metrics, identify urgent issues, evaluate performance, and to come up with timely decisions for futuristic planning and productivity.
Some of the typical scenarios where line charts mark notable presence include sales performance, stock prices, retail trends, unemployment rates, daily web traffic, pollution levels, population growth, company EPS, and weather data.
The charts are also most often utilized to visualize the progress rates over distance or time in areas like marketing, business, sales, finance, and experimental sciences.
Also, understanding the changes that occur over some time are relatively easier for the human mind. Hence most business owners prefer the use of line graphs to view the increase in their profits over time. Content publishers can also see their traffic rise.
In a nutshell, the charts provide the best context for understanding the current activities and plans. The surging popularity of single line graphs has also made way for multi-line graphs to evaluate the performance of diverse groups.
Driven by these benefits and increasing usage of line charts, a bunch of software, tools and online applications are coming to light to shape and add more value to a varying range of graphical structures.
The sole purpose of these portals is to cut down a lot of user time and effort, while at the same time offer a simplified process in crafting the graphs. Over time, there has been higher use of these online channels for creating, designing and personalizing line charts.
Best Line Graph Maker 2023
Taking an insight into the application scope and prolific usage of line charts in recent times, individuals to companies are incorporating a bunch of online chart making software and tools.
These portals are technically advanced and are loaded with powerful features whilst being designed with easy to edit and interactive user interfaces.
As most of these applications come with customizable templates and a fleet of modifying and enhancing characteristics, they simplify the line chart making process with minimum time and effort.
Here is a sneak-peek into ten of the best in town line graph making applications for use in 2023.
1. Visme – Best Line Graph Maker
Chosen by millions of educators, marketers, and executives from across 120 countries, Visme is a freely available and easy to utilize platform that helps users in crafting visually impacting line graphs.
It can be touted as one of the most preferred applications on account of its benefits of customization as well as the ease of access to quintessential features, including pre-designed templates, as well as chart widgets.
In addition, Visme hoards hundreds of millions of stock images and vector icons to enhance the user's designs.
Apart from coming with constructive drag-and-drop design tools, this online tool is packed with hundreds of premade starter templates that offer simplified editing of data and brand customization.
Once done, this line graph maker assists users to easily share their graphs on social media. One can also add their professionally made line graphs to infographics, and presentations or download the animated graph as HTML5 files.
Pros:
Has multiple varieties of templates available
Versatile user experience
Integrated with user data visualization tools
Easy UI
Cons:
Expensive pricing plans
Lacks guest collaborators feature
2. Edraw Max – Best Line Graph Software
In order to offer advanced features and charting symbols to users for curating interactive line graphs, Edraw Max is an online charting software that offers simplicity of use.
Besides rendering customization benefits, this all-in-one line making tool is also a vital resource and time saver.
It has thus gained the trust of nearly 25 million users as well as leading brands for the visualization, innovation and collaboration of a diverse spread of charts.
Best Charts, Graphs, and Diagram Tools
Other than just simplifying the visual workflow, this platform is highly in use for delivering better results given its Microsoft-like interfaces, professional template resources and drag and drop functionalities.
Also, this software makes sharing and teamwork easy on any shareable channel as it offers proper planning and keeps all the data on the same page during all times and places.
Pros:
Easy to use features
Contains 280+ types of line graph diagrams
Unlimited templates
Compatible with Windows, macOS and Linux
Cons:
Contains heavy technical features
Large file size
3. Moqups
Assisting its logged-in users in crafting some of the simplest to complex line charts or graphs, Moqups is a highly recommended web app that comes in handy with affordable subscription plans.
This streamlined and intuitive portal not only helps you in tracking the performance and analyzing trends but is apt for effective team collaboration.
Considering this, Moqups has made a significant place for itself across finance, business, sales, experimental sciences and the marketing landscape.
Additionally, the tool is packed with hundreds of good-looking line chart templates that cut down a lot of user time while making the work much easier and attractive.
Post selecting the template, you simply need to add your data and customize its appearance in order to fit into the team's requirements.
Several companies are also making use of this application to visualize their progress with respect to time and to evaluate performances while making timely decisions.
Pros:
Beginner-friendly platform
Integrated with pre-made templates
Customizable designs
Unlimited integrations
Cons:
Time-consuming features
Basic plan is limiting
4. Adobe Express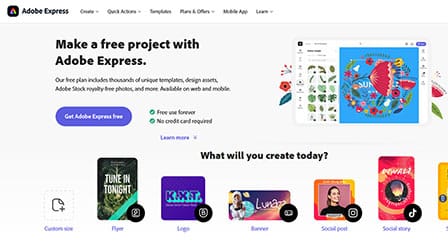 When it comes to Line Graph makers, there's nothing that can beat Adobe Express.
It is a leading data visualization tool that has been dominating the market for years now.
This free online graph maker allows you to create enticing graphs in a matter of minutes and save them forever for future use.
Besides supporting dynamic changes to the data and appearance of the graph, one thing that sets out in Adobe Express is the availability of different templates, which make using Adobe a lot easier and hassle free. You get to prioritize customization and better align the final graph based on the company's branding.
Backed with an app, Adobe Express is an accessible line graph maker you can use anywhere and anytime. Furthermore, the accuracy of the created line graphs is precise and stunning and doesn't even give away the fact that it takes users hardly a few minutes to sort through.
Pros:
Free access to Adobe fonts
Comes with 100GB of cloud storage
Professional and customizable templates
Accessible on web and mobile
Cons:
Lacks SVG support
Laggy performance
5. Vizzlo
Prompting its users in coming up with beautiful looking graphs for Google Slides and Powerpoint in a matter of seconds, Vizzlo is a one-stop solution you can run into to furnish attractive and impact rendering line charts.
Priced at affordable monthly and annual subscription plans, along with offering a free trial start to professionals, teams and enterprises in making charts, this online platform helps users in enhancing their productivity.
Owing to its robust configuration features and interactive interface, Vizzlo can be addressed as one of the best line graph maker for use in 2023.
Along with witnessing massive deployment among a herd of users spanning from beginners to experts, Vizzlo has made a place for itself in companies, such as IBM, Sanofi, Adidas, and Uber among a bunch of others.
This is mainly attributable to the impressive visualizations that it provides its audiences apart from the easily customizable line charts.
Pros:
Stylish and aesthetic design tools
Easy UI
Simple and fast functionalities
Basic version contains diverse features
Cons:
All projects are public and accessible to anyone
Lacks data organization tools
6. Venngage
Venngage is a well-known online tool when it comes to creating impactful charts with a touch of data integration.
On account of its beautifully designed and easy-to-edit templates, this freely accessible application has made a mark for itself across 40,000 businesses to assist them in visualizing their complicated data with ease.
In addition to this, what makes Venngage truly unique is its real-time team collaboration and assistance in easily importing data from Google and Excel Sheets.
Also, the line chart making process in this application comprises 5 basic steps that revolve around choosing the preferred templates, adding in the data, customizing the charts with colours, and sharing the resulting graphs.
Another feature that stands out for Venngage is the presence of My Brand Kit that lets you fill in the brand colours, logos and fonts through a click. The tool also houses a vast library of free icons and illustrations.
Pros:
Easy to use features
Quick processing
Professional templates
Free trial version available
Cons:
UI is a little laggy
Collaboration is challenging
7. Canva
Canva is undoubtedly one of the highly recommended online tools for making line charts given that it comes at zero cost to its users alongside offering an assorted range of subscription plans.
This application not only deals with beginner-level chart making but is also best suited for crafting and designing some of the most complex graphics with basic drag-and-drop functions.
One needs to simply insert the data through the "Data" button present on the toolbar, followed by a touch of personalization that reflects on the brand colors, fonts, and the insertion of data labels.
Another striking characteristic of this tool is that it ensures that the graph is in the same colour scheme as the rest of the document to make the line charts more compelling to the viewer.
In addition, once done, one can also publish, download or share the high-resolution graphs, or embed them in presentations, and reports.
Pros:
Free version is quite enriching
Easy to use UI
Diverse range of templates
Beginner-friendly
Cons:
Cannot create unique elements
Lacks photo editing tools
8. Piktochart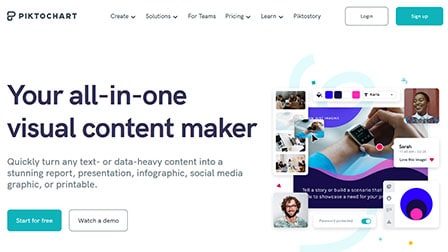 If you are tired of lacking data visualization of all your metrics, Piktochart is the ideal tool you need to add to your list of data organization.
It is easy to understand and takes a few minutes to translate your written data sets into a visual graph.
With easy integration features, users can link Piktochart with Microsoft Excel or Google Sheets for easy data extraction and update. You can easily combine multiple charts to better visualize your data and make it look sleek and professional.
Featuring custom color palette and easy access to branding tools, you can create line graphs for your data with the essence of your company's branding. Also, Piktochart supports a multitude of templates that allow you to create different types of graph charts in no time.
Also, Piktochart comes with data organization tools that allow you to create individual folders to organize all your graphs and charts in one place for future reference.
Pros:
Easy to use and navigate
Hundreds of professional templates
Library of graphics and images
Easy integration tools
Cons:
Branding of the tool appears in the bottom
Basic free version isn't great
9. Displayr
Giving its registered users the perks of easy chart making and designing, Displayr has emerged as one of the highly used platforms for coming up with line charts.
Considering its free access to the general public and its reasonable pricing for professionals and enterprises, this web browser-based portal packs a range of options for its users to help them quickly create free line charts.
Apart from offering robust data collaboration and visualization capabilities, Displayr is known for crafting a diverse range of charts in just 3 basic steps.
All one needs to do is input the data values in the tables present at the interface. Once the line graph pops up on the screen, you can easily customize the graph with a personal touch of fonts, backgrounds, colors, and sizes.
Following this, one is free to share the charts or export them as images or PDF files with a click.
Pros:
Thorough data visualization tools
Aesthetic and customizable templates
Easy user interface
Basic plan is not bad
Cons:
Runs on Java and R code
Memory intensive tool
10. RapidTables – FREE Line Graph Maker
RapidTables has emerged as an instant solution to all its users in order to furnish and design a diverse range of charts in a jiffy.
Although this online application mostly works around a lot of numerical and statistical data, it supports the creation of various graphical structures, including tables, and charts with internal calculations and conversions.
On account of its untangled and simplified interface, this web-accessed platform has been highly adopted by millions of users across the globe.
Apart from its pop-up box like chart making workspace, what makes RapidTables stand out is the ease of structuring of the line charts that it gives its users.
All one needs to do in this application is manually input all the data to place them across both the axes, along with specifying a few other parameters. Post this, the line charts appear on the screen, for further resizing, sharing, downloading and printing.
Pros:
Simple and effortless functions
Multiple pre-made templates
Professional data visualization tools
Minimal UI
Cons:
Lacks advanced features
Very basic designs
You may like:
Verdict
To put briefly, the above-mentioned line chart making software and tools are not only powered with interactive and easy to use interfaces but are also packed with a bountiful of templates to offer effortless working.
Additionally, as these chart maker are configured with various advanced settings and functions for the customization of graphs, they are largely deployed for enhancing the line charts for more simplification of user work.
Ascribing to this, these portals have garnered a lot of popularity across a gamut of corporate and designing verticals to cater to the needs of easy chart making.
Edraw Max, Visme and Canva, on account of their dragging and dropping functionalities and the access to a wide range of enhancing elements, are marking extensive preference by individuals.
Moqups is increasingly favored by users to provide an added edge and zest of personalization to their line charts considering the presence of a bountiful of templates.
Adobe Express, Displayr and RapidTables have gained an incredible reputation for the simplified chart making process they provide to their users.
While Vizzlo is best-known for its affordable subscription plans and robust visualization, Venngage offers its esteemed users the benefits of team collaboration in real-time.