Org charts are required for every organization and one can seek a variety of tools. Here we are presenting the list of best org chart software/tools/maker of 2023.
Organizations and companies are growing with each passing day and with the growth of the companies, there is an increasing employee population.
With more people joining the organization, changing designations and reformations and with various levels of management and alignments amended regularly, how much of a convenience it is to have a representation of the hierarchy of the management to facilitate a better understanding of its employees, their direct reporting authorities and their intermediate connections to bring about an employee awareness.
The employee data is best managed in the form of an organizational chart which is so feasible to use, update and make changes as and when required.
These charts can be availed from different software, that can come in the form of installed software in your desktops or a tool available online or as an app on your android or iOS.
Best Charts, Graphs, and Diagram Tools
Putting in minimal efforts, by merely selecting your data that you wish to import in the chart, with a click or two or simply a drag and drop, these charts are within your reach in minutes.
They can be embedded in documents or simply saved as a PDF or image. Organizational charts garnered from these tools can be enhanced with so many features from templates to layouts, colors to added graphics, customized shapes and sizes to icons, and much more.
Every software has its USP and is also limited to certain pros and cons. Upon analyzing the software and tools best deployed for creating these charts, selecting the one that is more convenient and précised for your use can be sometimes a little challenging and arouse some confusion.
The following blog will provide you with insights into the best software (tools) 2023 to help you decide and choose the right software to yield you the best organizational charts.
Best Org Chart Maker 2023
Organizational charts typically depict the hierarchy of the different levels of management in an organization. This data is crucial for detailing and keep in the records all the active employees of the company and where they stand in terms of reporting and their respective designations.
Managed as a report, the chart needs to be updated frequently with the help of some software and tools. Based on the nature of their use, and the multiple features to offer its users, here's a look at ten of the best org chart maker of 2023.
1. Wondershare OrgCharting – Best Org Chart Software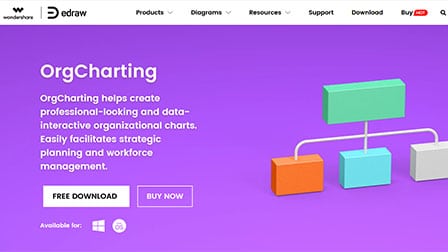 In order to construct as well as design data-interactive and competent organizational charts, Wondershare OrgCharting would be the most recommended software of all times.
This is mainly because it ensures ease of workforce management, and can be downloaded in free versions by the users while showing compatibility with Windows and the MAC systems.
This application has made a place for itself across some of the leading Fortune 500 companies and well-known brands on account of its power-packed features.
OrgCharting can assist users to come up with top-quality, and attractive organizational charts in seconds in a fewer clicks with pre-configured templates. The charts can also pop up on the screen by simply importing an excel file.
The software also offers data synchronization to make the charts more effective and productive with zero errors. Project resource planning, data visualization, and HR management are some other advantages of using Wondershare OrgCharting.
2. Visme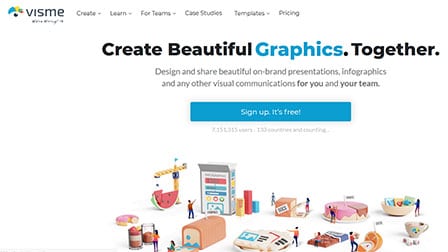 Out of all the listed tools, Visme is one of the easy to use, drag and drop equipped and less time-consuming application for delivering organizational charts in minutes, finding its trust among some high rated brands.
From letting you choose from a variety of shapes ranging from circles to rectangles to deciding on customizing how they need to presented and what images you wish to get imported on the charts, this software is backed up with a 5 step process. The generated chart can be downloaded in the form of a high-resolution image or PDF file.
Apart from the simplicity of options, it provides like editing shapes and lines and swapping of relevant content, the resulting charts can be further enhanced with graphics and icons, different chart elements to further exaggerate the visual illustration of the charts to make them more appealing to its prime users and subscribers.
3. Lucidchart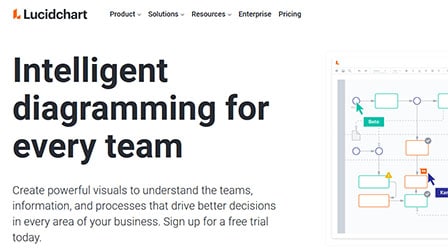 To create online organizational charts, Lucidchart is the most sought after. With just 5 steps to process, from importing data on a spreadsheet, adding or deleting fields to manage the data, the charts can be produced and showcased in the form of pictorial presentations.
In all growing companies, most of the HR and Marketing Operations rely on employee data which have to be timely recorded and tracked for various purposes.
This platform works as a visual workspace to produce and enhance organizational charts so that they are easy to read and understand to showcase the different and multiple relations and connections among all the employees.
These charts can be managed easily as they rely on Import data feature that imports datasets into the different spreadsheets to produce the charts. This online software is supported by BambooHR to carry out further shared accessing and viewing of these charts.
4. Miro
Data organization is crucial to making the data more presentable and actionable, at the same time. With Miro, you get to streamline that without any worries.
What's great about Miro's organizational chart maker is the clarity it brings to the data sets.
Best Charts, Graphs, and Diagram Tools
Be it for personal use or for professional use, using Miro's Org chart maker, you can visually show the data and the available information across the teams in your company. With different types of Org chart templates available, creating one is effortless and doesn't take much time.
The robust and comprehensive UI of the platform ensures to get every last detail aligned to the needs of the user. You get access to different tools and resources, including suggested corrections and multiple grid views, all of which make the process a lot smoother and functional when creating org charts.
The free and pre-made org charts on this platform are quite effortless to edit, enabling you to save your time in the process. Additionally, it fits into your team's requirements, irrespective of the size.
The single-click share option on the platform is pretty great too, enabling the users to create and immediately share the final product with the relevant team members and executives.
5. Creately
With 8+ million trusting Creately, you can be assured that the platform is everything you want to streamline your org chart creation process.
Not only do you get to create organizational charts, this multipurpose platform also allows you to design team structures with multiple frameworks.
The software comes with multiple frameworks and templates that you get to work around, especially when it comes to representing the available data in a more refined and organized manner. Also, it has an intuitive drag and drop editor for better organization and updating of the data as needed.
What's great about Creately is the availability of diverse editing and styling options, especially with different reporting structures and heirarchies and levels of management. Featuring a centralized canvas, it allows seamless screening and onboarding in no time.
Creately also features diverse collaboration tools, making your shared workplace a lot more actionable than you think. Users can also export visuals in multiple formats, embed and share them across varying platforms.
Overall, if you are looking for a functional but easy to use and free org chart maker, Creately is an option you won't regret checking out in real-time.
6. Edraw Max
In a bid to improve workforce management, as well as curate professional and visually appealing organizational charts in minutes, Edraw Max has embedded its name among the best org chart maker.
The online application is rigorously employed as a diagramming platform by renowned brands, including IBM, HP, Cisco, Samsung among dozen others.
It is also packed with hundreds of ready-made templates and symbols whilst inching a step forward in letting users add their personal images and icons.
What makes Edraw Max a promising organizational chart maker, is its growing popularity as a secret weapon to support the human resource management arena while offering cloud collaboration functionality to the team members.
It also assists employees in shaping a comprehensive perspective for effective work alignment. On account of its powerful compatibility, the software also lets users export their finished charts to several files, like MS Visio, MS PowerPoint, PDF, JPG, and SVG.
7. Pingboard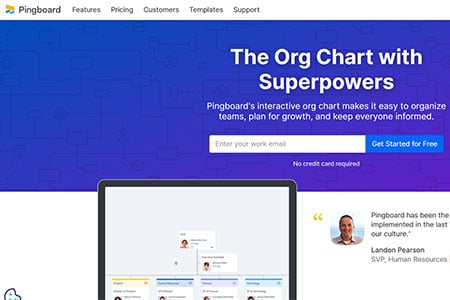 Pingboard can be accredited as the best in practice organizational chart maker. One of the most appealing, easy to create and organize cross-functional teams into different categories and manage multiple private organizational succession plans and charts.
It enables an automatic updating of real-time people data upon integration with HR and IT provider systems like Microsoft Azure, ADP, Google G Suite, to name a few. Thus, the data is automatically imported and the charts can be handy within no time.
Being home to apps on Android and iOS, Pingboard keeps the complete organization just one touch away from the user. The charts can be accessed and shared in the form of hyperlinks, keeping the customization rights in control. And can be embedded in PowerPoint presentations.
Among the many different features it offers, the Peer-to-Peer Recognition feature stands out for this software, enabling employee recognition and appreciation for work and labor.
8. Vizzlo
Vizzlo is another highly recommended online application that helps its logged-in users in conveying abstract data concepts with the help of professionally designed and easily customizable organizational charts.
It is extensively deployed by bigwigs, including Deloitte, Uber, Adidas, etc. for coming up with additional graphical structures like logic as well as heritage trees.
Other than assisting in crafting and personalizing the charts, Vizzlo is also increasingly well-known for delivering effective project management benefits to team members.
The tool also comes with affordable subscription plans for professionals, teams and enterprises. Owing to its integration with Box, Google Drive, Dropbox, and OneDrive, Vizzlo lets users create organizational charts on these platforms with ease.
Apart from this, simplified collaboration and sharing, as well as brand management offered by the application make it a premium choice for beginners and professionals. It is also effectively designed to provide security of data along with customer support.
9. Canva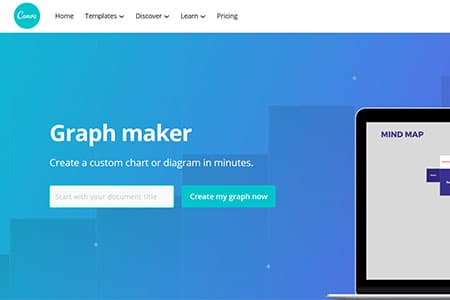 Canva is an online creative portal for designing beautiful, professional charts and designs. It's very basic and does not require any amount of expertise.
It revolves around choosing the right templates and layouts for producing illustrative designs. You can customize any organizational chart in Canva, by picking from a variety of layouts, templates and images along with a majority of design tools.
Feeding the organizational chart with employee data and pictures can make it look very personalized. The images once used are stored and can be retrieved quite often. From choosing from a wide array of colors, the chart can be branded as per the company guidelines which can make it very company-specific.
Due to its online presence, it supports collaboration with different team members and employees. The output chart can be downloaded as a high-resolution JPG or PDF file format and can be shared with a click.
10. Organimi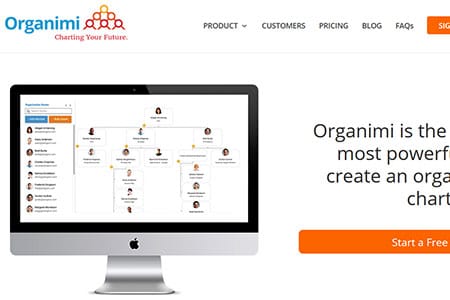 Organimi is a tool-making its presence online for functions to create effective and productive organizational charts. Its family of users has shown to grow rapidly over time globally.
Finding its potential users in Tier-1 companies like Facebook, Amazon, HP, Walmart and many others, this tool offers creation of exceptional organizational charts for multinational companies that can be integrated into sales for structuring the internal sales teams.
The steps for producing a chart from this entity are very basic from importing data from Excel or manually adding employee fields and images. The employee pictures in the chart can be added in bulk with each image aligning to its respective candidate. More to it, Organimi helps include photoboards and directories to each organizational chart.
This tool is found to be most compatible with most of the HRMIS platforms like Active Directory, Workday, Salesforce, etc to obtain charts in CSV format.
Related:
Verdict
Summarizing the list of the top 10 best org chart maker and tools of 2023, one can say that every software is enriched with capabilities and features different from each other. Each software and tool has its own set of users.
Tools like Pingboard, Lucidchart and Wondershare OrgCharting are patterned for professional and advanced organizational charts, whereas the others like Smartdraw, Canva are the best remedy for simpler organizational structures.
Depending on the ease of use, free trial or paid subscriptions, its integration with other systems, the benefits it provides to its audience among many other factors, the above list of software and tools have featured to be the most used and best in practice tools and software in 2023 for providing good quality structures and downloads of organizational charts.
Among all, Pingboard stands a good chance to outsmart the others for its quick automatic updating features and the unique selling point is its ease of use it rewards to its users. Also, with its online presence, Lucidchart can yield some beautiful charts in less than a minute in a few clicks. Ultimately, using these software and tools are going to help save so much precious time.