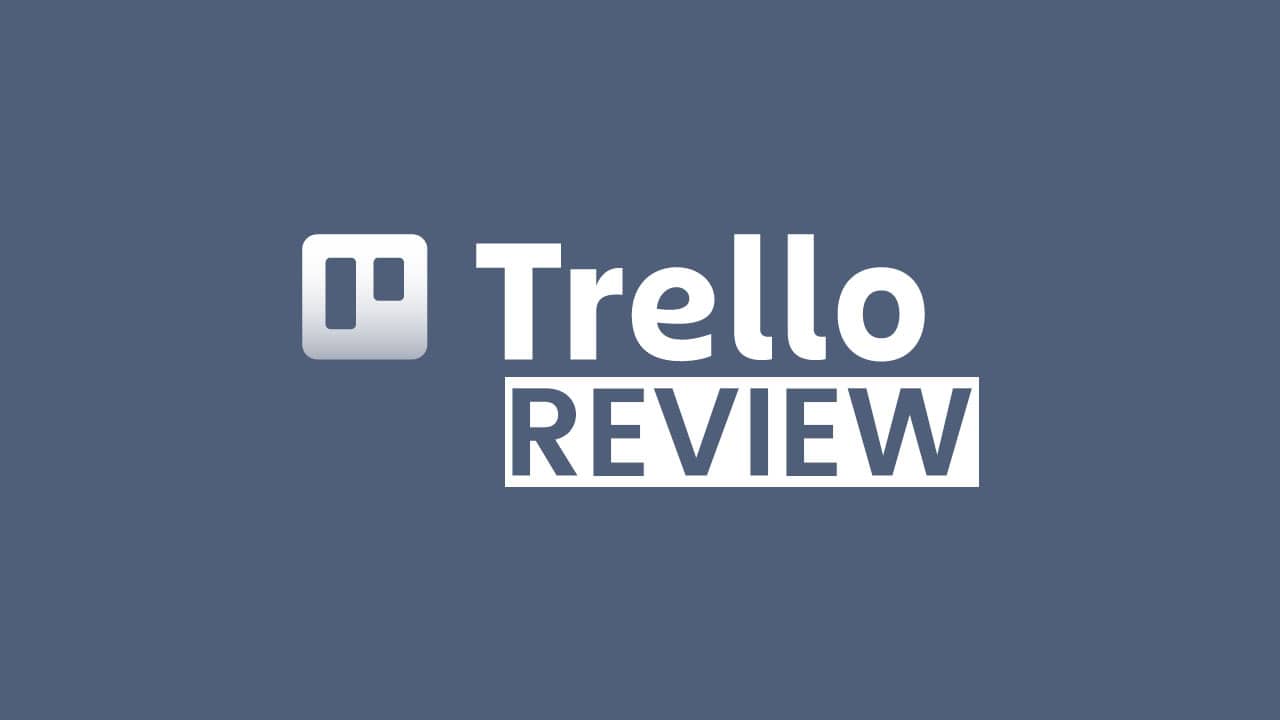 Trello stands out as one of the most used workflow management software because of its ease of use. So, if you need to adopt a work management program without having to train your team, Trello might be your best bet.
Trello: The Task Management Market
Trello has built a massive audience base since it was acquired by Atlassian in 2017. With over 1 million active users, it's one of the most popular task management software.
And this for many good reasons. Reasons range from its ease of use, or how cost-efficient it is for managers with a low budget, its intuitive interface and more.
While this is a fact, it is important to note that Trello isn't your traditional project management software. You wouldn't go to Trello if you need to manage complex projects that will require sending invoices, managing resources, and more.
Yes, compared to its competitors like Asana, Wrike, Jira, etc., the software has very limited features. Which I find to be Trello's biggest advantage. As many users prefer not having to weave through a web of features before managing simple tasks.
Best Charts, Graphs, and Diagram Tools
So, if your goal is to manage simple tasks, automate certain actions, and foster collaboration within your team, you might enjoy what Trello has in store. Now, let's discuss what this cloud-based software is all about.
What is Trello?

Trello is a work management software built on a very simple technique. The Kanban board technique.
The Kanban technique is a method that allows you to visualize work processes as they move from one stage to the next (to do, progress, done, testing). This helps you to break down a complex project into bits of tasks so they are easy to view and complete.
Typically, a card is used to represent different tasks on the board. And this card provides the details of what to do, how to, and who to do it. And typically, the card moved to another column at each stage of the workflow process. We show a typical Kanban board below.
You can see different stages represented in a column (to-do, in process, done, testing, blocked).
For example, if you run an agency and you are to run a certain campaign for a client. Of course, you'd have multiple tasks to achieve this goal.
The first task will be to read the client's brief. Using a Kanban-style, you write the task on a card and move it from the "in-progress" column to the "done" column when it's done. And then you pick up the next task.
Now, Trello is basically the digital version of the kanban board. It is very simple. All you need to do is create your workspace, create boards, and define the task you want to complete on a project.
On Trello, a workspace comprises boards and a collaborator. So if a team leads, you can create a workspace and invite your team to join the workspace where you manage projects, assign tasks and keep tabs on the progress.
A board comprises cards. So a board will represent a task and you can create different sub-task to complete that task. With Trello, you can add due dates, change the cover, and automate notifications to certain actions.
Pros
Easy to use
Does not require technical training
Has templates to help you start with your team
The free version has enough features
Cons
Trello Pricing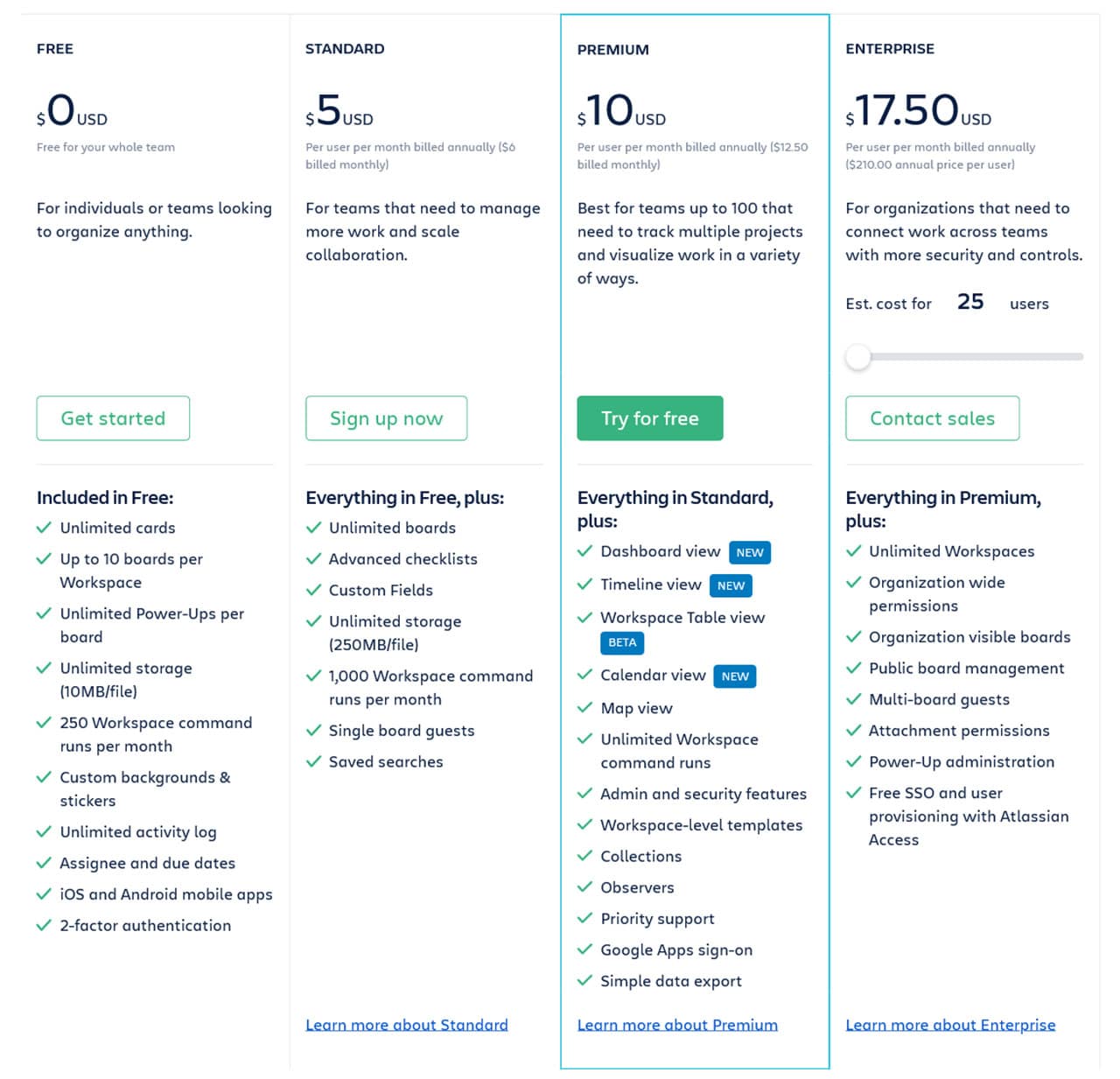 In August 2021, Trello introduced its new pricing plans to make it more affordable for growing teams. Now Trello has the free, the standard plan, and the premium plan.
Of course, as the name suggests, the free plan is free for all. With the free plan, you have unlimited team members in your workspace.
Have up to 10 boards per workspace. Unlimited storage with a limit of 10MB per file and 250 Butler automation. And just recently, free users now have unlimited power-ups per board. These power-ups help allow you to integrate other apps into your Trello software.
The Trello standard plan costs $5 per user when billed annually. With the standard plan, you have many features to play with.
You can create unlimited boards and manage complex projects regardless of the size of your team. Now the new standard plan offers an advanced checklist to keep the team in check and also you create a customs field for your business process.
Now the Trello premium plan, formerly called the business plan, costs $10 when billed annually. You have access to all the views (the calendar, Kanban board, calendar, and map views).
Of course, you also have access to all workflow automation tools of Trello. You can use specific rules, buttons, and email reports to automate some processes, especially repetitive ones.
The Interface
Trello has a very intuitive interface. With the Kanban software, you can easily complete your task without hassle. You can easily reach the feature on your main window. The workspace is pretty simple to navigate.
On your workspace, there is a left tray that allows you to switch between workspace. On the navigation, you have a drop-down menu where you can switch between views (timeline, board, dashboard, map, calendar views). And you can find other features in automation (rules, buttons, and email).
The "show menu" feature opens a right tray with features to change the background, add a custom field, and view more information about the board.
Best Charts, Graphs, and Diagram Tools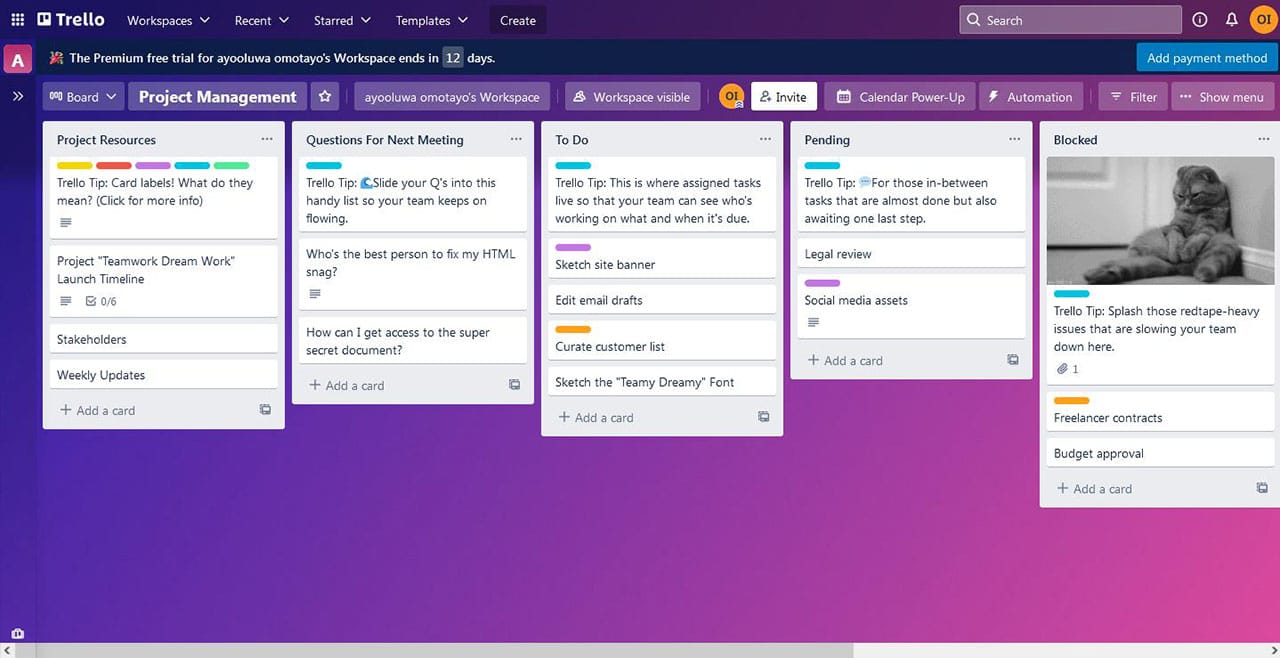 I assume there was more focus on the usability of the program. Which is very good. I mean, it creates an enjoyable experience for the users. But I think beautiful designs add to the user experience.
It would be nice to have beautiful layouts, colors, and illustrations in the software. I didn't get that with Trello. When we talk about aesthetics and beauty in productivity software, Asana comes to mind.
Apps
Trello app is available on desktop (mac and windows) and mobile (android and iOS). And, of course, all the features on the web app that are very much available on the apps. However, there is more you can do on the native app.
For example, you can create shortcuts on your window and mac app to bring you directly to Trello without opening up the browser and getting distracted. Also, on mac, notifications on Trello can drop directly on your dock without having.
Another interesting thing is that you can create a "quick add" keyboard shortcut to add a card to your board on Trello without launching the app.
Customization
You can easily customize Trello to make it yours. For whatever team you are (design, marketing, development, etc.), Trello bends to your workflow. The custom fields, templates, and interface are features that make it very flexible for users.
The templates on Trello let you get started easily. Trello allows users to make boards public. So you can use templates made by the Trello community to get started.
Trello also has an in-built template for different teams and projects. It has templates for marketing campaigns, meeting agendas, design huddles, and plenty of templates you can customize to get your work done on time
Trello custom field allows creating custom fields as it suits. Different teams have different work processes, and Trello understands. The customer, although not very comprehensive, allows the user to add fields that aren't included in the software.
Integration
Trello is one of many productivity software that allows you to integrate seamlessly with other enterprise apps you use to carry out tasks.
But it uses power-ups to integrate the software with other enterprise apps. And following the new update, power-ups are now free and unlimited for all users.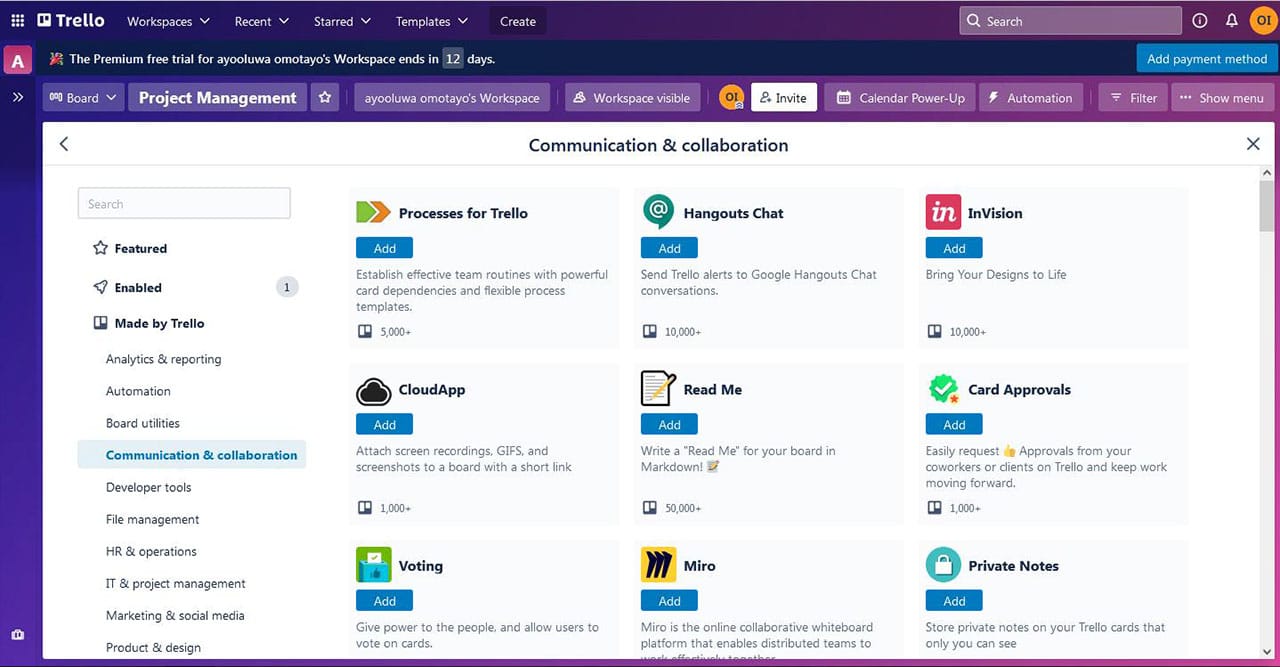 Trello has some of the most interesting apps, ranging from communication and collaboration, IT, down to design. Many teams find the communication and collaboration apps most useful, as Trello does not have its inbox feature. So you can integrate applications like Slack, hourly, calendar to create cross-communication and foster collaboration between your team.
Getting Started With Trello
To get started with Trello, you can either use the web app on Atlassian or download the Trello app on mac store and windows. They all have pretty similar interfaces, so whichever you choose will work for you.
To get started with Trello, you first have to create a workspace. You can relate a workspace to your physical office department, where you collaborate with other team members.
In your workspace, you can invite your team to collaborate on a task. Of course, you can use permissions to limit what team members will see in the workspace.
Now, in your workspace, you can create boards to represent a project or workflow. On Trello, you can create unlimited boards on all the plans. Yes, you can create a board from scratch or use the template provided by Trello to save you time.
On your board, you then create a card to represent the task you want to complete. On a card, you assign tasks, sub-tasks, put a due date, and also rule to guide the assignee on what to do and how to do it.
Now you can put these cards into separate columns (to-do, in-progress, done, blocked, in-review, etc.) just like a typical Kanban board.
Another thing you can do is to add labels to different tasks to be carried by your team. With labels, you can set priorities, make clear which team is to carry out a task.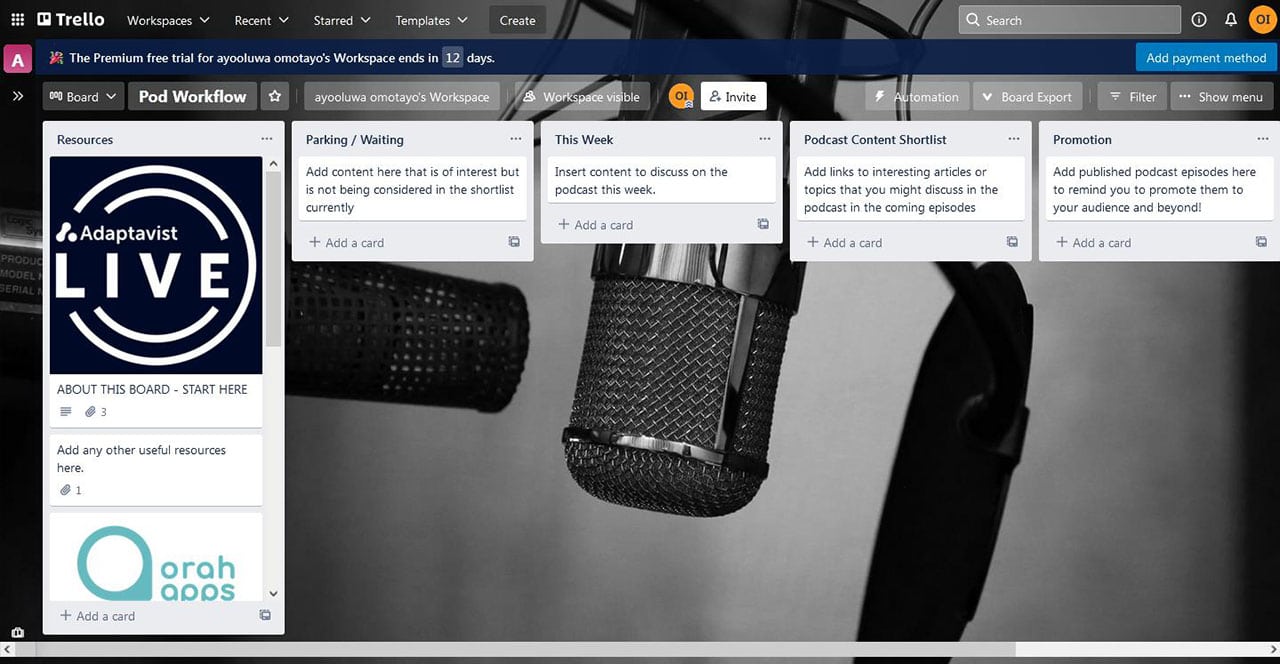 Automation
Trello has an in-built automation feature called Butler automation. As the name suggests, Trello is that guy you can instruct to help you do certain tasks that usually take away a good amount of productive time. With the butler application, you can use rule automation, button automation, and send email reports.
When you Automate with a rule, you're telling Trello to make an action when triggered by certain actions on the board.
For example, if you're the marketing manager planning a marketing campaign and you require the entire team (copy, design, production, promotion) to add a checklist of what they need to do to make the planning phase perfect.
Of course, you would want every checklist to be completed in due time (e.g., 1 hour, 5 days, 1 month, etc.). To save yourself some time of updating manually, you can tell Butler to add a due date when a team member adds a new checklist.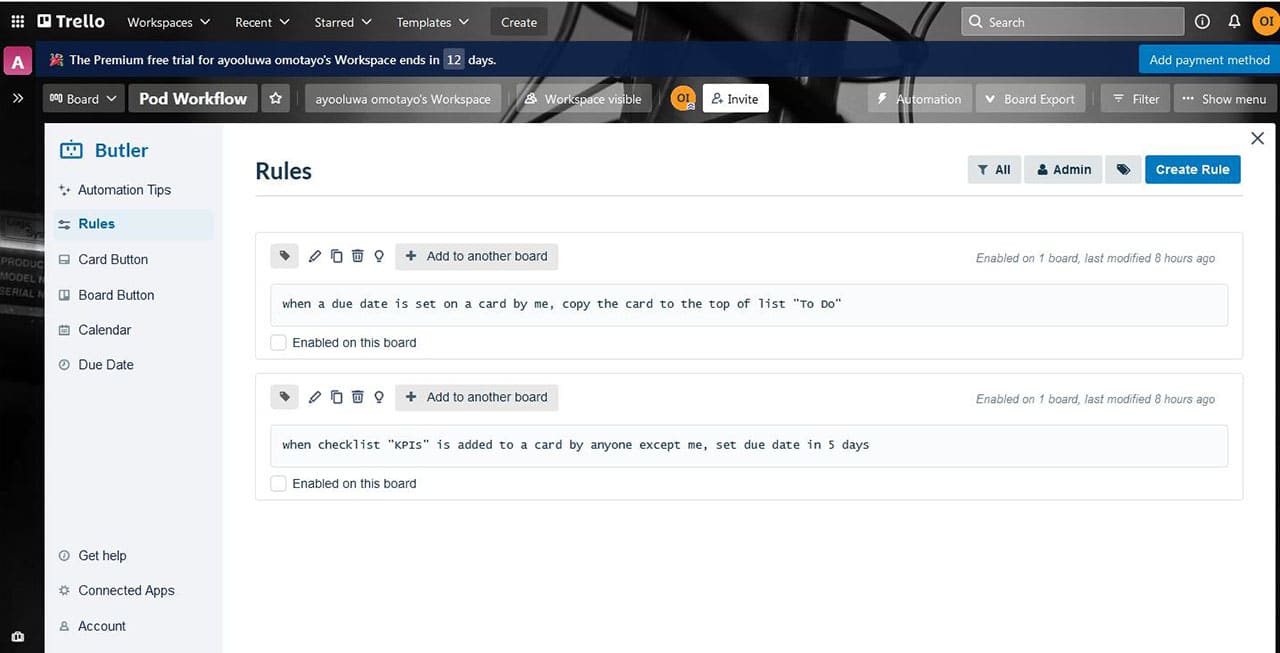 How to do this to create a trigger (e.g., when the checklist "name of checklist" is added by someone) and an action (e.g., add due date in 5 days). Takes seconds to create, and it allows you to use your time for more productive activities.
The button automation is pretty straightforward, "add a label when a certain action is performed" or "move a card to when a due date is added to a card".
On Trello, you can label with colors. You can add buttons to specific cards or an entire board. Although I consider the use of buttons quite restricting. I mean, you can easily run out of recognizable colors after adding about 10 labels. Tags would have been the best option
Collaboration
Trello has a light collaborative feature. Unlike Asana, Trello doesn't give the option to add dependencies to a task. For many projects, an assignee would need to wait for a member to complete their side of the task before kicking off their part of the project.
But I'll say it's stressful to keep checking if the assignee has completed their task. Yes, you could automate this process with Trello's rules. But that is just another work entirely.
Another fault I found in the Trello collaboration feature is that it doesn't come with an inbuilt time tracking feature. You need power-ups to add such apps (e.g., Clockify) to track the time already spent on a project.
Also, Trello doesn't have an inbox feature to chat directly with members in your workspace, like Asana offers. To do this in Trello, you need to integrate apps like Gmail, Slack, etc., which, of course, is work itself.
Reporting
Trello gives you a visual representation of your workplace to give you actionable insights into your workflow, achievement.
With Trello, you can view charts, metrics to make informed decisions. Some of the metrics on Trello include Cards per list, card per due date, card per member, card per label.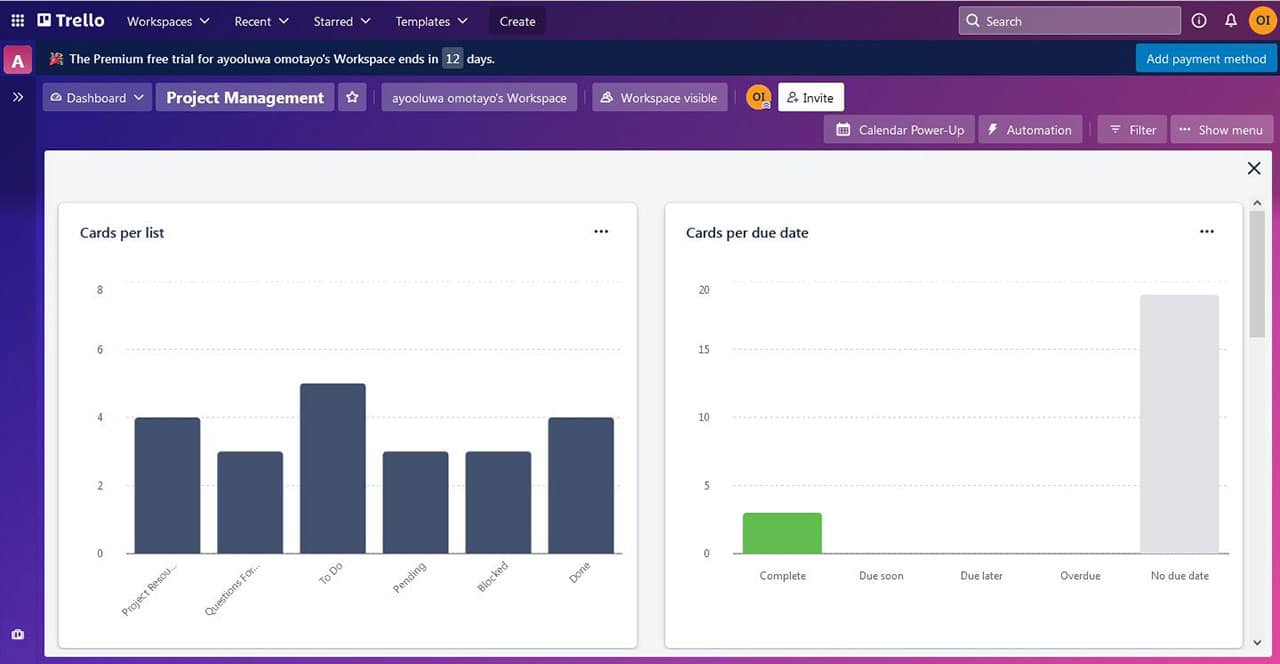 With "Cards per list" you can see the number of cards you have in each list you have created i.e. you can view the number of cards you have in each column on your board (e.g. to-do, in progress, blocked, done, in review)
With "cards per member", you can view the amount of work you have assigned to each member in your workspace. So you're sure you're no one is overwhelmed with too much work.
I find "cards per due date" the most useful metric. This metric allows you to track each task as they go. So the number of tasks that are completed, due soon, due later, and overdue.
The "cards per label" metric shows you the number of cards you've labeled. Yes, you can label tasks by the level of importance.
Alternative to Trello
There are many alternatives to Trello. Some of the favorite alternatives to Trello include Wrike, Asana, Jira, etc… But Trello is a very popular work management software because of its easy adoption and standard prices preferred by small teams.
Many people usually compare Trello to other software before making a buying decision. Do a simple google search of "Trello vs…" and see the number of suggestions google presents you. And they compare prices, ease-of-use, and functionality.
Considering the prices, Trello might be your best bet, especially for small teams working on a budget. For example, a small team of 5 will only pay $25 per month for the standard plan. And this cost about $50 for some other software, like Asana, Workzone, Airtable.
Now, if you are considering functionalities, Trello doesn't offer many features to manage certain progress. But you wouldn't depend on Trello to manage complex projects where you need to manage resources, generate invoices, etc.
Although, you can integrate Trello with some of these apps to get that done, However, compared to other software like Asana, Jira, Wrike, and a few others, Trello might not compete.
Now, integrating Trello into the work system requires little training. Trello stands out amongst many task management software because of its usability. It is fairly easy to navigate.
You can relate its ease of use to it not having too many features for you to weave through. Compared to Asana and Jira, Trello stands out as the easiest to use.
Verdict
Trello is excellent for small teams seeking to manage simple tasks on a budget. However, Trello might not be the best option for large teams looking to manage complex projects because of its limited features.