There is a piece of wonderful news knocking at the doors of all Visme Users!! In the latest turn of events, Visme has reportedly introduced its app across the Mac and Windows platforms in a bid to offer seamless and ease of operation to its esteemed users.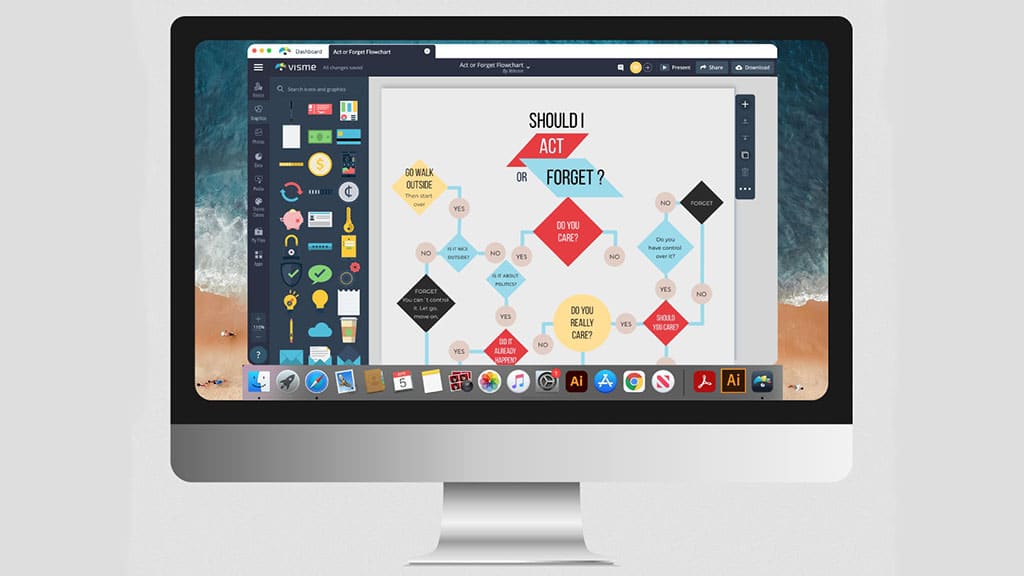 Apparently, the launch was much awaited as Visme has gone down an extra mile to offer its patrons across the world added benefits for making use of the application across the most common operating platforms, Mac and Windows. This integration is anticipated to open doors for a copious number of participants to opt for Visme to get multiple answers to their graphical curation and designing requests.
How it started
For the uninitiated, Visme was first introduced in 2013, to empower users that possessed minimum knowledge or were devoid of any design skills to help them in quickly furnishing and sharing visual content in a matter of minutes. The application has been attracting a lot of fan-base and popularity given its support to latest and top-notch content formats for different graphical representations.
If market numbers are to be believed, Visme's SaaS platform is well-known for its freemium as well as paid subscriptions to over 4 million+ users from across 120 countries in the world.
Best Charts, Graphs, and Diagram Tools
Visme's mission has always been directed towards assisting everyone with better communication with the help of visual design. Its users have garnered great inspiration, support apart from ideas on various terminologies to captivate their audiences by making use of visually engaging content, on account of its expanding social network as well as comprehensive learning resources.
About Visme
Visme is primarily an online free tool that helps its logged in free users along with its premium subscribers to come up with tons of visually appealing, animated to impressive infographics, charts, presentations, documents, videos, and graphics. It offers them a provision of picking from an appreciable range of stunning looking templates based on their preference to make the content making an easy breezy task.
Following the creation of graphs or any type of visual content, the application is well-known for providing customization benefits to its users. Visme is loaded with tons and tons of features, ranging from texts, fonts, widgets, icons, styles, background customization options etc.
Apart from this, the content can be enhanced to the next level or made more interactive with the incorporation of the popup as well as hover-over effects, to add animated elements besides embedding third-party apps.
These unflinching attributes that also look after attention to detail needs, have increased Visme's presence and preference across leading companies across the globe in order to curate some professional-looking content and design.
Another most impactful rendering use of the application is that it allows the final graphs, videos, presentations etc. to be saved as well as downloaded in the form of image files. It further permits the sharing of the resulting outcomes across social media platforms, websites and blogs.
Visme marks a remarkable milestone through Visme App for Mac and Windows
The launch of the Visme app into the Mac and Windows systems is expected to deliver and yield an optimum amount of designing and graphical advantages in terms of creating stunning and visual content. One can owe this to the fact that apps act as actual applications that can be easily downloaded and installed on the machines or desktops, cutting down the reliability on browsers to do so.
Additionally speaking, the Visme app would have its advantages over the web browsers to carry out task-specific duties for the users. It would pretty much allow the Visme users to have easy access in coming up and fabricating any ordeal of visual content under the sun, which may range from engaging presentations to infographics, marketing assets, and professional documents as well as branded videos.
Steps for downloading the Visme app for MAC and Windows
The download and installation of the Visme app in the MAC and Windows operating systems could be accomplished in exact 5 steps that would need less than five minutes of your time and some good internet or Wi-Fi connection. The foremost step is to visit the Visme website on your desktop or laptop, to get your hands on the download link. Once there, carry out the steps enumerated below:
Click on the button or the link on the screen to instate the download to your desktop or laptop
Follow the steps to complete the installation process on your device
Once the installation is done, add the Visme app to your favourite or dock applications
Click on the app to open it or login into the application
Start creating your content
How will the launch benefit Visme users?
Visme's integration as an app for Mac and PC will render faster work, which would be doused with an additional streamlined content creation experience. With your much-loved browser app now turning into a desktop application, here's what you can expect:
i. Improved and upgraded performance
The users can now bring an end to their dependency on the browser in terms of performance limitations with the advent of the Visme app. They can now be at the disposal of some quick and smooth content creation experience on account of Visme's standalone desktop solutions.
ii. Easy accessibility
The availability of Visme in the desktop's dock or list of favourite programs can help users to limit the hunting for their projects across some hundreds of open tabs, saving a lot of time.
iii. Simplified user interface
As the dashboard and editor would remain unchanged with their easy-to-use attributes, the users will not have to go through any additional learning formalities to go about creating content on the app.
iv. Zero distraction advantages
With its native experience, the Visme app will ensure that its user's attention is not hindered by applications or data in other tabs, while they are busy creating visual content like infographics, presentations that demands precise focus.
v. Effective collaboration with the team
The use of the Visme app will prove very beneficial to office professionals and team members as their work would be made faster and easy with collaboration to inspire each other with designs while making comments and edits together, as well as assign roles for each individual's level of access.
The End Note
It is hence safe to say that the roll-out of the Visme app on the Mac and Windows platforms will fulfill the need for effective operations and execution for creating and customizing top-notch content at the ease of availability of the user. It is also anticipated to ramp up the number of logged-in and subscribed users for the application in the coming time.