If you are running a business, it is likely that you will know what UML or Unified Modelling Language is. It is one of the most popular business process modelling approaches that helps provide a better way to document a software. When we are talking about the UML diagram, it denotes the process by which we put forth our ideals into a visual format.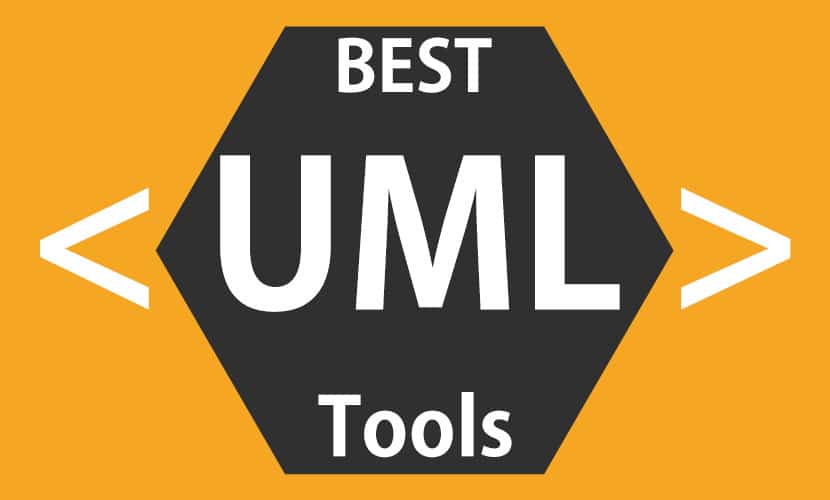 The initiation of UML was done back in the 1990s when there was a lot of chaos surrounding the process of software development and documentation. The business officials were find one way that could help sort out that issue for good without further causing confusion.
This was when a unified approach was adapted and later in 1994-96, three software engineers came together to finally release the first copy of UML. This proposed copy was later accepted as a standard language later in 1997. It has gained a few updates along the year but the basic of the same has been the same ever since.
UML Diagram Types
With the basic discussion out of the way, it is common for people to want to know what kinds of types are present when it comes to UML diagram. To be honest, there are quite a few that you need to look through.
Some of the best ones include:
Behavioural UML diagram
Structural UML diagram
Timing diagram
Use Case diagram
Interaction Overview diagram
Activity diagram
State Machine UML diagram
Communication UML diagram
Sequence UML diagram
Object diagram
Composite Structure diagram
Component diagram
Package diagram
Profile diagram
The reason why knowing these different sub types is important is because it helps you draw the diagram better. What we mean is that it helps you leverage the salient tool that is targeted for that specific type of diagram. This is one of the reasons why majority of the business professionals first tally the type of UML diagram they need and choose the tool for the same accordingly.
Best UML diagram tools 2022
With the basic intro and understanding out of the way, let us focus on some of the best UML diagramming tools that you can look into.
1. Lucidchart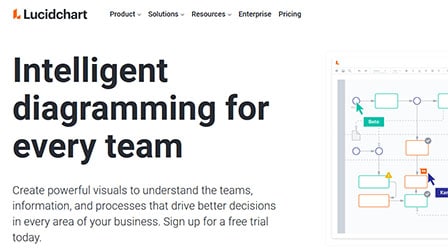 When it comes to online diagramming tools, it goes without saying that Lucidchart is one of the most versatile options.
The platform is so interactive and versatile that majority of the developers and business professionals leverage their sources to get the UML diagrams sorted.
It helps create any of the types of UML diagram according to your needs without any kind of hassle.
One of the best things about this platform is the UML sequence markup that makes this a very credible platform. It helps in streamlining the process even when there is coding involved. It helps with the easy customization of the process as well, ensuring better outcomes and helps overcome the complexities too.
The UML shape libraries on this platform further helps standardize your diagrams and doesn't put a constraint to your ideas. It also allows collaboration on the file, which again is an added bonus on this platform.
2. Edraw Max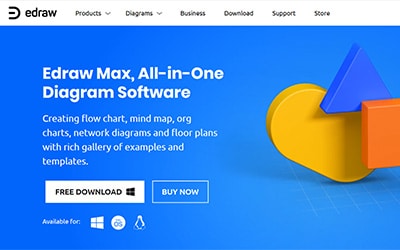 If one talks about an underrated platform for UML diagramming, Edraw Max is one of them. It provides with one of the best features and functions but at the same time, not many know of this or use it.
You do get a free download option for the Windows desktop version, if that entices you. For access to all the features, you do need to avail the subscriptions.
The platform comes integrated with a plethora of options when it comes to UML diagram, from the amazing range of templates to the easy user interface to get the job done.
While the platform didn't have an online version back then, things have changed and they do have an online version of the same now. This allows you to easily share and collaborate with the other team members for easier understanding of the process. If you have been looking for a way to visualize your ideals, this is most definitely the one platform you can't forego.
3. Moqups
With a family of over 2 million users worldwide, including giants like Microsoft, Intel, Sony etc., Moqups, is an outstanding modelling tool, which can be ranked among the prolific UML diagram makers in 2022.
This online tool helps one craft professional visualizations of their business processes with the help of an extensive UML stencils set.
The application also comes with close to hundreds of diagramming templates which make designing less time-consuming and impactful by merely dragging and dropping of the elements, whilst providing ease of customization.
Moqups can be accessed through any browser and is also capable of generating UML diagrams that comply with industry standards. This online platform is also especially known for its real-time collaboration that it offers team members, which makes sharing of diagrams explicit via live links as well as file-sharing apps. It also offers ease of exporting the diagrams to PNG, PDF, or HTML formats.
4. FigJam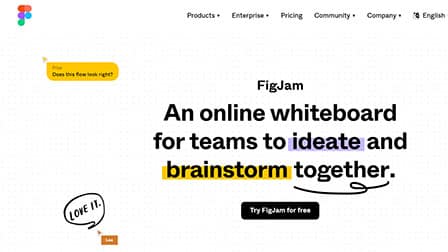 To assist in making easy-to-use UML diagrams quickly and zero costs, FigJam has attracted a wide user base worldwide.
This online application purges out the need for creating UML diagrams from scratch as one can get started by using free templates.
Here, one can come up with a team library of UML diagram styles and components, and can later copy and paste them into the application for building new diagrams faster.
This UML diagram creating tool lets one plot class diagrams as well as review, publish, and edit them as a team with the help of Open sessions that can be started and restarted for 24 hours at a time.
One of its important features is that it enables visitors to edit objects, add shapes, while providing them access to public and shared libraries. FigJam also gives its users the opportunity to invite collaborators through shared links to the UML diagram.
5. Sketchboard
Sketchboard is an online platform, empowered with an infinite canvas or whiteboard, to assist users to easily create countless UML diagrams and facilitates software documentation for mapping their high-level requirements.
It is primarily a creativity and efficiency boosting software that has been crafted by developers for developers and privacy and security lie at the core of this diagram application.
Another most promising feature of Sketchboard is that it also lets its users come up with visually striking sequence and use case diagrams.
To drive more simplicity in building the UML Architecture Diagrams, the software is packed numerous collaboration characteristics, like sending and receiving feedback to enhance the speed and quality of the software development process.
Once the diagrams are readied, they can be exported into pdf, png jpeg, and SVG formats. The integration of Sketchboard with Slack, Google Drive and GitHub also ensures software teams to develop superlative class diagrams.
6. Gliffy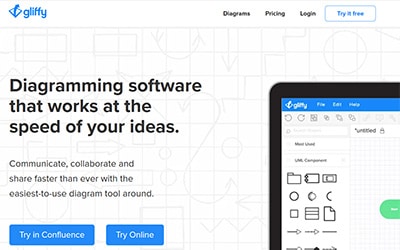 Finding an easy to us UML diagramming software can be a hassle but with Gliffy, it helps make it a lot easier for you to manage through.
It helps in easier and faster diagramming without any kinds of glitches as such.
It helps in better visualization of the software in the graphical format. It allows you to collaborate with your team before the process of coding for the software starts.
The best thing about this platform is the fact that it allows you to streamline majority of the diagrams based around a number of business models including system behaviour, application structures and a lot more.
This platform also does come with a very intuitive interface along with a plethora of templates and themes that you can further check out as per your needs. You can also share the finished diagram or even provide access to the other team members to collaborate for better understanding of things.
7. Creately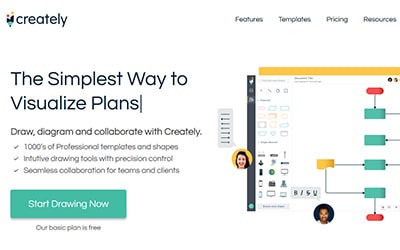 Just as the name of the platform suggests, Creately lets you create without any inhibition. If you have been looking for a platform that aids simplified diagramming of the UML along with the collaboration option, this is the one.
The platform is used by over 3 million people across the world, so that itself is enough for you to understand how good it is.
The platform comes with the easy drag and drop method which allows easy drawing of the UML diagram without any issues. Not just that, you also do get direct access to some of the best expert made shape libraries that can further help in making your diagram a lot more interactive.
There are hundreds of templates available on the platform that you can check out without thinking further. It also allows you to collaborate in real time, making it a lot easier for you to keep your team members in the loop before the final software is started. All the available templates are free, so you are in for a ride.
8. Cacoo
Cacoo, known for its simple and secure file management, can be accounted as a best-in-class UML diagram making software.
It offers real-time collaboration to its users for understanding and planning the system's architecture with the team.
The extensive collection of UML templates, shapes, and notations present in this application has made it a favorable option in a gamut of corporate spaces.
The software is mainly popular amongst the product development and design, marketing, development, and project management teams to build as well as share professional UML diagrams.
Through Cacoo, one can also create use case, sequence, class, activity, and state machine diagrams with automatic integration with the workflow, in order to access and share them with individual preferences.
It allows you to receive quick feedback on the UML diagrams, whilst sharing and editing the diagrams with all the team members at the same time for collaborating on most useful ideas.
9. yUML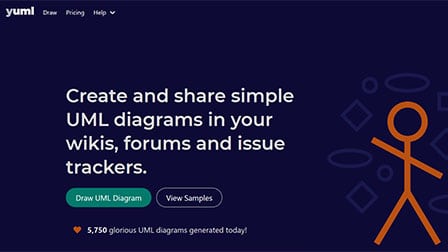 To create and share simple and wide class of UML diagrams effortlessly and in a matter of minutes, yUML, an online tool can be considered a one stop solution for authors, architects and developers to depict a better understanding of their work marking it as the best UML diagram tool in 2022.
Companies like AWS, Twitter, and a few, are in awe of yUML, as the UML diagrams can be created with ease and can be incorporated in trackers, forums, blogs and wikis to make them visually attractive to the viewers.
As the UML diagrams are textual, they can be generated with the help of scripts or a few lines of code. They can be easily managed by the registered users within a custom namespace, and they can be named and shared in the form of links, which makes it easy to modify the diagrams without having to keep renaming them.
10. Miro
Accredited as one of the best UML diagram makers, Miro is an excellent intuitive tool that lets one design and communicate technical plans using a unified language that everyone can understand.
In this tool, you can draw entire systems, followed by visualizing, building, and documenting the software systems and processes through the completed diagram. Not to mention, the comments feature in Miro allows you to receive instant feedback, while saving time when diagramming.
This online tool lets you co-create a standardized way to build and document your system processes with the team. Using templates, users can plan, analyze, and optimize activities by breaking them into sub processes and constituent decisions.
Miro also helps you plan object-oriented systems within a joint workspace to foster collaboration and innovation. This tool makes it easy for researching, outlining, and delivering the technical plans with intuitive diagramming functions, smart drawing features, and easy object insertion.
Related Posts:
What is the significance of UML?
Nobody likes to do anything without knowing its significance. For the most part, the use of UML is integrated in the general purpose modelling language. While it was generally used in the beginning, the same has now been integrated with the documentation process, making it an even better option.
Using UML helps in getting a better outlook at things. Not just that, the use of UML diagram also helps provide with a more standardized way of modelling the workflows for enhanced readability and efficiency unlike anything else.
If you want to put forth a better understanding of the existing language, opting for UML diagramming is possibly the best way to go around with things.
Final Words
If you have been planning to opt for an interactive and easy to use UML diagramming platform, these are some of the best available options you can look into. Just ensure that you do keep an eye out on the features and avail the ones that fit well with your needs.
The last thing that you want is to end up purchasing a subscription of a platform that doesn't support one of the types of UML diagram that you need to get done. We would suggest you do your research, avail any trial version, if there's any and then pick one suitable for your needs.