Irrespective of whether you are working remotely at your home or working in a multi-storey corporate office with a team of 20, diagramming is a common factor that can help streamline your work experience for the better. Diagramming not just helps with better representation but also ensures to make the process of representation a lot easier and a lot more interactive. Lucidchart helps the business professionals and independent creators with just that.
While this has taken the corporate and creative world up by a storm, the process hasn't been an easy one. When the brand proposed the idea, things were not as productive and open as they are now. This is one of the reasons why Lucidchart is a popular household name now and is enhancing the work flow with visual productivity and better interaction.
If you are planning to register on their platform, we want you to go through this article to get a basic idea about everything that you need to know about Lucidchart and more.
What is Lucidchart?
As we did mention before, Lucidchart is a popular visual productivity and the ultimate diagramming tool that enables the business professionals and the web based creators to have a platform to represent their task and data visualization in a web based and flowchart model. This helps make the process of understanding a lot easier and interesting.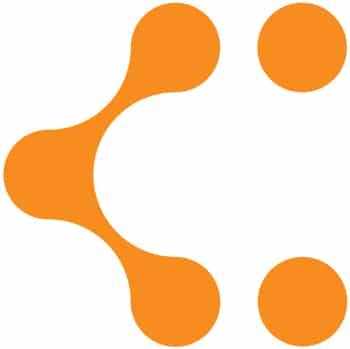 The platform now has over 6 million users already on board and the number is increasing with every passing day. This is your one stop visual workspace that helps you with all your diagramming needs and requirements.
They allow the users to create flow as well as organization charts to ensure easy designation of work and better understanding of the workflow in a specific workspace. They also have wireframes and UMLs as some of the other solutions that the users can make use of.
This specific visual workspace tool has been designed in such a way that it blends in with the user's requirements and not the other way around. It has the latest features and easy user interface that makes your work a piece of cake.
Aside from that, Lucidchart is also quite ideal for all the brainstorming sessions that one needs to indulge in and manage the projects based on the designated teams involved. Another starking thing about Lucidchart is that it works amazing with other applications like Google Apps which further streamlines your work without causing a chaos. This specific online tool is now being implemented in multiple platforms including engineering, web design and development and even the varying business sectors.
How to get started?
When it comes to getting started with Lucidchart, you need to register on their platform at https://www.lucidchart.com/.
Once you sign up for free on their platform, they provide with a free trial for you to check out their tools and features and see whether or not the same is meant for your business.
Following your sign up, the platform asks for the kind of domain that you are from. It asks four different subsets of questions that you need to answer through to customize your overall experience with the diagramming themes that they suggest you with.
The pop up will look something like the picture below.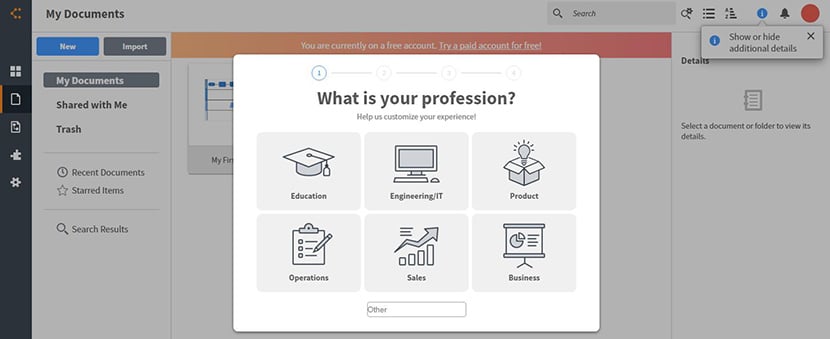 Once you have selected through all the questions and customized your experience, the dashboard as shown below in the picture opens up.

From here, you can select the kind of these of the diagramming that you want to do and then follow through the requirements as per your liking. They do have several themes ranging from the basic trees to the complex flowcharts for the bigger teams.
A little in-depth about the features
Coming round to the solutions that Lucidchart provides, the same, on their website, has been distinguished on the base of the role and the need.
Under the role, there are 6 different categories including:
Engineering
IT
Operations
Product
Sales
Education
Under the need, there are four different categories including:
Improve process
Optimize organization
Visualise technical system
Replace video
To help you know a little better, we will walk you through the features under each of these subcategories so you know what to expect from each one of them.
i. Engineering
Under the solutions of engineering, Lucidchart aims to help the users with their building and development of a new software or even when it comes round to optimizing the network of team members working around on a specific project. This platform helps visualize your idea and bring that to life to understand your organisation's process a little bit better.
Under engineering, there are several other sub-heads that you should familiarize yourself with. Some of them include Software engineering, engineering leadership, DevOps, and network engineering.
ii. IT
For IT, Lucidchart is aimed to optimize the available projects and the structures in them. It is mainly targeted to help the users design their processes, systems and infrastructure and then end up optimizing them as per needs to keep your business flourishing around.
Some of the available sub-heads under IT include IT leadership, Architects, Help/Service desk and DevOps again. With Lucidchart, the process of having your visuals in mind on the screen makes the project an easier one to execute.
Some accessory features under IT and Engineering include:
ER diagram tool
AWS network diagram software
Database design tool
Visio online
UML diagram tool
Network diagram software
Workflow diagram software
P&ID software
iii. Operations
With Lucidchart, since the users have the free will to have their work assorted out in the form of a visual medium, it helps to enhance the efficiency of the project and even ensures better transparency through the process. It makes the process of documentation and processing a lot more streamlined which is targeted to drive better growth for the business in the long haul. It also lets the user take better decisions and even ease the process of communication between the team members.
Some of the available sub-heads under Operations include business analysis, project management and process improvement.
Some accessory features under business operations further include:
Free flowchart software & examples
Free org chart software
Data flow diagram software
Process mapping software
BPMN software
Value stream mapping software
Business process mapping tool
Process documentation software
iv. Product
When it comes to businesses dealing with products, visual representation of every step of the project becomes a necessity. Not only does it help streamline the process of conversions, it also optimizes how well the customer journey is planned through for better success at sales.
Lucidchart makes it happen with their diagramming because you have a better idea of the flow of work and the roadblocks through it that you are most likely going to experience. The process of diagramming also provides with a better understanding for the UI and UX developers and even plan around the available and required product roadmaps.
v. Sales
According to Lucidchart, selling is a team sport and we couldn't agree more. With this platform, not only can you keep track of the process involved in the sales, it also helps streamline the proper management of your accounts. This is also an account planning platform that helps your revenue team through the process of closing the deals that benefit the organization in the long run.
This platform also does include sales tools that can further maximize your sales, generate better revenue and ensure better growth of the company.
Some common features and tools under product and sales include:
Wireframe software
Android mockups
Venn diagram maker
Mind mapping software
iPhone mockups
iPad mockups
Floor plan software
Concept map maker
vi. Education
Last but not the least in the list of solutions provided by Lucidchart includes Education. They streamline the life and work of over 6 million students and business professional to ensure better results and sales that benefit their progress for the better.
How can Lucidchart benefit your business and progress?
Enlisting the benefits of Lucidchart is easy because of how amazing this online platform is. Not only does it drive growth for the businesses, it is also programmed to help make work more fun and interactive with visual representation and diagramming.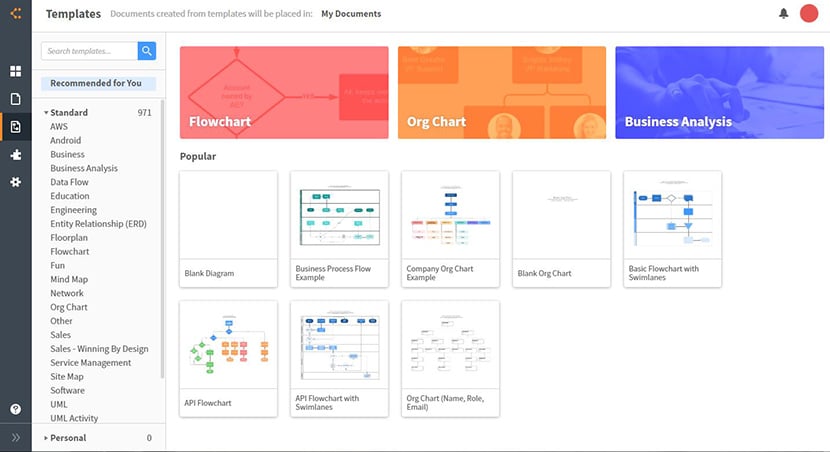 Let us take a look at some of the benefits of diagramming and how Lucidchart contributes to it.
i. Better documentation of the process
If you are an individual creator, a business team or even a student trying to finish their project, Lucidchart has amazing ways to document your project for better execution. The platform provides with individual aspects of process flows to see how the work is progressing to the user flows which highlights how the people involved in the process are progressing.
This lets you document every single process through the way, making it a much easier to understand operation. It helps the users map around a strategic plan to ensure better execution of the visualization that they have had in their heads.
ii. Better creation of resource hubs
When it comes to projects, especially the big ones, you need better storage and hub of the resources that are required for the project. Lucidchart makes it possible by providing easy access to all the required links and resources that the individuals would need in order to excel the project and drive better results in the end.
iii. Better comparison means better ROI
Return on Investment is a major prospect for any business. Having an idea and a clear picture of the before and after of any project is quite easier for the people to seal their deal. In simpler words, if a user is trying to explain their brief to a customer who lacks the in-depth technical knowledge on the subject, with the help of diagramming and comparative results with the before and after scene, it becomes easier to close the deals with success.
iv. Better automation with the documentation
Given the fact that Lucidchart does have a number of templates for you to choose from, it becomes a lot easier for you to automate the process of documentation and save time with flowchart and diagrams. Along with that, it also does help in linking the data to the shapes and even providing better visualization to the AWS network architecture.
v. Better creation of visual art
As we have been mentioning time and time again, before anything, Lucidchart is a diagramming platform that lets you plan things with visual representation. There are several available templates that you can choose from and simply enter the text and you have your art ready to be presented to the clients or the team members that are in the project with you.
What is the pricing like?
With the features and the benefits of Lucidchart done, the next thing that one needs to know about is the kind of pricing that this platform has.
To be fair with your understanding, there are particularly two main streams when it comes to pricing – one is the free version and the other one is the paid version.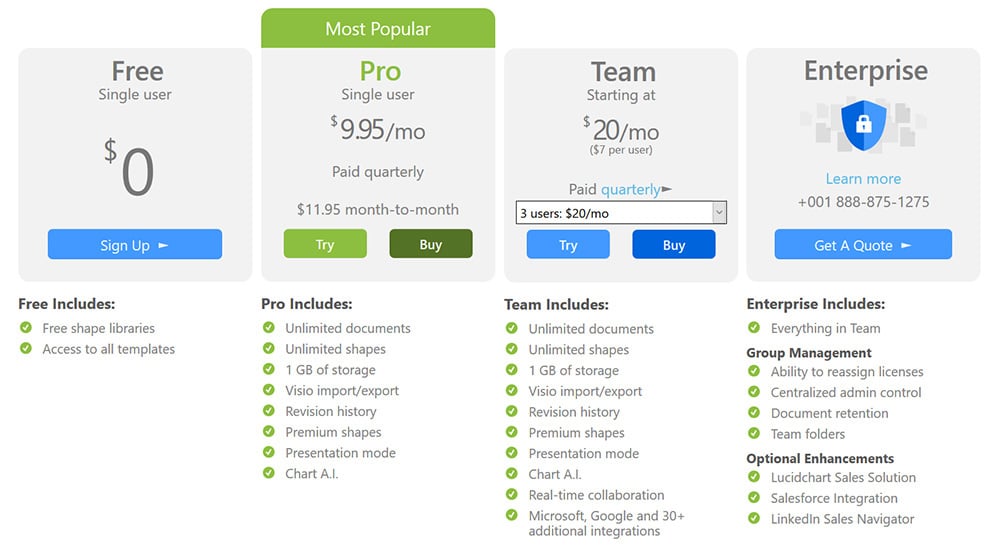 Under the paid version, there are three different categories. So, in general, there are four different priced packages that you can check out. The three paid versions under the Paid version include:
i. Pro
The paid Pro Plan for single user costs $9.95/month on annual billing that can be paid quarterly and $11.95/month on monthly billing.
ii. Team
The paid Team Plan starts at $20/month on annual billing with quarterly payments and $24/month on monthly billing for 3 users and increases depending on the number of members in the team.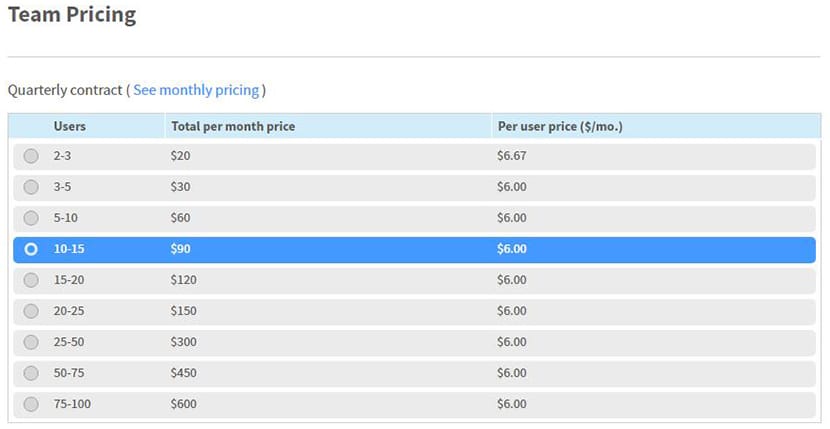 iii. Enterprise
For the enterprise package, there are contact details available on the website where you can contact them and get the necessary quote that suits your business the best.
Pros and Cons
When it comes to the advantages and disadvantages of Lucidchart, there are some that we would love for the readers to have a better clarity about.
Let us start with the Pros.
i. Pros
Better online repository of the diagrams.
Available graphical elements are perfect for varying industry usage.
Variation with the number of available tools and styles.
Easy access from anywhere as it is web based.
ii. Cons
Time consuming when it comes to integration with Microsoft apps.
Unable to share the raw diagrams with people outside of Lucidchart. Lacks export options.
Similar applications like Lucidchart
Even though we wouldn't suggest you opt for anything other than Lucidchart, there are actually a number of dupes available on the internet that you can check out if you want something similar to this.
Some of them include:
Draw.io
Dia
yEd Graph editor
LibreOffice Draw
Freeplane
PlantUML
Microsoft Office Visio
Mindomo
Coggle
Scapple
Google Drive Drawings
Simple Mind
If you want your enterprise to grow and expand with better clarity and better representation Lucidchart is the one definitive answer for that. With such an amazing and streamlined user interface and affordable packages, organizations can churn better growth with scalable results with this.