If you are into the electrical engineering field, you'd know how important circuit diagrams are when it comes to representing an electrical circuit. With the modernization, the best circuit diagram makers further make the process a lot easier for you to get around with.
Circuit diagrams have been in use since decades, mainly to help plan the layout of the electrical circuit or even to ensure better idea of the blueprint of the process.
While engineers drew the blueprints and diagrams by hand back in the day, things have changed now.
With the rapid growth of technology and the use of varying tools for visual representation of the ideas, circuit diagram makers have gained a lot of popularity.
These are not just useful in helping improve the overall layout of the diagram but also helps get the process done in no time at all and that too with minimal room for error.
Best Charts, Graphs, and Diagram Tools
Our Picks: 10 Best Circuit Diagram Makers For 2023
Coming round to the next topic of discussion is the list of the best circuit diagram makers. To be honest, there are not an ample amount of options when it comes to circuit diagram makers. But, we have sorted out some of the best ones for you to take a look into.
1. Edraw Max
Edraw Max can be considered a great software and one of the best circuit diagram makers in 2023 as it is freely available to people to build and design neat-looking and illustratively impacting diagrammed designs.
It can be easily logged on to through a web browser in Windows, Mac and the Linux platform. Circuit diagrams can appeal some amount of complexity in design when generated from scratch.
But the provision of ready-made circuit diagrams to create the foundation of industrial control, circuit and logic, systems and basic electrical diagrams makes Edraw Max the most preferable application among users.
It also lets these professionals share and co-work on their existing designs through an electrical diagram sharing platform with the help of an attractive number of over 800 vector circuit symbols and elements. Another prominent feature is that the final diagrams can be exported in high compatibility formats for further use.
Pros:
Offers a wide range of templates and symbols
User-friendly interface
Supports real-time collaboration
Can be used for various types of diagrams beyond just circuit diagrams
Cons:
Advanced features may be limited
Not as feature-rich as some other dedicated circuit design software
2. Lucidchart
When it comes to online diagramming tools, it goes without saying that Lucidchart is possibly one of the best available options.
The best reason why you need to try this for circuit diagram is because it allows you to draw both the types, be it the pictorial or the schematic version of the circuit.
Aside from that, Lucidchart also provides with a lot of flexibility in helping you choose from a wide range of industry level symbols that are available for use. They have varying category of symbols including resistors, transistors and even the power sources around that you can further access.
On top of that, you can also import some of the existing files from platforms like Visio, Gliffy, Draw.io etc. that makes it easier for you to carry on with your work without facing any sort of hindrance to it.
It also allows easier sharing and presentation to the stakeholders and the other associated which is another reason why you need to try this one out.
Pros:
Cloud-based, enabling collaboration and easy access
User-friendly interface
Provides a vast library of shapes and templates
Integrates well with other productivity tools
Cons:
May lack some advanced features
Limited capabilities for in-depth simulation and analysis
3. Autodesk Eagle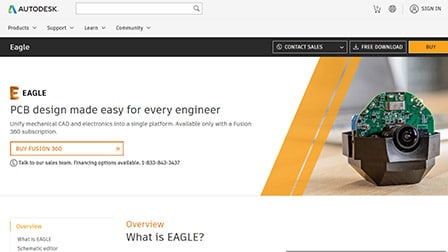 Autodesk Eagle is a widely used software that renders high-efficiency electronic design automation (EDA) to allow printed circuit board or PCB users to seamlessly create schematic diagrams.
This is owing to its community-driven features that provide proper component placement, as well as proper routing channels and an extensive library content.
The most appealing aspect of this circuit diagram maker is that it can be downloaded across multiple domains like the Windows, Linux and the MAC operating systems.
The application offers an overwhelming choice of PCB layouts with options available for cornering, loop removal, and placement during routing. It also supports real-time synchronization of the designs.
Autodesk Eagle is also structured with a SPICE simulator and offers electronic rule checking as well as drag and drop equipped reusable modular design blocks for accurate schematic editing. The generated PCB models can be loaded with 3D elements and given a fusion 360 integration.
Pros:
Professional-grade circuit design
Offers comprehensive libraries and templates
Suitable for both beginners and experienced users
Cons:
Steeper learning curve, especially for beginners
Free version has limitations
4. SmartDraw
First up on the list is SmartDraw which is known for its wide range of options in terms of diagramming.
This tool comes in two different versions, the live desktop version that you can install onto your desktop and get started or the online version which can be accessed from anywhere across the globe.
The best thing about this tool is the pre-made templates of the circuit diagram that they already have. All you have to do is select the one that you think works best for you and then make the edits on them as you go.
You can add circuit switches, symbols, and a lot more from the host of options that you will get on the platform. It also allows you to add, delete or even edit certain elements on the template as per your convenience.
Once you do that, the software has been programmed to rearrange everything to fit all in one. This is another reason why you need to try this out.
Best Charts, Graphs, and Diagram Tools
Pros:
Easy-to-use interface with drag-and-drop functionality
Professional looking templates
Integrates well with other tools
Can create complex circuit diagrams
Cons:
Limited simulation and analysis capabilities
Paid plans are expensive for Enterprise
5. Visual Paradigm
As intimidating as the name of the platform is, Visual Paradigm is another effective platform that you can use to draw circuit diagrams in real time.
They have a number of circuit diagram shapes and templates that you can access further to get your job done. Aside from that, it also does allow easy sharing, which again is one of the reasons why you definitely need to try it without further complaints.
It also has a feature that lets you integrated with MS Office in case you need to get some data in without having to go back and forth. The easy export and sharing feature of this platform is what steals the show.
Visual Paradigm also allows you to bring in collaborators for your diagram, so you can edit them and get the work done faster without any further hindrance of queries. It also lets you add comments, which again is a reason why you need this.
Pros:
Offers a versatile platform for various diagram types, including circuit diagrams
Extensive collaborative features
Supports cloud-based access
Supports offline editing
Cons:
Not great for complex circuit diagrams
Not perfect for beginners
6. CircuitLab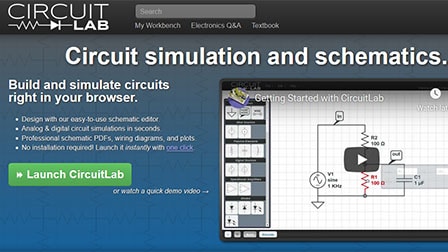 CircuitLab is a browser accessed, online circuit simulator enhanced with a schematic editor that helps one seamlessly build and master circuit diagrams – digital and analog.
Without pressing the need of any installation formalities, being directed to the tool in just a click to draw customized circuits, CircuitLab has made its mark as the best circuit diagram maker of 2023.
This tool is structured with advanced features and commands for generating effective and coherent circuit diagrams.
From easily connecting elements to a simple copy paste, applying SPICE-like component models for result accuracy to manually entering precise values, plotting arbitrary signals to customizing the circuits from a build box of tools and elements.
In addition to other attributes, the users can employ user-friendly, error-free circuit schematic diagrams that showcase the required simulations. The resulting schematics can be printed and saved as PNG, EPS or SVG and can be appended in design documents.
Pros:
Specialized for circuit design and simulation
Provides an interactive and intuitive simulation environment
Great for experimenting and learning
Cons:
Limited in terms of PCB layout
Not good for professional circuit design
7. Circuit Diagram
Circuit Diagram is a freely sourced and user-friendly diagram making application that enables users to craft and design a broad spectrum of diagrams visually by simply placing the components through the cursor.
One just needs to sign in to the application from the web browser to create the diagrams. This tool also extends the built-in functionality by offering its users custom components.
In addition to this what stands out for Circuit Diagram is that it helps to export circuits in the form of scalable vector images, as well as convert them into a selection of other formats.
To come up with attractive and easy to understand circuit designs, one can also make use of the built-in circuit simulator (BETA) for exporting the designs into the netlist format.
Once done with the diagram-making, one can save the circuits to a personal Circuit Diagram account, or simply download them to keep offline.
Pros:
Simple and straightforward online tool
No installation required
Accessible from any browser
Great for quickly sketching out circuit ideas
Cons:
Lacks advanced features
Not suitable for professional-grade designs
8. Circuito
If the name of the tool wasn't a giveaway, Circuito is hands down the best circuit diagram maker that you can explore in 2023.
From sorting out the detailed Bill of Materials to the wiring guide, this tool helps you sort all the technicalities in a matter of seconds.
What's great about Circuito is the diverse range of available templates. You get to play around with the pre-made prototypes and use the one that best align with your interests, especially when it comes to the final design results.
Besides that, Circuito also supports a simple drag-and-drop editor that brings your data and schematic into life in a matter of minutes. Also, the tool supports a personalized project guide, enabling you to work through the wiring process with detailed instructions, in case you are stuck somewhere in between.
Overall, Circuito is no doubt the best circuit diagram maker that you can pick up on in 2023, thanks to the minimal user interface, clean resources and interactive sample code options to start the building process without any hassle.
What's best about this tool is the fact that using Circuito is free. You don't have to worry about paying a dime to build your crazy invention.
Pros:
Focuses on creating interactive circuit simulations
Perfect for educational purposes
Provides a visual representation of circuit operation
Cons:
Lacks features for detailed circuit design
Quite complicated to begin with
9. GitMind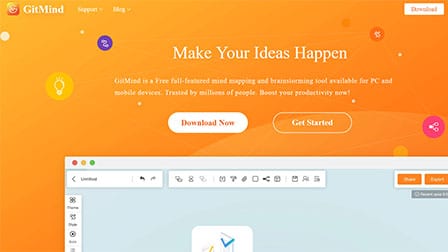 GitMind is a widely popular free diagramming tool loaded with pre-set symbols that are designed for helping one create UML diagrams, circuits, and flowcharts, among many others.
It is a mind mapping as well as brainstorming platform for PC and mobile devices that lets you capture ideas, boost productivity and inspire creativity.
This online circuit diagram maker offers easy navigation for users who are less familiar with software. However, the best part of this application is that it lets you create electrical circuits from pre-loaded clipart and upload them as per one's convenience.
Adding further, this tool runs on almost any web browser that is available on the Mac, Windows, and Linux operating systems.
Through GitMind, you can also easily come up with stunning mind maps with the help of pre-made stylish themes. Post creating the diagrams, one can also export them into different formats, including the PNG and PDF files.
Pros:
Offers collaborative diagram creation
Perfect for teamwork
Simple and user-friendly interface
Can be accessed and edited from various devices
Cons:
Limited in terms of advanced circuit design features
Not suitable for professional circuit designs
10. EasyEDA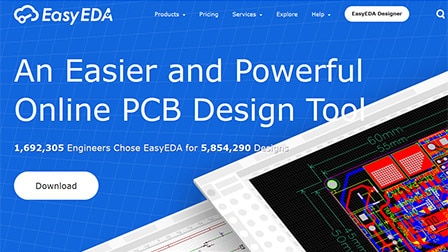 With more than 1.5 million users across the world, EasyEDA is a high-rated and extensively deployed online software when it comes to fabricating circuit diagrams.
This powerful PCB design tool offers an affordable subscription plan and is most suited for team collaboration as the changes to the electrical diagrams get auto-updated.
It is also highly recommended for its project management abilities to generate and design private as well as public projects like spice circuit simulations in little time.
The produced PCB designs in EasyEDA can be enhanced with 3D views for imparting a better understanding of the diagrams.
There is also the availability of an enormous design library that can be either created or imported from existing platforms for the ease of customization of the electrical circuits.
The application works closely with China's prominent electronic component supplier, LCSC as it offers direct links to over 200,000 components to the company.
Pros:
Integrated with circuit design, simulation, and PCB layout
Ideal for beginners and experts
Supports collaboration
Perfect for different circuit projects
Cons:
Getting used to some features can be challenging
Free version has limitations
What is a circuit diagram?
For those who have no idea, circuit diagrams are the visual representation of an electrical circuit that is made using basic images of the parts used or even the symbols that are used in the industry.
There are two different types of the circuit diagrams available – the pictorial version and the schematic version. The pictorial version makes use of the standard images of the parts used in the circuit while the schematic version uses the industry level symbols.
The pictorial version is mainly drawn up for the people who have a less of a technical audience and just want to get a visual of the things happening.
The schematic version, on the other hand, is mainly targeted for an electrician who is going to work on that circuit and develop it in real time. This is why it is more detailed and contains more symbols for better understanding.
Related Articles:
What is the significance of a circuit diagram?
Now that you know what the circuit diagram is, before we proceed on to the various types of circuit diagram makers, it is important you know of the significance of it.
Circuit diagrams help in a number of ways. Some of them include:
It helps get a better physical and visual understanding of the process and the output of the circuit.
It makes it easier to communicate with the electrician working on the circuit in real-time.
It can be shared electronically.
It gives a better idea and look into the possible loopholes in the process.
Verdict
With the top 10 options for the best circuit diagram makers mentioned, we would say that the one that stands out amidst them all is LucidChart. Their library of the templates and the standard of the drawing looks a lot more professional in comparison to the other ones.
That doesn't necessarily mean that the other ones aren't worthy. It is just that this one tops the list when we are talking about the all around user experience. The one downside to this software is the fact that their pricing options can be a little bit intimidating.
But, that aside, their plans are worth the investment. You can have a hands on experience with all the varying options that they have. It helps add to your portfolio better and makes you come off as a professional with a sound technical knowledge of things. But, if budget is a constraint, SmartDraw is the next best option that you can try out.