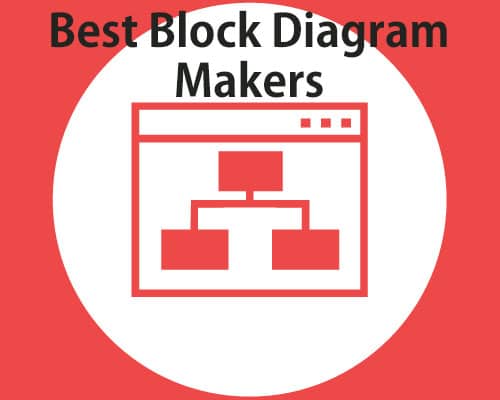 With so many forms of diagramming platforms, it is likely for one to be confused about which one to pick and which one to avoid. This is one of the primary reasons why picking block diagram makers becomes so difficult.
But, with the growing popularity of the same, it is likely that you wouldn't find it hard to find a suitable platform for all your block diagramming needs.
To be fair, the platforms are ample, you just need to ensure that you are picking the right one. The importance of block diagrams is quite extensive.
From helping a brand plan their work process to getting a visual representation of the roadblocks along the way, the options are quite varied.
Since its use is in most of the primary work front, it isn't surprising that people are now looking for professional diagramming tools to further help make the process even easier.
Best Charts, Graphs, and Diagram Tools
Long gone are the days when people made use of the general ways of either drawing things out with their hands or relying on basic Microsoft Office tools to get the job done.
With the advancing technology and the introduction to so many available options in the market, it isn't surprising at all that more and more people now prefer to use these platforms for their daily diagramming needs, especially when it comes to block diagrams.
Our Picks: 10 Best Block Diagram Makers 2023
Diagramming platforms and tools help make the process more accessible and prevent unnecessary wastage of time in creating everything from scratch. To help you out, we have sorted out some of the best block diagram makers and creators.
1. Visme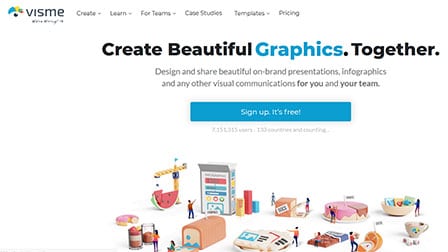 Over the years, Visme has gained significant popularity to fabricate over 40+ diverse charts and diagrams in a series of few clicks through live integration and preexisting designer templates.
This online application is extensively adopted by millions of users, mainly marketers, executives, communicators, and educators to assist them in creating visually appealing block diagrams.
Visme shows great potential in fabricating a variety of charts mainly because it can use statically entered data or populate the charts with live pre-existing information from Google Sheets, Excel or CSV files.
One of the prominent highlights of using this free tool is that it is configured with advanced settings that make it easy to switch between different charts and personalize them with a dozen options.
The resulting charts and diagrams can be saved as high-resolution documents or inserted as links across websites and social media posts or can be password protected for privacy concerns.
Pros:
Stunning visuals and graphics
Easy to create interactive diagrams
Wide range of templates
Cons:
Lacks good collaboration features
Not the easiest to master
2. Lucidchart – Best Online Block Diagram Maker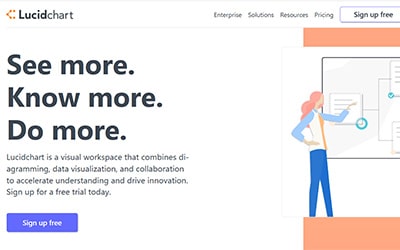 When it comes to diagramming, there is nothing that you can't find on Lucidchart. It is known for its interactive interface that helps you create the kind of visuals that you want for your project.
This platform is known for their extensive range of templates, even when it comes to block diagram.
The flair and the results are what drive people to even take their time with this platform. If you have been looking for a good quality platform that can help with your block diagrams, this is the one. The pre-made templates are interactive and very easy to work with.
Since this is an open visual platform, it is likely that you won't find it hard to collaborate with people and even get their inputs along the way. The final results can also either be exported and sent or you can directly send it to someone who has an account on the platform.
Pros:
Powerful sharing and collaboration features
Integration with other Google products
Wide range of templates
Cons:
Can be expensive for individual users
Not ideal for beginners
3. Edraw Max – Best Block Diagram Software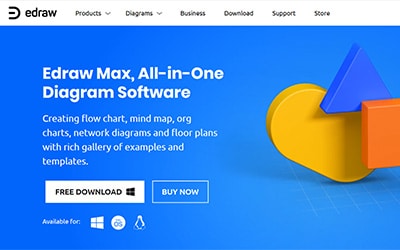 Edraw Max is one of the best all-in-one diagram software. Even this one comes in the desktop form that you can download for free and check out.
The reason why this is considered one of the best available tools for block diagrams out there is all because of the ease of use.
It comes with a huge number of templates and symbols for you to choose from. Not just that, it also ensures easy compatibility so you can import or export files according to your needs.
The online version of this platform is a new launch, which means that you still do have an online option in case you are always on the go and need a reliable platform to keep you company whenever there is need for some diagrams to be whipped up. It lets you visualize your ideas in the most constructive way possible.
Pros:
Large library of shapes and symbols
Easy to use interface
Export to multiple formats
Affordable pricing
Cons:
Can be slower on older devices
Lacks optimal collaboration features
4. Creately – Best Block Diagram Maker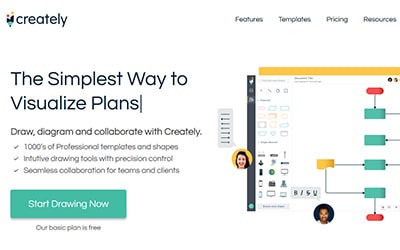 If you don't want the hassle of preparing and creating everything from scratch, one of the best ways to do so is with Creately. This diagramming platform lets you create the best block diagrams with ease and flair.
Apart from the fact that they have a number of templates to choose from, you can even prepare things from scratch with the easy drag and drop feature.
It comes with a host of advanced features that allow you to create any kind of block diagram that you possibly need or can think of. The platform also does come with preset color themes that have been made to easily match your needs.
The hundreds of pre-drawn templates are not just easy to work with but have a very professional look and feel to it that ensures the best output without any concerns at all.
Best Charts, Graphs, and Diagram Tools
Pros:
Large library of templates
Affordable pricing
Easy user interface
Easy sharing and export options
Cons:
Doesn't support offline mode
Free version has limited features
5. SmartDraw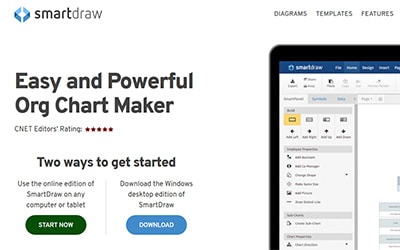 Just like the name suggests, SmartDraw is a platform that allows you to get going with your block diagram needs. The best thing about this platform is the fact that it comes in two different modes.
You can pick between the online mode that can be accessed from anywhere across the world and on any device when you have an account or the desktop mode which can be installed on your device and used.
It depends on your needs and you can pick one that floats your boat. Aside from that, this platform makes the process of making a block diagram very interactive. It does have a plethora of templates, so you don't have to bang your head about making things from scratch.
It also comes with a symbol library which is very important when you are drawing a block diagram. They also have a very good support where you can call with your queries for quicker solutions.
Pros:
Extensive collection of templates and symbols
Automation and formatting tools
Integration with Google workspace and Microsoft office
Has desktop and online version
Cons:
UI is not appealing
Complex diagrams is difficult to create
6. Canva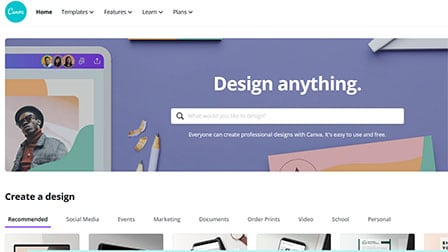 Block diagrams have been a staple in our lives since our school days. It's a simple yet functional data visualization tool that is here to make all of our lives a lot simpler than you'd likely anticipate.
Amidst all the available tools online, Canva somehow manages to be the best block diagram maker that you can potentially think of.
Besides the fact that the tool is 100% free with amazing resources, Canva is designed for everyone's needs.
Be it a beginner with minimal knowledge or a professional with vast experience, Canva somehow manages to meet everyone's requirements, even when it involves something as simple as a block diagram.
Featuring an intuitive design editor with a drag-and-drop feature, you won't ever have to complain about the efficiency of using this block diagram maker for meeting all your professional designing and data visualization needs.
Not just the creation part, with Canva, you get to streamline the sharing and embedding part of the process too. Users can easily embed their final diagram into projects and presentations with no fuss. Also, it supports an easy download process, even in HD resolution.
With Canva, you can streamline your data visualization process in a matter of minutes and without any formal knowledge about creating block diagrams.
Pros:
Wide range of templates
Highly user-friendly
Vast library of design elements, images, and icons
Free version comes with basic features
Cons:
Collaboration features are limited
Not as robust as other tools
7. Miro
Miro is another popular graphic designing platform that features intuitive design elements, templates and professional illustration tools to make your life a lot easier than you'd anticipate. What's great about Miro is the minimalism.
If you are someone with very minimal knowledge about design, graphics and illustrations, you will most likely appreciate Miro for how simple the user interface is. Everything you need is in the clipboard, enabling you to navigate through the creation process in a matter of minutes.
Additionally, Miro supports easy editing tools, which you'd most likely be appreciative of, especially if this is your first time dealing with a block diagram digitally. Overall, Miro enables users to get a clear understanding of the current data system and build new ones as needed.
So, if you are stuck trying to organize mounds of data into a flowchart that's visually accurate, Miro is an online tool that will help you sort out that process without any complications.
Besides the free trial, Miro has different pricing plans you can check out at your perusal. With Miro, modelling objects and data into an organized system has never been easier.
Pros:
Real-time collaboration features
Integration with other collaboration and project management tools
Suitable for remote teams and workshops
Offers a wide range of templates
Cons:
Mastering the tool takes time
Lacks good diagram customization options
8. Gliffy
Gliffy is an enterprise-grade diagramming software, packed with a powerful whiteboard that offers team members ease of communication and collaboration to visually share their ideas.
It is set to emerge as a leading block diagram making application considering its predominant use as a flowchart maker, a wireframing app for designing projects, and a diagramming tool for software development.
With a user populace of more than 16 million, Gliffy boasts of an intuitive drag-and-drop interface to help users generate diagrams and communicate visually.
On account of its integration with Atlassian, the software lets users add visuals directly to Confluence and Jira. While providing an instant collaboration of the block diagrams, Gliffy also gives access to previous versions to track and preserve changes through the revision history.
It also allows you to import and edit old diagrams, while letting the resulting diagrams to be shared via URL or embedding, further exporting them.
Pros:
User-friendly interface with drag-and-drop functionality
Supports cloud-based and on-premises versions
Seamless workflow
Extensive library of shapes and templates
Cons:
UI is slightly outdated
Lacks advanced features
9. Visual Paradigm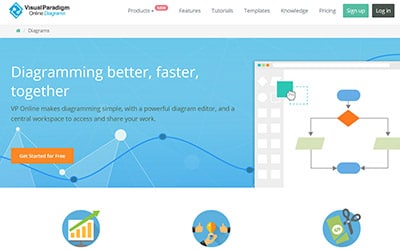 To be honest, don't get intimidated by the name of the platform, mainly because of the fact that it does provide with very interactive workspace for you to get along with.
This easy to use block diagram tool does have a very interactive platform that lets you make things from scratch or even pick from the already existing templates.
Even this one comes with the intuitive drag and drop feature which comes in very handy when you are trying to wrap up the diagram without much hassle. The Visual Paradigm Online version is completely cloud based, so you need not worry about the space on your computer.
Once done, you can simply select the platform you want to save it to and call it a day. You can also find hundreds of templates available on the platform that you can choose from.
Pros:
Comprehensive and professional diagramming features
Offers a variety of diagram types beyond block diagrams
Integration with other development and design tools
Advanced customization options for diagrams
Cons:
Pricing might be higher
Getting used to this tool takes time
10. Draw.io – Best Free Block Diagram Maker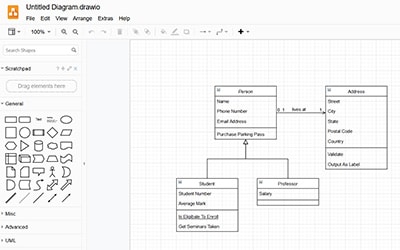 For those who don't want to spend any money and have been looking for a completely free and simple platform to draw some block diagrams, Draw.io might be the answer for that.
This platform is completely free and has a very simple user interface that lets you get your work done without any hassle at all.
The one drawback to this platform is possibly the lack of templates. So, that means that you have to draw everything from scratch. This is perfect when you are working small term and don't have a lot going on but if you are working on a big project, this might not be the best option.
But, for the ones who don't want any hassle and want a quick picturization of the kind of visuals they have, this is an amazing quick fix platform just for that. You do have all the shapes and symbols needs that you can then customize accordingly.
Pros:
Open-source and free to use
Supports various diagram types
Integration with cloud storage services
No account required for basic usage
Cons:
UI isn't as polished as other tools
Advanced features are lacking
Related Articles:
Verdict
If you have been meaning to make your own block diagram without having to worry about doing it from scratch, these are some of the best platforms that can help you with the process.
Some of these tools do come with a price but there are also a few which are free for you to use. Irrespective of whether you have enough money to spare or not, we have sorted you out with a few options to go through.
Always ensure to test out or opt for the trial version of the paid platforms to get a hang of things and check whether or not you actually like the platform. This is where the process gets tricky. If it is not even worth the trial, it is likely that you wouldn't want to spend your money on such platforms.
Lastly, look for the platforms that come with the export and import options, so you can easily save or send your file to the person in question.