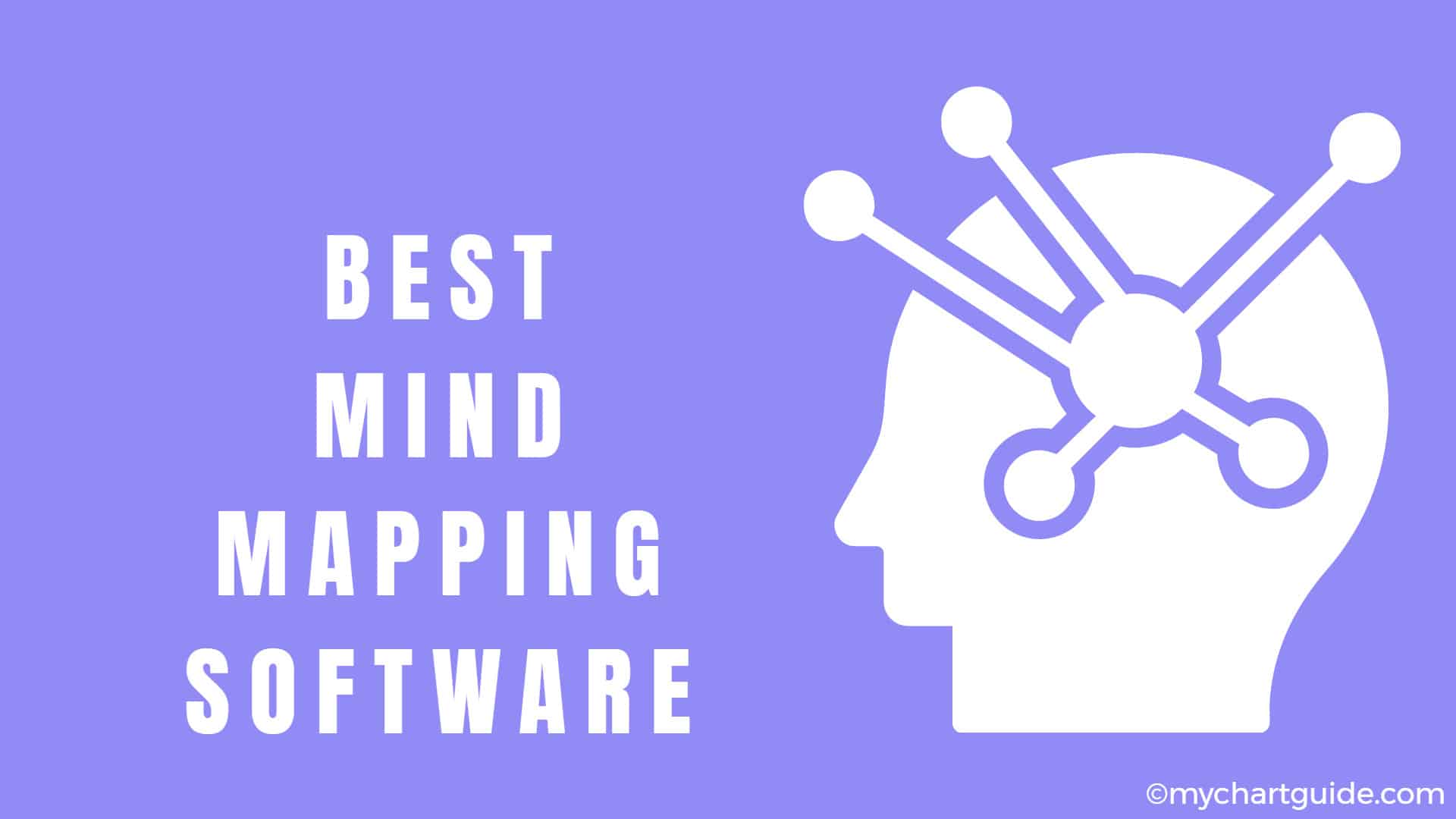 Being creative means that there are hundreds of ideas running through your mind. Some related to your personal life and some related to your professional life. But, its often difficult to get every last creative idea scribbled down on paper.
You will most likely not have the time or you'd feel like it's a burden mapping thing out in real time. To be fair, you aren't the only person with similar setbacks. This is where mind mapping software come into the picture. Now, you must be thinking, "What are they?"
Mind mapping software, like the name suggests, are tools that enable you to organize, visualize, represent and streamline all the creative ideas that are likely swirling in your mind. In short, all the thoughts and brainstorming that you are doing in your mind can be visualized digitally using this tool.
These kinds of software often come in handy when you are in the primitive stages of project planning and have a lot going on in your mind. This article will take you through a list of the top 10 best mind mapping software in 2023 worth trying out.
Best Mind Mapping Software
Mind mapping software come with individual features and specifications that you need to get on top of. When you are choosing a specific mind mapping software out of the hundred different ones available online, its mandatory that you pay attention to the features.
Best Charts, Graphs, and Diagram Tools
Some of the most common features worth prioritizing in a mind mapping software include:
Diagramming: This should include templates for engineering flowcharts, architectural designs, network diagrams, etc.
Brainstorming: This highlights the feature where individuals or teams can come together to engage in problem solving, brainstorm new ideas and even present their idea in a more organized manner.
Business Intelligence: This will enable the users to visualize their data in a more systematic way.
That said, these are a few of the features that we wanted to highlight. Let us walk you through the list of the top 10 mind mapping software now:
1. Visme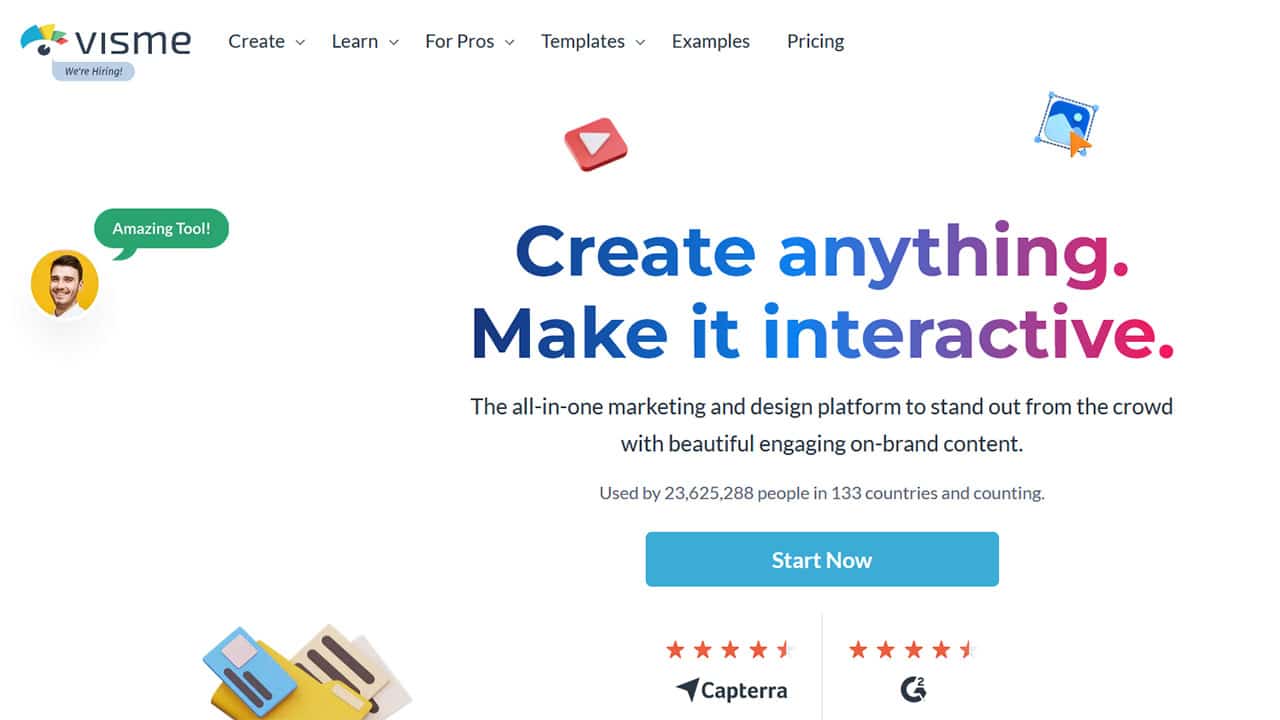 Visme is one of those diagramming tools and software that's versatile and comprehensive. Their free to use mind mapping tool has a simple user interface that's perfect for beginners to get started with. What's great about it is that its trusted by small, medium and large-scale businesses as well.
If you are curious about the features, Visme's mind mapping tool comes with integrated growth tools that augments and streamlines the brainstorming experience. Once you are done with the visualization, the final product can be downloaded in PDF format and shared to others seamlessly as well.
With Visme's premade mind map templates, users don't have to complicate the process of creating one from scratch. You can scroll and browse through the templates and pick one that best align with your creative or business idea.
One of the biggest highlights of Visme's mind map software is the intricate level of customization you get to engage in. Every single element in the image can be edited to better fit your ideas. The tool is integrated with hundreds of icons and images that you can add to the image to make it more fun and interactive.
Lastly, the drag and drop feature is an added bonus and comes in handy for the users that are just getting started and need that flexibility in hand.
Pros:
Free to use
Simple UI
Optimal customization
Drag and drop editor
Cons:
Editing each element is time consuming
Some templates are quite messy
2. Lucidchart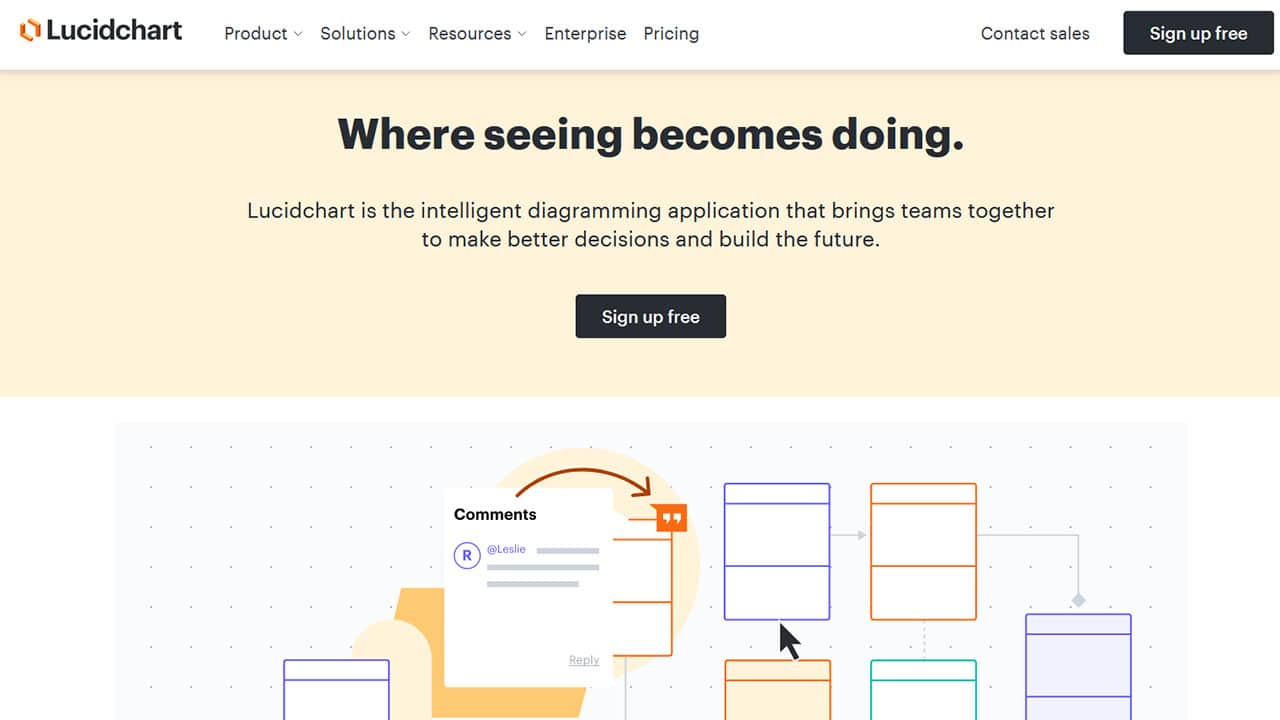 If you are stuck with a lot of thoughts in your mind and want an organized way to brainstorm your ideas, Lucidchart is the perfect platform for it.
This is a simple yet intuitive tool that enables you to create a rough sketch of your next big time without any setbacks or compromises. The platform has an exclusive mind map shape library, which allows users to add their ideas and notes and visualize things in real time.
Furthermore, if you already have a data visualization tool where you have brainstormed ideas, they can be imported or exported with ease. Platforms that work with Lucidchart, in this case, include Visio, Gliffy, OmniGraffle, etc.
Besides the standard customization options, Lucidchart's mind mapping tool also supports collaboration, wherein you can collaborate freely with the users and from anywhere without any limitations.
You can also choose from the wide range of pre-existing mind map templates, which streamline the process even further. Also, the easy sharing options also come with presentation mode so you can present your idea in a more engaging and interactive manner.
Pros:
Wide variety of templates
Intuitive UI
Free to use
Easy sharing options
Cons:
Mastering some features take time
Some advanced features are available in the paid version
3. Miro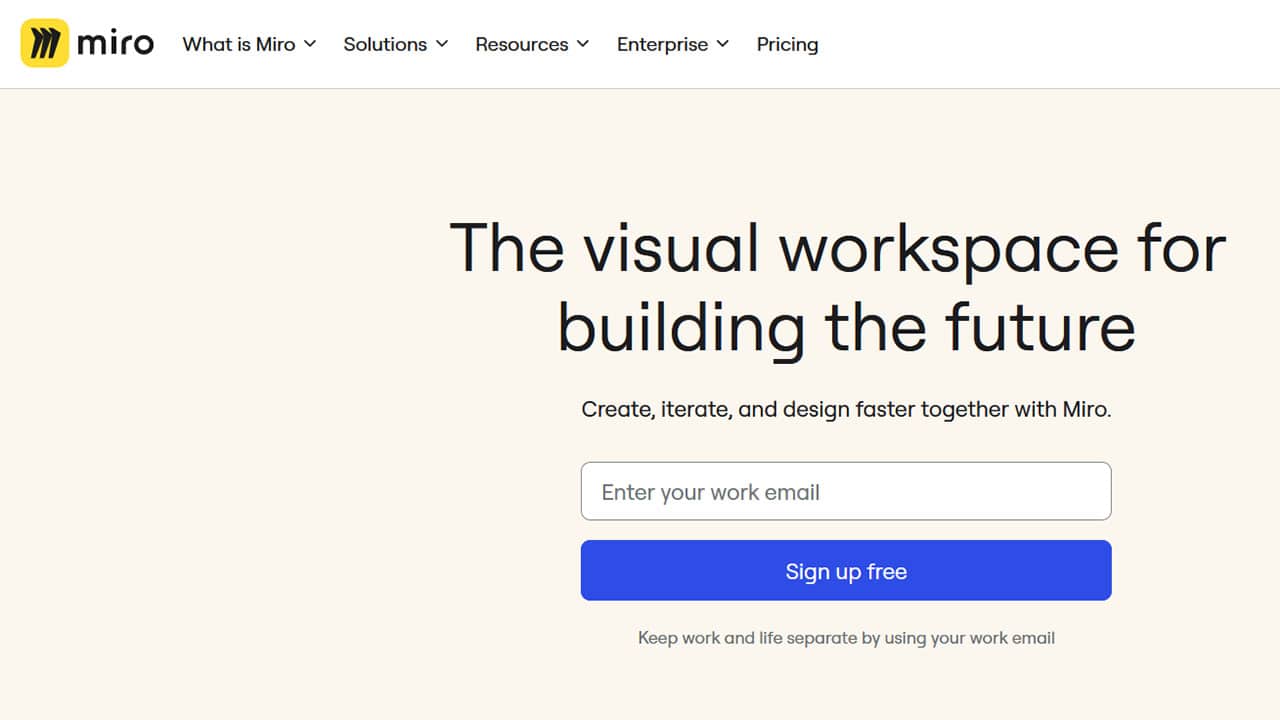 Next up on the list of the best mind mapping software is Miro. The tool has specifically been designed for creative and collaborative mind mapping experience. The best part about using this tool is the responsiveness and ease of usage.
One of the highlights of Miro that's not available in the other tool is the power of AI. The mind mapping tool of Miro is powered by AI wherein you can discover new topics and explore ideas like never before. It is an experience unlike anything else.
If you are stuck trying to figure out how to make sense of things and you are sat there confused, Miro helps by breaking down the complex problems into smaller chunks so its easier to solve the issues in real-time.
When it comes to presenting your mind map image, you want to ensure that it looks good and interactive, which is where the customization features come into play. You can play around with different colors, themes and styles to augment the look of the presentation.
Lastly, Miro supports real-time collaboration and has infinite canvas access, which further add to the many reasons why it is a worthy option to consider.
Pros:
Simple to use
Real-time collaboration support
Powered by AI
Highly customizable
Cons:
Some creative boards can be tough to create for beginners
Saving custom templates is complicated
4. Creately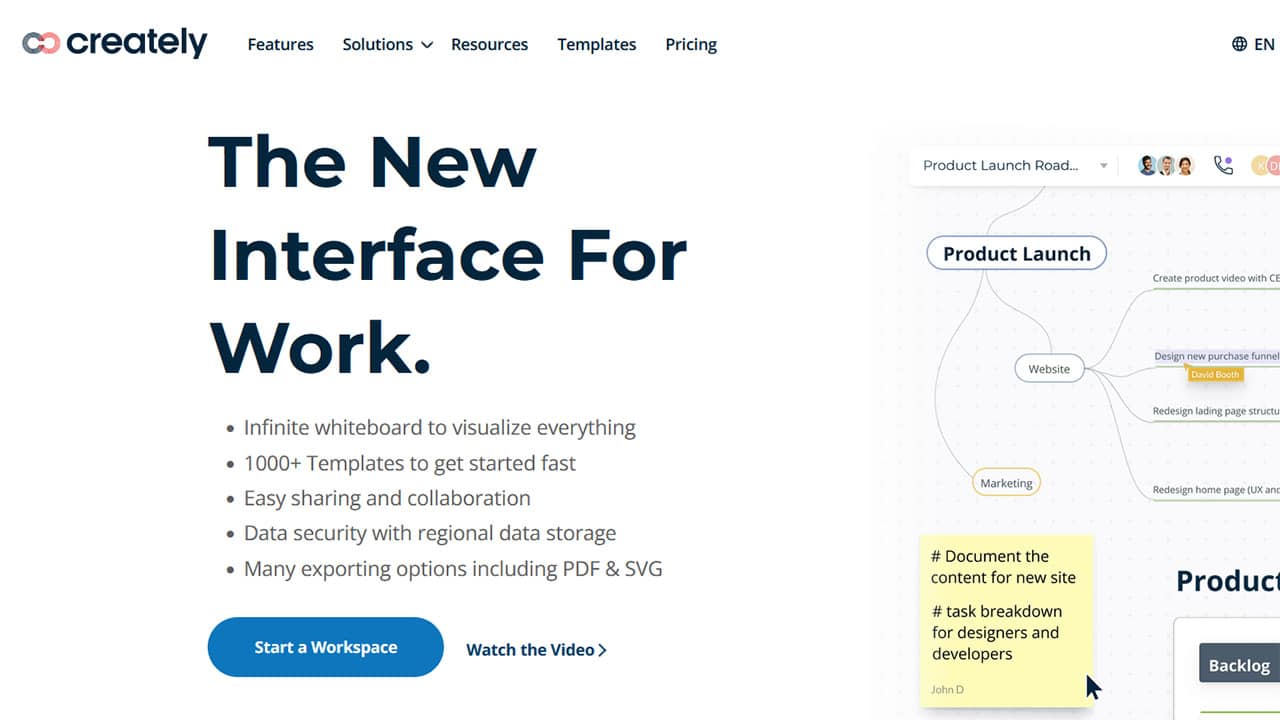 When it comes to data visualization tools, Creately is an option that stands out time and time. It is comprehensive, free to use and comes with a plethora of free templates that provide you a great place to get started with your mind mapping journey.
Besides have a digital format to slap all your mental and creative chaos onto, the tool also supports real-time collaboration and customization features, which is commendable.
One of the highlights of this tool that deserve a shoutout is its simple drag and drop feature. No longer will you have to select, click and export items on the template. Given the growing popularity of Creately's mind mapping feature, it isn't surprising that the tool already has 100+ templates to choose from.
Best Charts, Graphs, and Diagram Tools
All that aside, one unique feature of this mind mapping tool is the live mouse tracking feature, which is one of a kind and something that you won't find in the other available tools.
Pros:
Free to use
100+ templates available
Ideal for beginners
Real-time collaboration support
Cons:
Some users complained about losing the progress of their work
Paid version locks a lot of advanced features
5. Lucidspark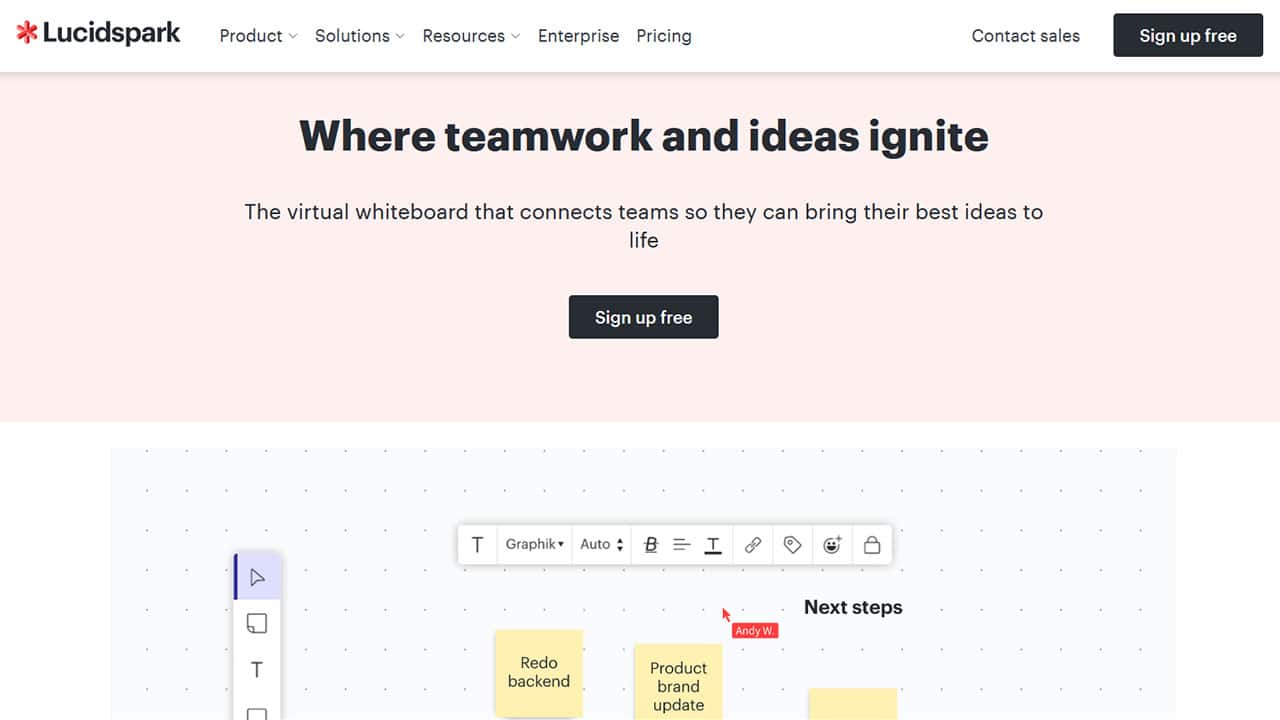 While we are on the topic of free mind mapping tools, Lucidspark is another new entrant in the list. Don't confuse it with Lucidchart because both of them are different tools. This one is more like a "virtual whiteboard" where you can write down everything that's swirling in your mind.
From the kind of idea to how you wish to plan and execute it, everything can be done step-by-step on this online software. Their mind map maker is so comprehensive that it's bound to spark a sense of creativity in you.
Also, if you want to brainstorm the idea with multiple people, with your team or with your clients, Lucidspark takes care of all your needs without any complaints at all. With the inclusion of comments, mentions and editor chart, keeping up with the changes in the project becomes easier.
One unique feature that's exclusive to Lucidspark's mind mapping tool is the "Note Panel." This allows you to add bullets, checkboxes, important contexts and also set the agenda as needed. What this does is allow you to keep all your ideas in a single place so you can come back and refer to them in the future.
Lastly, Lucidspark supports a variety of powerful integrations that make the process of creating, editing and sharing the final result a walk in the park. From Google Drive to Slack integration, the options are diverse.
Pros:
Seamless user experience
Has an exclusive Note Panel
Easy collaboration feature
Supports third-party integration
Cons:
Overwhelming number of features in one tool
Text and fonts available aren't that great
6. Mockitt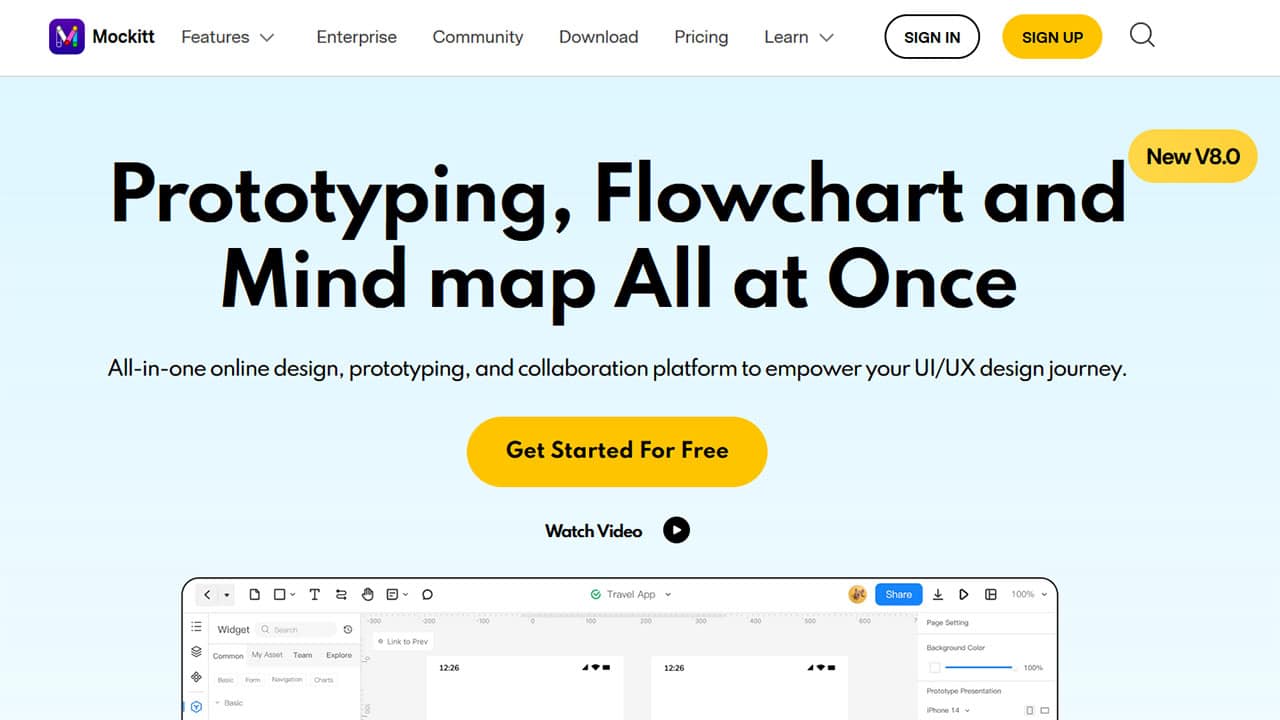 Mockitt is quite an underrated option when it comes to mind map tools online. The software is perfect to help you brainstorm ideas and bring them to life and organize all your ideas in a more visual manner.
With extensive collaborative features, Mockitt allows users to create a mind map in no time at all. Not only can you represent your ideas, you can go ahead and streamline your productivity as well. There's no learning curve involved, which means that you can get started right after signing up.
The real-time collaboration feature of this software also ensures that all the changes and edits are confined in one place so everyone in the team has access to the updated data and information to minimize miscommunication.
Some of the unique features of this tool is its third-party integration and the ability to embed media, if that's something you want. This means that if you want to include a custom media in the project, that can be done as well.
Also, once you are done creating the image or the presentation on Mockitt, it can be saved or exported in multiple formats, further adding to the ease of use.
Pros:
Seamless user interface
Simple collaboration features
Supports media embedding feature
Can be saved in multiple formats
Cons:
Lacks certain tools and widgets
Doesn't support offline functions
7. ClickUp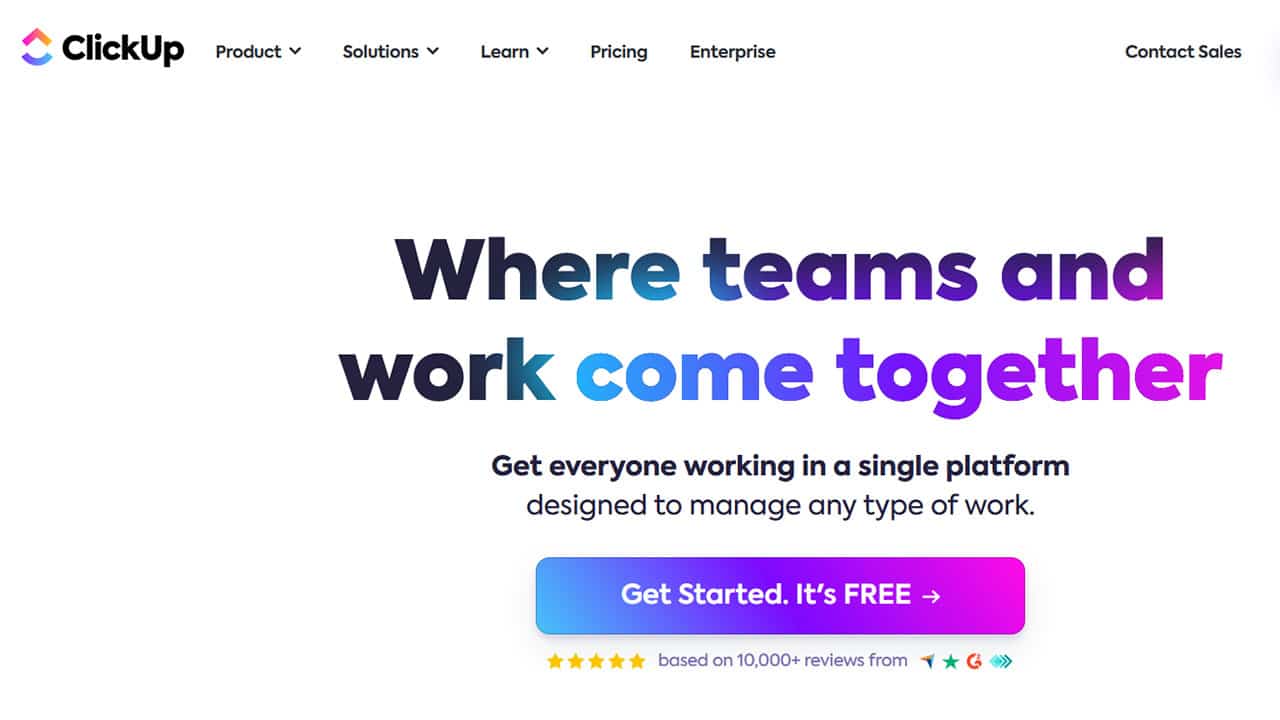 ClickUp is perfect for those that have big ideas in mind and need a platform to streamline everything in one place. From planning your projects to organizing and executing them, ClickUp takes care of all your needs without any complaints.
You can add unique images, create flowcharts, draw connections and the list goes on. The tool allows you to create both task-based and node-based mind maps, depending on what you think you'd need for that specific idea in mind.
The quick edit feature and the wide range of customization options ensure that you can change and switch things up according to your comfort and needs. You don't have to worry about switching out major elements in the mind map when you are editing them.
Lastly, the easy to share and export options mean that all you need to do is a single click and the rest will be taken care of. Also, the created mind map can be linked in Docs, tasks, or comments as well.
Pros:
Easy to use
Has drag and drop functionality
Easy to edit
Wide range of templates
Cons:
Lacks table view in the mobile app
Some advanced features are complicated to understand
8. MindMeister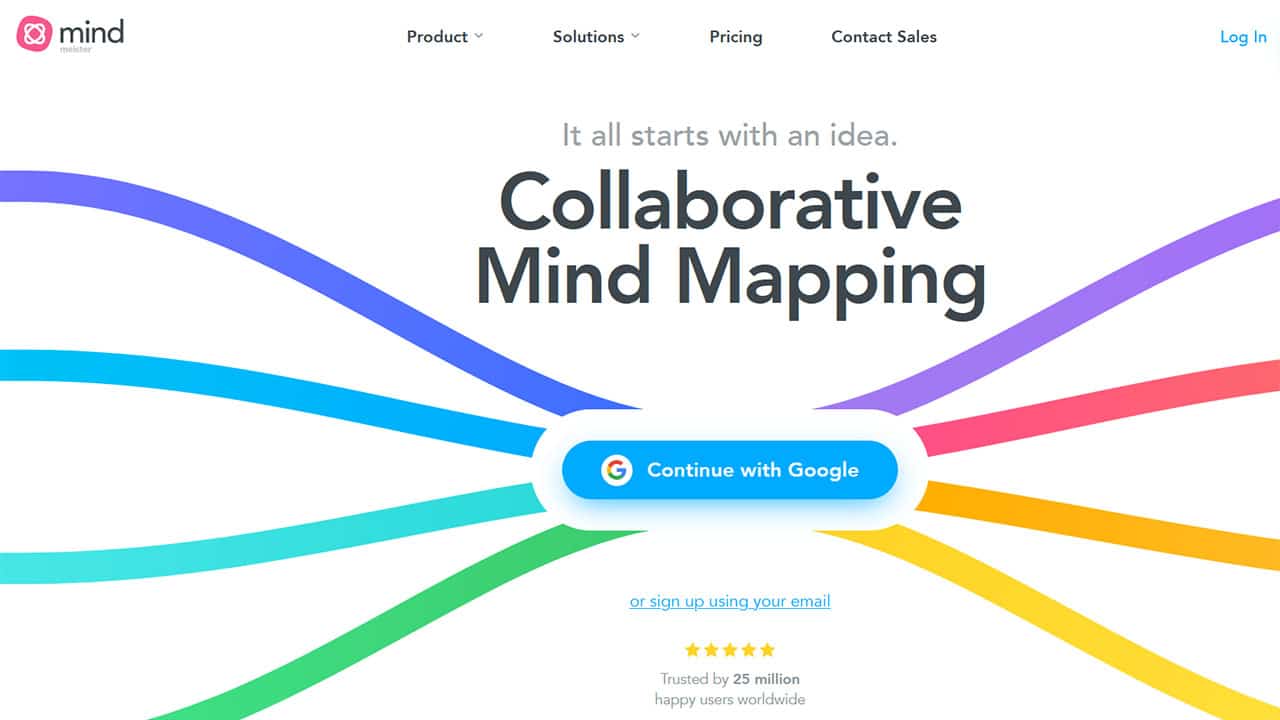 If you have ever thought of creating your mind mapping diagrams from scratch online, MindMeister is a pretty great option to consider. It is one of the few tools that support integrative and collaborative mind mapping features.
Getting started with this tool is simple – visualize, collaborate, manage and share the final product. There are a lot of unique features of this software that are exclusive to MindMeister only. Among them, the mixed map layouts and outline mode take the cake.
The platform supports custom styles when it comes to creating mind mapping designs and getting all your ideas into one place. There is a "Focus mode" available as well, which might be new for you and other users.
When it comes to customizations and edits, the software allows the users to leave comments in real-time and make relevant edits as well. The collaboration features are limited but it gets the job done. Also, if you wish to embed media into the presentation or image, MindMeister allows that too.
Pros:
Interactive UI
Supports embedding media
Easy export options
Integration with other project management tools
Cons:
Free plan comes with limited features
Formatting issues are persistent
9. Wondershare EdrawMind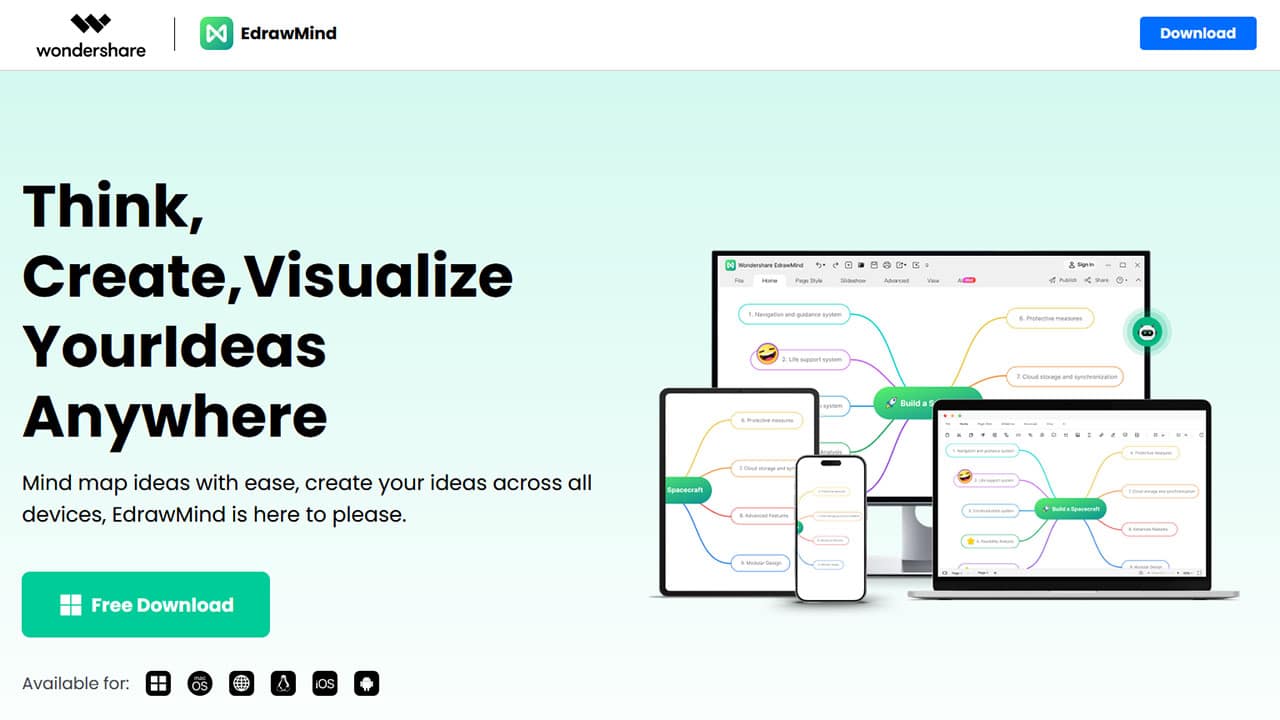 The tool was formerly named "Mind Share" and is one of the OG mind mapping tools available on the internet. If you are looking for collaborative mind mapping software, we'd recommend you go with this one.
One of the most popular features of this tool is the "Brainstorming mode." This allows the users to get all their creative flow onto the whiteboard and then brainstorm what to keep and how to navigate through the process.
When it comes to templates, the platform has 12 dedicated mind mapping templates that one can choose from. Some of the best ones include radial, treemap, fishbone diagrams, etc. You can browse through the available options and see what would work in your favor.
If you wish to create a Gantt chart using the mind map illustration, that can be done on this tool as well. Once you are done with the "creation process," the sharing and export options include presentation mode that allows the users to directly present the idea in a more creative manner.
Pros:
Supports variety of mind mapping designs
Easy to use
Easy export options
Has a mobile app version too
Cons:
Advanced features are limited to the paid version
Mapping layouts and templates are limited
10. XMind
Last but not the least in the list of top 10 mind mapping software in 2023 is XMind. This is a simple and intuitive mind mapping software that allows you to generate ideas, goals and different kinds of tasks in real-time.
There are a variety of unique features in this software that deserve a special mention. Firstly, it comes with the Zen mode, which allows the users to focus while they are brainstorming and getting all their ideas on the paper.
Also, the platform has an exclusive "Equation feature" that lets the user add mathematical and chemical equations to further streamline things. If you are stuck and wondering where to get started, the pre-made templates are a great starting point as well.
Furthermore, the extensive customization features ensure that you can use multi-branch colors to identify different nodes in the mind map that you are creating. This makes it organized and easy to distinguish.
Pros:
Has an additional password protection feature
Premade templates are diverse
Extensive customization features
Easy to export in different formats
Cons:
Larger mind maps take some time to load and download
It isn't free to use
Verdict
With so many different types of mind mapping software available on the internet, we understand that choosing one can be a challenge. This is why we have done the research for you and sorted out the top 10 options that are packed with advanced and intuitive features that are easy to use and perfect for beginners and professionals.
If you are still stuck trying to figure out which one to get started with, we'd highly recommend you start with the free ones mentioned in this list like Visme, Lucidchart, Miro, etc. Once you get a hang of things, you can then switch to the paid tools like XMind.
At the end of the day, it all comes down to personal preferences, the kind of features you want to access and use and also the learning curve involved with each of these software options. Its always great for you to research what would fit your requirements the best.