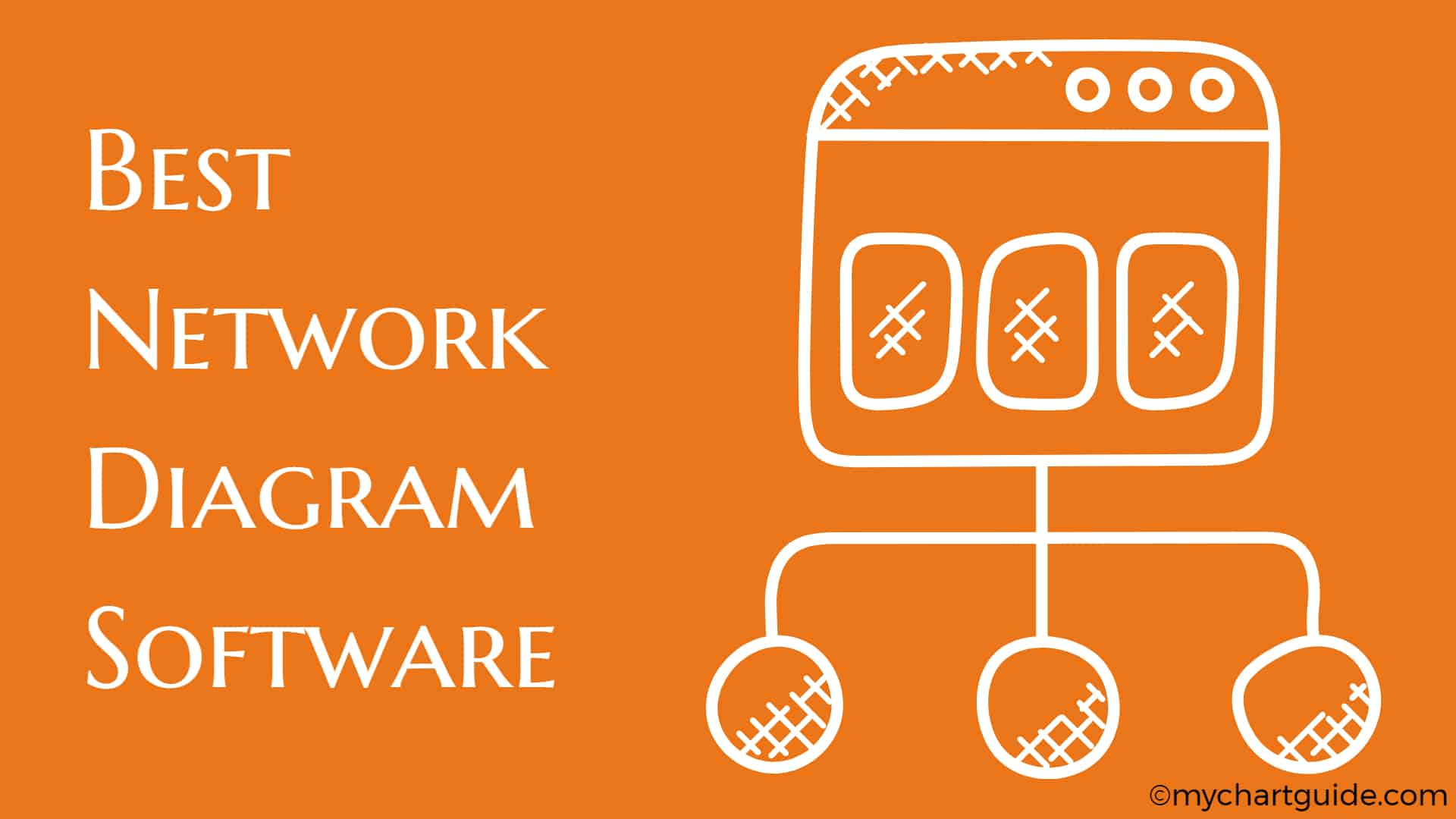 In the ever-evolving landscape of modern technology and connectivity, network diagrams have become an indispensable tool for IT professionals, network administrators, and organizations worldwide.
The main function of these visual representations of the network structure is to streamline the designing and troubleshooting processes involving complex networks. Owing to this, there is an elevated demand for user-friendly network diagram software and if you are someone that's been looking for some comprehensive ones, we have all the detailed lined up for you in this guide.
This article will explore the top 10 best network diagram software that you can consider using in 2023. Whether you are managing a small business network or overseeing a sprawling enterprise infrastructure, our list encompasses a diverse range of options to cater to your specific requirements
Best Network Diagram Software
When it came to choosing the best network diagram software, our intention was to make the list inclusive. From free software to the paid ones, we have included a variety of options that should cater to one's individual needs.
Furthermore, given the sheer diversity and availability of network diagram software on the internet, we wanted to prioritize options based on the individual features. Instead of sticking to the few popular and renowned options, we have kept the list diverse and included options that include some of the underrated software with advanced and unique features.
Best Charts, Graphs, and Diagram Tools
1. Lucidchart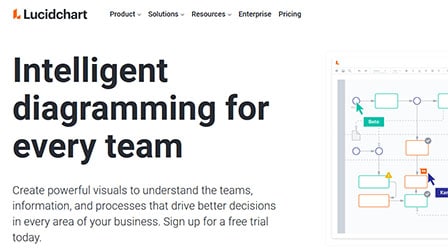 When talking about diagramming tools, Lucidchart is one of those options that don't require any introduction.
This intelligent and prompt diagramming tool is designed to make your network diagramming process easy and collaborative.
The best thing about this tool is its collaboration features. You can collaborate in real-time, share network diagrams with ease and everything can be done with its simple and easy to understand user interface, which makes the whole process even more fun.
One unique feature of Lucidchart is its Visio import feature, which allows you to import your existing work so you don't have to start things up from scratch. It allows users to import the work in any format, including VDX, VSD, or VSDX, following which you can start diagramming.
Besides the UI, Lucidchart's network diagram function contains pre-made templates and easy drag and drop editor, which is again a reason enough for you to consider trying it out. Even if you are new to the whole aspect of networking diagramming, you can proceed without any confusion.
If you want to engage in a more detailed network diagramming process, Lucidchart has got your back. The intricate and informative diagrams can be created with a few simple clicks, which add to the fun further.
Pros:
Easy to use
Has Visio import feature
Real-time collaboration
Cons:
Export options are limited
Free version has limited features
2. Visme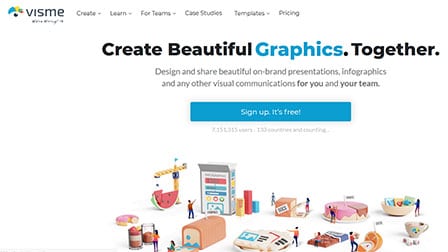 Next up on the list is Visme, which is a free network diagram software that's developed to make your life easier.
What's great about this software is the simple user interface and non-complicated features.
It doesn't stop there. The tool allows users to easily connect lines and shapes to create detailed network diagrams in a matter of seconds. The customization options, especially involving the icons, colors, fonts and styles is fairly simple too.
If you are a beginner that doesn't have a lot of understanding regarding network diagram, Visme has pre-made professional looking templates that should make your life easier. All you have to do is scroll through the templates, find the one that best aligns with your dataset and input the relevant data.
In case the templates don't catch your eye, you always have the choice to create them from scratch. What's great about Visme is that every aspect of the network diagram that you are working on is customizable.
Also, you get access to its intuitive drag and drop functionality and a rich variety of shapes and elements to add to your diagram to make it more detailed and interactive.
Pros:
Free to use
Simple UI
Optimal customization options
Cons:
Getting used to some features take time
Lacks offline functionality
3. Edraw Max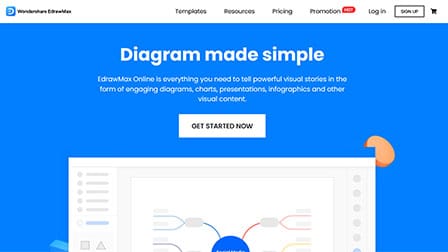 Although quite a popular diagramming software, not many users know about Edraw Max's network diagram tool.
It is fun, interactive and comprehensive too, which adds to the whole experience of fun creating the diagrams from scratch.
What stands out about this software is the fact that its available for Windows, Mac and Linux. You can download and get started with the software without any hassle. The simple UI of this software makes it "friendly" to the inexperienced users.
We briefly discussed about this but Edraw Max pretty much operates in every device, ranging from the mobile devices to your PC and tablet too. Besides the simple tools inside the software, the export and sharing options are pretty great too.
Another advanced feature of this software is their "resource centre", which is filled with rich and useful resources in question-and-answer format to help you out if you are stuck in the middle while creating your network diagram.
Pros:
Compatible with Windows, Mac and Linux
Has a resource centre
Simple and easy to use
Cons:
Paid version is quite pricey
Offline functions aren't that intuitive
4. Miro
While we are on the topic of intuitive and reliable network diagram software, Miro is one that deserves a special mention.
Creating these diagrams on Miro shouldn't take you more than a minute and that's what makes it stand out.
With automated diagramming features, all you have to do is enter your relevant dataset, select the template and the software will take care of the rest for you. Miro's infinite canvas also allows you to create extensive network components without any interruptions in the middle.
Best Charts, Graphs, and Diagram Tools
Also, the sharing and export options in this software is interactive, making things a lot more fun and engaging for you. If you are new to the whole experience and wish to scale your diagramming experiences, we'd 100% recommend you give this a go.
The software not only has professionally designed templates, you also get access to industry-standard shapes and icons, which add to the fun further. Also, users can communicate faster with the teams, collaborate and simplify the diagramming process without any compromise.
You do have to create an account and opt for paid versions if you want access to the advanced features but we'd recommend you rely on this overall for a comprehensive network diagramming experience.
Pros:
Intuitive and simple features
Optimal collaboration features
Easy export options
Cons:
Limited templates
Paid version is expensive
5. Creately
Been looking for ways to visualize your data with a few simple clicks? Well, Creately takes care of those needs for you.
Besides easy diagramming features, the tool offers interactive collaboration feature so you can work and edit functions in real-time with your team.
What's great about Creately is its ability to enable its users to customize each diagram as many times as needed and without any limitations. The availability of shape-data allows the users to easy and discuss the relevant network requirements too.
Users also get access to thousands of standard and intricately designed templates that allows you to map your diagram without any compromise. Pair that with the intuitive drag and drop editor and Plus Create feature and your diagramming needs will never be compromised.
The software also supports third-party app integration, which means that you can work across apps and with different teams in a safe and secure manner. The add-on and embedding features are pretty great when you come to think of it.
Pros:
Interactive data visualization features
Drag and drop editor
Thousands of pre-made templates
Cons:
Lacks offline functionality
Free version has limited features
6. Microsoft Visio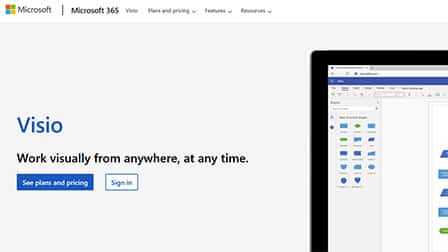 If you want to use a reliable and renowned diagramming software for your network diagramming process, Microsoft Visio is another option that deserves a special shoutout.
Besides the reliability of Microsoft, you also get access to some of the most advanced features, which aren't available in other software.
Additionally, the collaboration and customization features that you get on this platform is quite promising, especially when it comes to creating network diagrams from scratch. With a few simple clicks, you can create professional and informative diagrams.
Once you have selected the template, the software allows you to customize the template to your specific needs and tailor the final look of the diagram with the right amount of detailing. Also, pair that with easy sharing and export functions and you have nothing else to worry about.
Microsoft is known for making collaboration easier, so it isn't surprising that's the case when you are creating the network diagrams from scratch. Creating detailed network diagram have never been easier.
Pros:
Reliable software
Easy collaboration features
Allows third-party integration
Cons:
Paid plans aren't cheap
Requires more intuitive features
7. SmartDraw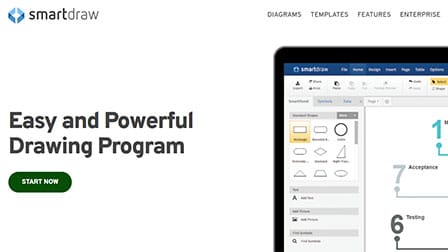 Like the name suggests, SmartDraw is one of those online network diagramming tools that you simply can't get enough of.
Its easy to use and you can get started by signing up on this platform, which is quite amazing in itself.
The best part of this software is the ease of use. You don't have to be a network diagram connoisseur to be able to use this software, which is always a relief. All you have to do is visualize how you want the diagram to be and then get started with it in a matter of seconds.
Besides the already available templates, the software also provides users access to pre-made symbols that are suitable for Cisco, AWS, Azure and generic network shapes. So, if you are worried that your network diagram won't look professional, well, that's nothing something for you to worry about.
Furthermore, the drag and drop editor ensures that you can create your diagram with a simple drag and without any complexities along the way, which is nice. If you are already working on Visio and wish to import your work, that option is available too.
Pros:
Easy to use
Has ready-made symbols available
Easy drag and drop editor
Cons:
Free version has limited access to features
Offline functionality is disappointing
8. Cacoo
Next up on the list is Cacoo, which is another worthy network diagram software that deserves a special mention in the list.
It is quite an underrated option and not one of those regularly used software like some of the ones we have mentioned before.
That said, despite the lack of popularity, Cacoo doesn't disappoint on the features. Not only can users create their favorite network diagrams in a matter of minutes, it also allows easy sharing features so you can share the final diagram with your team, clients or vendors.
Not only do you get access to the templates, Cacoo has a library of unique shapes and symbols that you can beautify your network diagram with. Also, the real-time collaboration features are quite impressive and allow multi-user editing, commenting and activity notifications too.
When it comes to exporting your work, Cacoo doesn't disappoint there as well. You can both present and share your work using presentation mode, screen share, shared folders and the list goes on. Also, the organization functions of this software ensures that you can keep all your data organized in one place.
Pros:
Supports multi-user editing
File and project organization features
Easy presentation and sharing mode
Cons:
Lacks offline editing
Customization options could be better
9. Visual Paradigm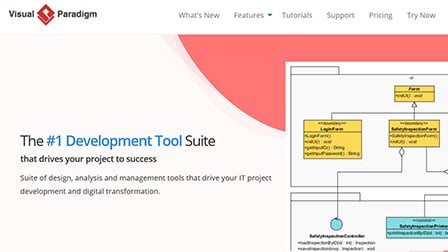 Back to talking about a free network diagram software, we have Visual Paradigm.
What makes this software stand out is the fact that it is a universal and versatile diagramming tool, where you can create a lot more than just network diagrams.
Not only is the software 100% free, it also doesn't have any ads and doesn't restrict the users in terms of period of access and the number of diagrams that you can create and edit, which is always nice.
Pair that with the fast-editing features and you will never want to go back to a different software. It comes with the staple drag and drop editor and a unique alignment guide, which ensures that everything in your network diagram is proportionately arranged.
Also, want to work as a team? The collaboration features are quite intuitive, wherein you get access to cloud-based workspace and a variety of other collaboration features in real-time that streamline the whole workflow.
Pros:
Free to use
Prompt editing features
Easy collaboration tools
Cons:
Some advanced features are harder to master
Template collection is average
10. SolarWinds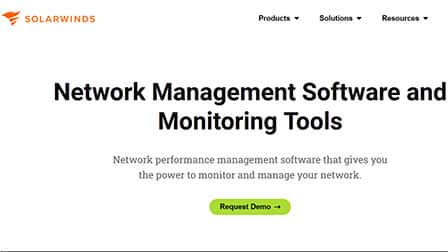 Last on the list of the best network diagram software is SolarWinds. This is another underrated option that not many users are aware of.
However, if you want to automate your diagramming process, this is the software you need.
This is one of the only automatic network diagram software on the internet that you can use to create your diagrams from scratch. Also, users can create multiple maps from a single scan, which is another benefit of this tool that deserves to be talked about.
The only issue with this software is that its not free. You can start with a free trial to check out the features and functionalities. However, once the trial is over, you need to pay $1,711, which might not be a feasible price for a diagramming tool for everyone.
Pros:
Automated diagramming experience
Pre-made templates
Optimal collaboration features
Cons:
Paid version is way too expensive
Lacks offline features
Verdict
Finding good online network diagram software isn't rocket science. With so many different ones available on the internet, our aim was to highlight the best ones that are reliable, affordable and easy to use.
We have sorted you with a variety of options with a mix of similar and unique features that make them stand out from the thousand others on the internet. What we'd personally recommend you do is look through the list of options, cross-check the features and settle on the one that you think best aligns with your diagramming needs.